At the third edition of the Pune Biennale, I found I was not alone in my allergic reaction towards school compounds.
My deep-seated contempt for white tube lights is but just one manifestation of the trauma of school life, which, with its fixed curriculum, perpetually chipping walls and period-controlled estimate of time, not to mention the ghastly fear of castigation for not recalling something 'by heart', continues to torment my adult nightmares. So, when Zasha Colah and Luca Cerizza chose the PES Modern School as one of several venues for Habit-co-Habit, a "flagship project" aimed at working "in tandem with different elements of society to bring out the aesthetics in our everyday existence," I was intrigued enough to put my classroom phobias aside and venture into the known. It was there, in a classroom, that I discovered The Poona Circle, an installation by the inimitable Sarnath Banerjee.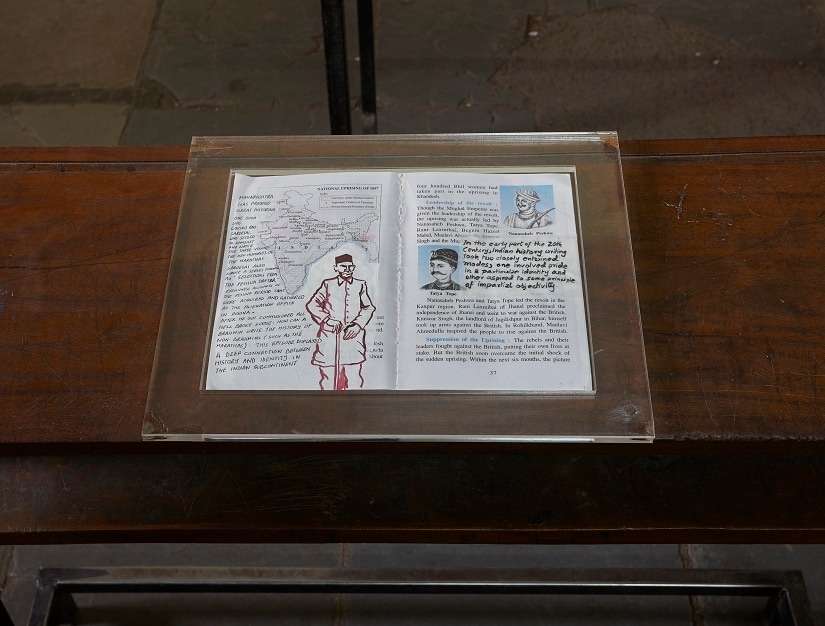 Colah and Cerizza offered Banerjee the classroom space as a potential site. The Berlin-based artist, who is more widely known as a graphic novelist, seized the opportunity. Given his ongoing conversations with historians, this seemed the perfect moment to hone in on the most contentious aspect of primary and secondary school education: the textbook. The current political climate that has oriented itself towards fascist discourse has perpetuated a revisionist approach to history, blurring facts, making insertions into historical timelines to erase facts and replace them with repurposed fictions. "Vandalising textbooks or bringing in the element of doubt into the educational system has always been a larger desire," Banerjee said. "For me, history is constantly drawn upon as an ally to bolster arguments, so my intention is through the textbook, at a very early stage in life, to build the idea of doubt."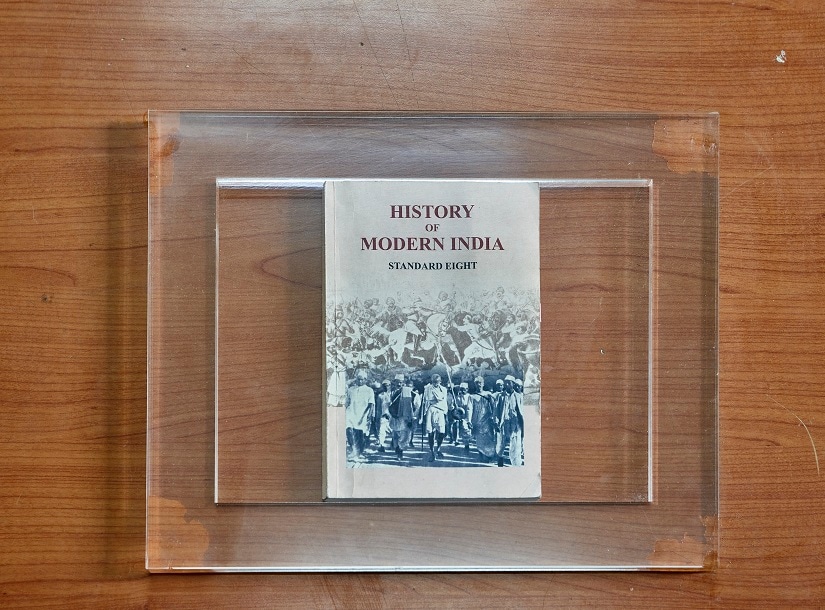 For The Poona Circle, Banerjee adopted the Standard VIII history textbook dedicated to the Modern History of India and decided to interfere with the certainty of the narrative it ventured to create about the sequence of historical events. Like a classic backbencher who spends classroom hours doodling away, Banerjee draws upon the text, sometimes using eraser ink to create a backdrop, and often enough imagining different histories. Each of the pages thus re-written upon have been installed in the center of the desk with a Plexiglas covering to protect it, while also endowing it with a fake sense of museum-vitrine-like authenticity. Viewers are meant to move from bench to bench in order to read through or experience the full extent of Banerjee's interventions. The work is rendered all the more poignant because of the ever-present oppressive aura that marks public schools. "When Zasha suggested this classroom business, it fitted in very well into my larger position, looking at the atmosphere where minds are formed, in some cases indoctrinated," he said. "As you might have noticed, when you enter that gate, there's an eeriness, like years of accumulated depression, and it's a credit to the curators that they put me into that space where you can actually orient yourself to the work, that sense of oppressive stillness of the fan slowly whirring, the brutal benches with sharp edges, the dismal wall… all that added to the work."
Banerjee's The Poona Circle is not limited to being a critique of the current state policy of rewriting history to suit an ideological convenience. It is also about introducing the idea of doubt into minds that are still in the process of being formed, encouraging them not to believe everything that is printed in ink, and to question textual authority. "It's not about having clear positions. I'm not aiming to convert you to my philosophy, but I'm going to put my arguments strongly, you do the same, and at the end we'll have a deeper understanding of the subject, not necessarily an answer," he said. Banerjee was also interested in underlining that historians, too, are preoccupied by form, just like artists. "I have a deep desire to understand other people's form, other people's way of looking at things, so this definitely allowed for the possibility of finding out where I am," he added.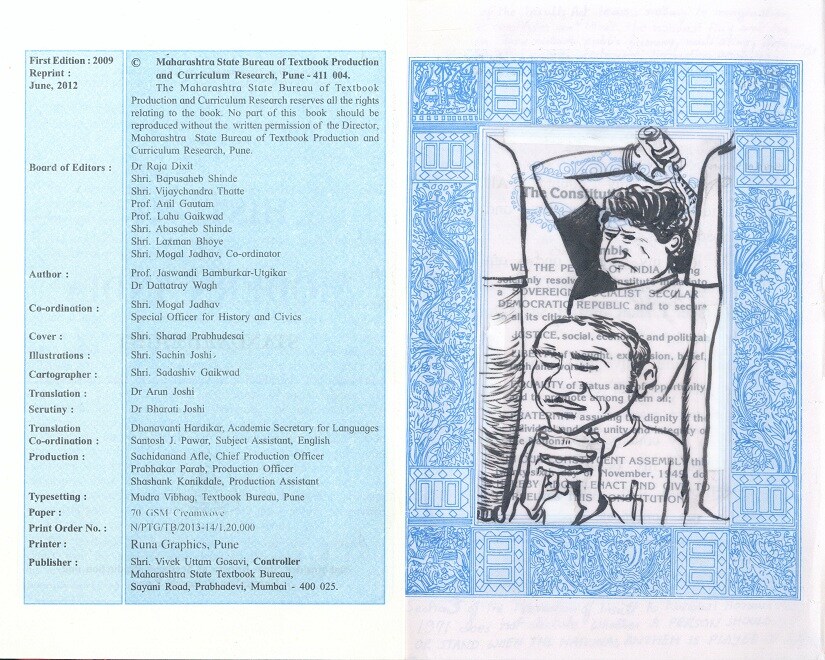 Within the larger scope of his practice, The Poona Circle, like his critically acclaimed Liquid History of Vasco da Gama, created for the second edition of the Kochi-Muziris Biennale, Banerjee seems eager to fully exploit the potential of the graphic novel genre by actually moving away from the manner in which it is currently practiced and disseminated. Banerjee's typical wit and penchant for evoking generational nostalgia continues to be an intricate detail, but his handling of material and more artistically inclined method of display has placed him in a different league. "I'm making a concerted effort to move out of the brand of the graphic novelist, I am unconvinced by the mindlessness of the way the form is practiced, the industry, the euro-centricity of it, the fact that this world is never really interrogated," he said. "All this was my coming out of that form. I'm so disturbed by what I do, which is write words on pictures, I want to interrogate the form even further."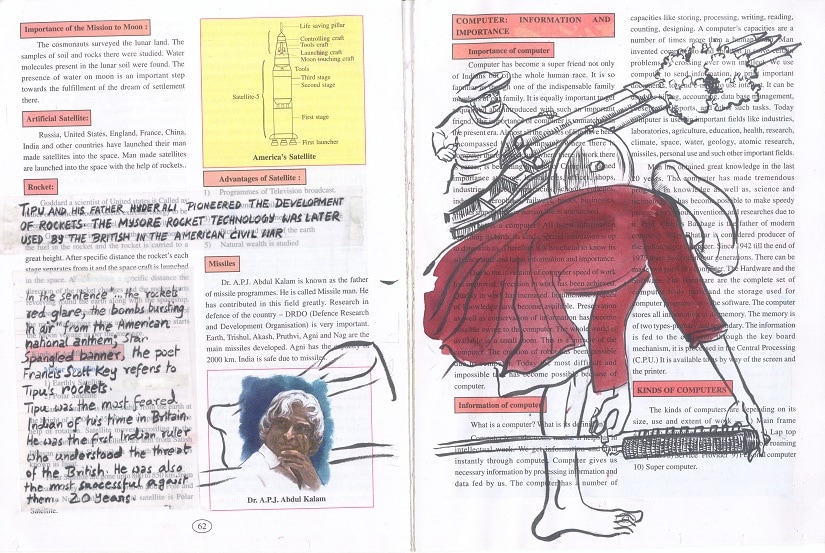 The success of this work is prompting Banerjee to persist in his current preoccupation: pursuing collaborations. "When you ask me where I stand vis-à-vis my work, the thing that comes to my mind is collaboration, working with other people, there's something intimate and erotic to work with someone, and that's the only way we can go beyond our own skin," he said. The Poona Circle, he rightly believes, has helped him up his game. "I'm not like a phenomenally confident person, I didn't know how it was going to work, but it's made me move to the next level," he said.
Rosalyn D'Mello is former editor-in-chief of Artinfo India, and the author of A Handbook For My Lover
Updated Date: Jan 22, 2017 09:41:46 IST