Rumi's descendant on the universal appeal of his works: It's all because of love
Esin Çelebi Bayru, the granddaughter of Rumi, 22 generations removed, spoke about his life, his love for God and the tradition he left behind
Being the descendant of a world-renown poet can be a large burden to carry and live up to. But Esin Çelebi Bayru says that being the granddaughter of Rumi is "much more than a gift". She finds it difficult to put into words what exactly her connection to this poet and Sufi mystic means to her.
At a talk in Mumbai this week(organised by Avid), about the 'Mevlavi tareeka' and the participation of women in it, Esin Çelebi Bayru, the granddaughter of Rumi, 22 generations removed, spoke about his life, his love for God and the tradition he left behind. Çelebi says that she and her siblings were raised just as any other children in Turkey would have been, but that they were raised with the awareness that they were "that" family. "It was as though a very magnificent piece of treasure was left in our hands, for everyone to see, know and cherish. We could not allow it to be stolen, dirtied or diminished," she explains.
She was asked what she perceives are the differences between Rumi's brand of Sufism and the Sufism followed in India. "From what I know and what I see from the faces of Sufi followers here, there is not much difference," she replies. As for the Sufism practiced across the world and whether it deviates from the teachings of Rumi, Çelebi is of the opinion that this brand of religion was created to the satisfy spiritual hunger of those who were hitherto unaware of Sufism. "What they call Sufism today I find difficult to understand. The Mevlavi way is not an ism; it is a way of tassawuf (mysticism)," she opines.
She sheds light on the condition of Muslim women through the ages, emphasising that the holy books never advocated discrimination on the basis of gender. "The Mevlavi tareeka imparts training of the spiritual and emotional kinds; it is a way of acting and a path to follow. Women who wanted to benefit from this training were given private lessons much before formal schooling was a phenomenon over the world. Women are defined as the light of God, not lovers. They were considered as being close to the creator, not the created," she explains.
On the perceived powerlessness of women in the Muslim community, Çelebi says that things are not are simple as they seem. "Divorce is not as simple as talaq-talaq-talq; there are a number of conditions. There are lots of rules and regulations for the protection of women; we must study them," she said. She also expressed some of her own personal beliefs about the power of women as peacekeepers and teachers. "I believe that the people who give birth to future generations are women. Mothers give the first training, and they need to realise the power they have. They can potentially change the world. It is only through them that peace will prevail," she adds.
The western adoption of Mevlana philosophy is often critiqued for watering it down and reducing its authenticity. Çelebi says her stance on this is identical to the one Rumi had – that everything he said can be found in the holy books and anything outside it are not his words. She also feels this way about writers and movie directors who wish to tell Rumi's story through books and films. "I say, please do justice to the original. Remain faithful to the essence."
To elucidate her views on religious fundamentalism and the way that Islam is perceived today, she uses the metaphor of the half-full, half-empty glass. "For the part that is full, I thank God. I am working on how to fill the empty part. What is being done today in the name of Islam has nothing to do with the religion. Jihad in Islam is something you fight with yourself, your own ego. The people who know Islam or who want to follow it should unite and work together," she says.
She advocates for a need for peace, questioning the reasons why people build barriers between themselves and what they stand for. "Come closer, come even closer. Why are we on path to demolition when in fact we are the light of God? We are but mirrors to each other," she says.
In terms of what she is trying to achieve with her poetry and spirituality, she compares her story to that of an ant, which is often narrated in Islam. "In my own humble way, I am like the little ant who walks on a path and is asked where he is going. When the ant says it is going to Haj, people question how he will ever reach. He replies by saying, 'What sorrow would there be, for they will say the ant died on the way to Haj!'" she explains.
When I ask Çelebi what she thinks is the reason why Rumi has universal appeal, she simply smiles and says, "Love." Her favourite couplet by Rumi is one that is characterised by introspection, the love for God and a sense of mystery.
"Everybody in their own thinking became my friend, yet no one acquired what my true secret was."
"And yet, even today, we're searching for the secret of Mevlavi; we're trying to understand the love of God and trying to share it," she adds.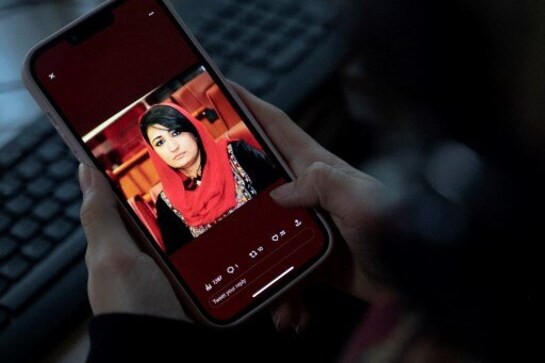 World
Nabizada, 32, hailed from the eastern province of Nangarhar, and had been elected as a member of parliament from Kabul in 2018
First Cricket News
While four of the five entities to have won the ownership rights already own a team in the Men's IPL, the Adani group have finally won a bid at IPL auctions after years of losing.
First Cricket News
According to market experts, Women's IPL teams are expected to shell out in the "range of 500 to 600 crore INR" per team in the closed-bid auction.