RIP Prince: He transcended funk, R&B, rock and pop like few others could
There are two types of people in this world: those who understood the genius that was Prince, and those who didn't
The turn of 1992 was an incredible time. The year felt the effects of the Indian economy's opening up and gave us MTV, an MTV that even in its very mainstream avatar then put out better music and videos than we've been subjected to ever since.
When Stephanie Seymour walked down the aisle to marry Axl Rose in November Rain (Guns 'n' Roses) and gave trousseau goals to a generation of young girls, when models with immeasurable spunk owned the ramp in Too Funky (George Michael), when Enigma's Sadness was a soundtrack for many an imaginary ramp, when Bryan Adams sang his epic Robin Hood love track, when the phalanx of chic dancers grooving around Khaled in Didi epitomised Bohemian sass, and when Michael Jackson reappeared as white.
At a time when impressionable youngsters like me devoured every music video that made you go hmmm, came this diminutive apparition, surrounded by some of the hottest women imaginable, seductively singing "You're so good, baby there ain't nobody better (ain't nobody better)", asking you to "get on top" and making the word "sh-boogie bop" sound like drops of lust. Prince's Cream (from Diamonds and Pearls) was carnal with much finesse, and his sultry vocals and risqué video to boot, morphed into Anne Bancroft and transitioned a Dustin Hoffman-esque kid like me to the adult side of life. "You will hit, 'cause you got the burnin' desire, It's your time," he crooned, and oh yeah it was!
When news came in of his health plummeting last week, I was in the midst of playing yet another poor hand of Flush with my family. Instantly, I thought of the hideous hand that's been dealt to artistes in 2016. A week later he was gone. And he's taken with him that very critical, irretrievable, not-as-frequently-documented-as-a-boy's phase in one's life: A girl's coming of age.
Smouldering sexiness through kohl-lined bedroom eyes that looked straight at you, flashing a smile that was soulful yet flirtatious, singing in a voice that spanned baritone to falsetto, and weaving magic with any instrument he touched, Prince was the very embodiment of innovation masquerading as sensual idiosyncrasy. There are two types of people in this world: those who understood the genius that was Prince, and those who didn't.
Those who were Prince-indifferent, clubbed him with the wave of lust pop artistes who peaked in the 1980s and 1990s, compared him to the likes of Michael Jackson for similarities in music and eccentricities, and did little to explore his works beyond the big hits and his quirks.
Those who liked Prince, or whichever moniker he went by (the unpronounceable symbol, The Artist Formerly Known As Prince, TAFKAP, Jamie Starr, The Purple One, among others), grew to appreciate the man who played keyboards, guitars, drums and bass, while holding vocal responsibilities for his first five albums. He was once asked how many instruments he played, and with his unflappable demeanour he said, "Thousands".
As emotional as I am while writing this, I wouldn't be surprised if that were true.
This prolific songwriter was a multi-instrument maestro, and till his end remained genre agnostic. He transcended funk, R&B, rock and pop like few others could, earned unwavering awe from his peers and remained an indomitable sex symbol. Prince escalated the mercury and oestrogen each time he sang The Most Beautiful Girl In The World, making each girl feel like she was being serenaded.
Born Prince Rogers Nelson in 1958 to musician parents, Prince wrote his first musical piece Funk Machine on his father's piano. His father played a big role in the early years to encourage Prince's penchant for music, and over the years, Prince imbibed the influences of musical heavyweights like Jimi Hendrix, James Brown, Miles David, and Santana.
On his debut album For You, Prince is credited with playing 27 instruments, many of them being variations of stringed instruments and percussions. His self-titled second album contained R&B majors such as Why You Wanna Treat Me So Bad? and I Wanna Be Your Lover.
He followed up his Dirty Mind album with a Prince-defining Controversy. It is not as if the album put out some musical masterpieces but back when album inlays were works of art, Controversy stood out for its grammar defying spellings in a pre-Internet, pre-SMS era. Jack U Off was the first song to start using abbreviated spellings and the dozens of albums that followed were a mix of abbreviations, including Rave Un2 The Joy Fantastic's Hot Wit U.
Until his demise, his were the only grammatical transgressions that didn't irk me.
With a repertoire of sultry hits including When Doves Cry, Purple Rain, Little Red Corvette, Darling Nikki, Let's Go Crazy, Batdance, Prince was ably backed by first The Revolution and later the New Power Generation. With NPG to support his presence, Prince's album Diamonds and Pearls put out four massive hits: The title track, Cream, Gett Off, and Money Don't Matter 2 Night.
As much as passion governed his song-writing, composing and performance processes, Prince was a cultural and business iconoclast. His contractual wrangling with Warner Bros spurred him to change his name to what was later called the Love Symbol. He even had to send files of the symbol to media outlets so they could use them in print while referring to him.
His Warner issues saw him release albums in quick succession, as a way of getting his music out despite the spar with the label. But this was also the start of a phase where the creative conflicts with Prince meant that albums in which they let him have his whim, ended up tanking beyond redemption. With the sales of the albums crashing, Prince put out album after album before Warner finally pulled the plug on his contract.
But if there's one thing that came to define his work, it was his drive: his drive to produce, his drive to translate ideas to reality, his drive to fight a system, and well, his drive.
Among his greatest contributions to the world of music has been his role in other artiste's music. From an uncredited guitar role in Madonna's Like A Prayer album, to Nothing Compares 2 U immortalised by Sinead O'Connor, his song writing in Manic Monday for The Bangles, and even his collaborations with Chaka Khan, Prince embraced music without the competitive compulsions of a star, and always kept the focus on the music's triumph, not his own.
Today, the world has lost not just another celebrity in what seems to be a horrifying year for the entertainment industry, but a brilliant artiste who mastered many instruments, a spectacular performer, perceptive writer, and a musician's musician. If accolades are a barometer for success, then Prince has sold over 100 million records worldwide, making him one of the best-selling artists of all time. With seven Grammy Awards, one Golden Globe Award, and an Academy Award, in his kitty, he was musical royalty and quite appropriately named so.
For his fans, Prince symbolised different things at different times in life. My Diamonds and Pearls audio cassette from 1992 remains in a small carton that houses some of my most precious life memorabilia, being a perpetual reminder of the sign o' the times gone by.
The author runs a content consultancy firm Little Wing Communiqué, while serving as media consultant for the True School of Music. She ended her decade-long stint with The Asian Age as senior editor, where much of her work was in the space of cultural writing. In her free time, she's learning to play the bass.
Entertainment
From Queen's 'I Want To Break Free' to Shamir Bailey's 'On My Own,' here are 10 queer songs that have been powerful allies and source of catharsis for the LGBTQ+ community.
Sports
Earlier this month, Lalhnehpuia Chhakchhuak became the sixth NBA Academy India graduate to commit to playing high school/prep school/collegiate level basketball in the US. But just how do these stints help Indian players, looking to make it to the NBA or its developmental league, the G League? Firstpost explains: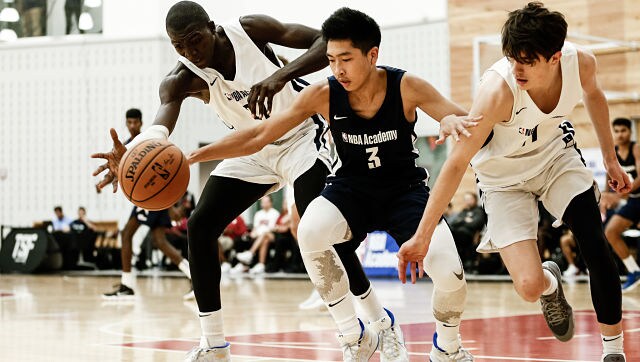 Sports
A 6'1" point guard from Mizoram, Lalhnehpuia Chhakchhuak is fascinated enough by the human mind to want to pursue a degree in psychology. But he is also drawn by the prospect of making history.