The Kashish Mumbai International Queer Film Festival is not just a film event. It is a great networking event, a thought starter and a conversation stirrer. Moreover, it is these five days when we observe people, the clothes they wear to the screenings and also the time when queers let their hair down and immerse themselves in frivolous gossip. Day Two of Kashish is usually a little sparsely attended considering that it is a weekday and also that it is just after a mega opening night event. However, anyone who attended Day Two, would have had to eat their judgmental words.
What was on display over blockbusters at the festival was the exhibition of raw courage through the medium of cinema. Love Is is one such film from the transgender and gay community in Uganda. Then, a film that ran to a full house was Dear Dad. Dear Dad is a film that stars Arvind Swamy (of Roja fame). He essayed the role of a father who comes out as gay to his son and wife, to perfection. I wrote a review of the film as a part of my "letter to the subaltern" here .
It is strange when films like Dear Dad get a mainstream release we don't flock the theaters to encourage the film and ensure that the film makes the necessary revenue, but later we attend festival screenings in large numbers and give the same film wonderful reviews. I am still figuring out whether we are too stingy, just showy, or simply do not want to play a role in the mainstreaming of our cause by championing such films. It is shameful that films like these and Margarita with a Straw don't make money like a Dabangg, Sultan and other brain-dead films by so called superstars.
The highlight of day two was the panel discussion moderated by Parmesh Shahani. The focus was on Gauri Sawant's Vicks advertisement. The advertisement, directed by Neeraj Ghaywan, had elevated the empathy quotient for transgenders who belong to the hijra community. Several myths have been associated with hijras. All my childhood, I have been told by my late paternal grandmother that hijras steal young children if they don't behave themselves. Naturally, I grew up with a lot of hijra phobia. The Vicks film was a wake up call for people like the younger me, who were petrified of hijras and consider hijras to be some sort of monstrous creatures. Gauri and Neeraj, through this ad film, have managed to project the truth that hijras have adopted children who are one step away from getting inducted into flesh trade.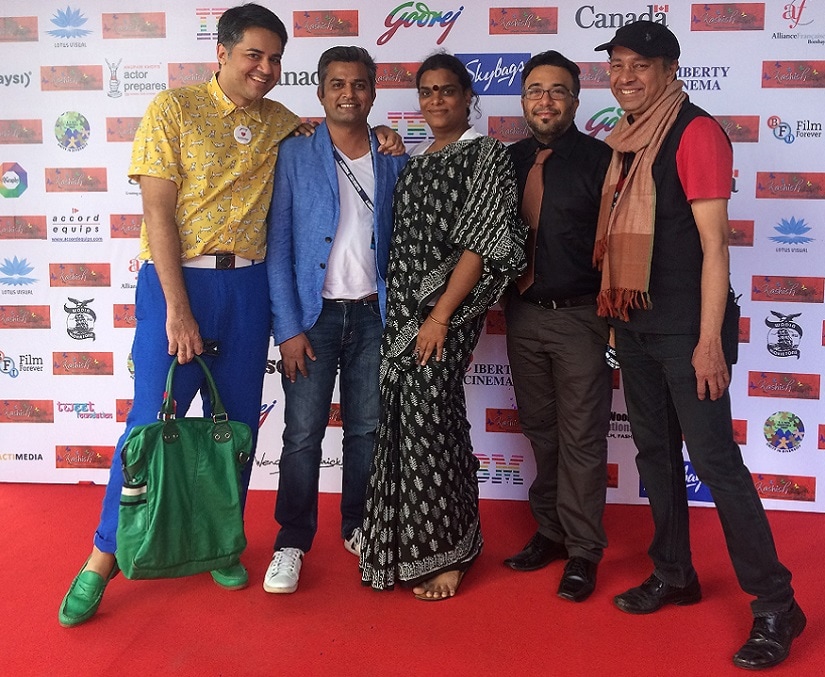 At Kashish, Gauri recounted how people recognise her and how a rickshaw fellow in Pune refused to take money from her for a ride having seen her in the ad. "Nothing has changed for me, I am still the same," she quipped while emphasising how people around her have changed and now take notice of her.
Ritesh Rajani from IBM, who was a part of the panel discussion, spoke about the initiatives for employees of IBM. IBM offers to bear the cost of sexual affirmation surgeries for employees who wish to transition to another gender. Parmesh Shahani, the moderator, reemphasised Godrej's commitment for the cause of equality. Godrej is the first Indian company to extend spousal benefits to same sex partners as well.
At this moment, one needs to remember that India does have Section 377 which criminalises sex against the order of nature (irrespective of whether it is homosexual or heterosexual), however, it has never been illegal for anyone to be gay. One cant be persecuted for being gay, but only when you are a "practicing" gay, which is funny and scary at the same time. However, with events like these, and corporates like Godrej and IBM — I am certain love will be put ahead of law.
Your guide to the latest cricket World Cup stories, analysis, reports, opinions, live updates and scores on https://www.firstpost.com/firstcricket/series/icc-cricket-world-cup-2019.html. Follow us on Twitter and Instagram or like our Facebook page for updates throughout the ongoing event in England and Wales.
Updated Date: May 26, 2017 23:08:32 IST