India Art Fair: A highbrow mela of fun
'We've curated the gourmet options just as we would a show', said Neha Kirpal, the founder and creator of the India Art Fair. "Bringing in fun food experiences and creating a zone which is similar to what people like to be in on the weekend.
By Reshil Charles
For many, art will always mean a painting. I don't own a single one and have only ever painted the school art class classic- a stream with mountains in the background. Why then did I choose the India art fair over Saturday brunch? Because I had the perfect brunch right there!
Mamagoto, the wide spreading Asian food favourite, had a section of a hall dedicated to it with lovely-looking people spread colourfully across tables. Once done with their Chinese, Thai and Japanese fare, the Elma bakery's carrot cake was a skip across to the outdoor section as opposed to a thirty minute drive between the two if this combo was done in between their city locations. Isha Manchanda sat behind the counter in her black commando boots just like she does at the outlet's original location with her signature warmth giving the bakery's loyalists another reason to feel at home — even if they don't know art. An Ambassador parked outside was also covered with over a thousand such black boots [in the name of art] but the familiar will vouch she didn't get hers from there! A separate hall altogether was dedicated to the mass palate that prefers coffee and conversations around a plate of trademark Delhi fare — rolls, kebabs and more rolls. While Mocha provided the cakes and coffee here [and threw in the conversation part on their signature signboard from where I promptly noted it] it was the fresh coconut water stall that confirmed that intelligent thought had gone into planning this parallel side to the fair.
"We've curated the gourmet options just as we would a show", said Neha Kirpal, the founder and creator of the India Art Fair. "Bringing in fun food experiences and creating a zone which is similar to what people like to be in on the weekend is also part of the plan and works towards the overall idea of making the fair reach out to a vast range of people beyond the art fraternity as well." She also changed the name from summit to fair to take an edge off the seriousness associated with art that scares off many!
The relief of not needing to know how to read a painting also brought Aastha and her middle-aged girlfriends here. Extremely well dressed home-makers, they went for a walk through Jitesh Kalat's projection of a historic letter by Gandhi to Hitler and giggled like school girls on a museum trip when the writing actually projected on their skin as they passed through. If not here, she'd be "spending the afternoon with her father".
While a detailed curated walk through the halls with an organiser was the best way for a novice to understand how even knitwear hanging on steel fits into the vast space behind the three letter word, the international presence at the fair also brought in an education. Two stall owners in their lovely choice of skirts sipped champagne at their desk and engaged the occasional visitors to a tour of the work on display, all the while making it clear that there's an allowance for a percentage of healthy cheer to flow alongside a creative environment.
But not in the VIP area. Here wealth wouldn't save your health not matter how much you have of either. An open bar with a range of goodies on the flow was in place to keep the mood pulsating as if a gallery were opening every five minutes! Only by invitation, here you could actually skip it all and admit openly that you are at the fair just to see a 'friends' stall. You'll also get information on after parties where at some point of the night all the colour runs out and you'll only see white. If you slept over at the party, a champagne breakfast would await you at the Aman hotel . "We've put an extravagant four days in place for special invitees with a champagne breakfast as well as multiple shows , openings and dinners happening in various parts of the city alongside. Various embassies have also been tied up with for events. Fun is a given side of art" said Neha Kirpal. She's right.
I won't dare get into the artist list and who stood out and why, as I already run the risk of the hardened artist painting me black for being at the fair in the first place. But if Neha is to be believed, then with music performances and performance art having a place in the fair's future editions, many more like me might start coming for even more far out and disconnected reasons. When you multiply the three hundred rupee ticket into that, I don't think she should have a problem.
Arts & Culture
The truth about Hemingway, who many consider America's greatest 20th-century novelist — whose concise writing style made him an outsized celebrity who became a symbol of unrepentant American masculinity — is much more complex
Arts & Culture
Donna Stein, an American curator who lived in Tehran between 1975 and 1977 and played a small but important role in assembling the collection, has written a memoir, The Empress and I: How an Ancient Empire Collected, Rejected and Rediscovered Modern Art.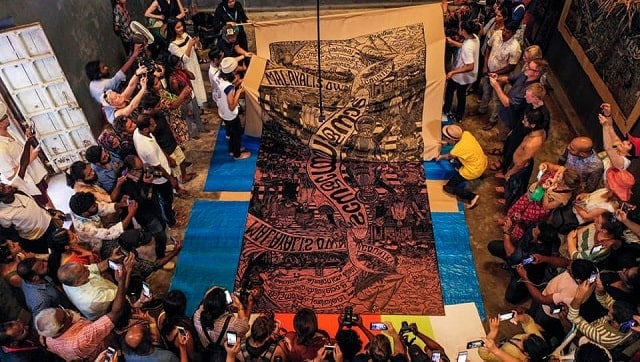 Arts & Culture
What is the role of an art curator at a time when truth has become a major casualty?