India Art Fair 2017: A rare mix of colours, grandeur and a focus on nurturing South Asian art
Founded in 2008, India Art Fair is one of South Asia's leading platform for modern and contemporary art. See photos from the 2017 edition here: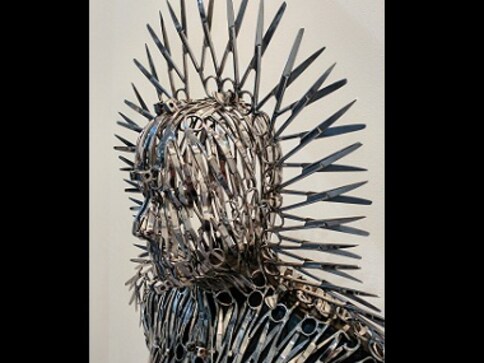 New Delhi: The ninth edition of the India Art Fair that was held in the capital over 2-5 February 2017, exhibited a rare mix of colours, grandeur and, with its continued focus in nurturing global interest in South Asian arts, showcased works of emerging as well as established artists from the region.
The three-day fair was joined by participating South Asian galleries like Britto Arts Trust from Dhaka, Nepal Art Council from Kathmandu, Theertha International Artists' Collective from Colombo and Blueprint 12 from New Delhi.
An extensive array of art programmes, ranging from the exhibitions on the works of renowned artists like MF Husain to the subtle narratives that emerge from the sketches of the 20th century political artist Chittaprosad Bhattacharya, found a display, spanning the outdoor and indoor fair space.
The Speakers' Forum at the fair also had an exciting programme that presented artists, curators, critics, administrators, academics, gallerists and collectors.
In an attempt to explore the future of museums, Richard Armstrong (director, Solomon R Guggenheim Museum and Foundation, New York) and Sheena Wagstaff (Leonard A Lauder Chairman of Modern and Contemporary Art, The Metropolitan Museum of Art, New York) came together in a panel discussion.
The two experts together explores the subject in a lively discussion before the audience.
"BMW Art Talk: The Art of Collecting" was another much anticipated session in which Thomas Girst (head of Cultural Engagement BMW Group, Munich) and Sheikha Hoor Al Qasimi (president and director of the Sharjah Art Foundation) looked at the diverse field of collecting.
Sharing their perspectives on South Asian art were Pooja Sood (director of Khoj International Artists Association, New Delhi), Alessio Antonelli (director of Gasworks, London) and Boon-Hui Tan (director, Asia Society Museum, Singapore) in a session "Perspectives from Networks of South Asian Art".
The Speakers' Forum also facilitated intimate conversations between collectors from India and across the globe with speakers who provided a glimpse into their private collections.
Some of the well-known names featured in the segment were French art collectors Jean-Conrad and Isabelle Lemaître; Brussels based collector Frederic de Goldschmidt and one of India's leading art collectors, Anurag Khanna.
"Focused initiatives are planned with individual collectors, large groups and delegates from prestigious institutions, many of whom are coming for the first time, including Santa Barbara Museums, Singapore Art Museum, Palais de Tokyo, Paris, Ashmolean Museum of Art and Archaeology, University of Oxford, Rhode Island School of Design, United States and The Guimet Museum in France," the organisers, MCH Group, Angus Montgomery and founding director Neha Kirpal said.
The 2017 edition of the fair also featured both longstanding representatives of Indian art and new exhibitors from around the globe who are keen to develop relationships with the Indian art market, including Kalfayan Galleries (Athens), Grey Noise (Dubai), 1x1 Gallery (Dubai), Sabrina Amrani (Madrid) and Lukas Feichtner Galerie (Vienna).
Founded in 2008, India Art Fair is one of South Asia's leading platform for modern and contemporary art.
— With inputs from agencies. All images: Firstpost 
Explainers
The head of the Florence museum has invited parents and students of a Florida charter school to see Michelangelo's masterpiece, the David. The move comes after a principal was forced to resign following complaints that an image of the artwork was shown to a sixth-grade class
Photos
AI-Generated images of former US President Donald Trump created a massive frenzy on Twitter, as people assumed the images to be real. Created using Stable Diffusion, the images were shared by a "verified" account on Twitter.
World
One of the most well-known works in Western art history is Michelangelo's sculpture of the scriptural hero David. The argument over art that defies convention and censorship laws dates back centuries, and the statue's nudity is no exception