In Portugal, like India, local factors combine with global climate change to worsen its impact
Seeing the same pattern — drought and heatwaves combining with faulty societal decisions — wreaking havoc everywhere, from Portugal to India, brings home the message that we really are living in one world. The only world we have. And it is warming.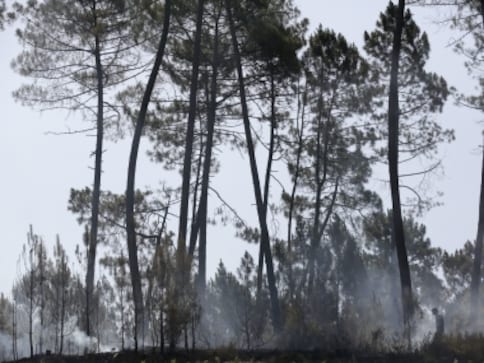 Editor's note: From May 2017, Firstpost is featuring a fortnightly column by Mridula Ramesh, titled 'Climate Conversations'. In this column, we take a look at pressing issues pertaining to climate change — in an accessible way.
The Portuguese connection with India goes back 500 years when Vasco da Gama reached the shores of (then) Calicut in Kerala one balmy May. His ship, the Sao Gabriel, was made most likely from a combination of pine and cork wood — both trees that grow abundantly in his native Portugal.
After the fall of Constantinople in 1453 to the Turks, Christendom found the prices of luxury items too high or too whimsical — controlled as they were by the Arabs, the Turks, and the Venetians. This made it worth the Portuguese's efforts to expend men and money to discover an alternate passage to India. The Portuguese of yore ventured outwards to discover new lands and create new avenues of trade.
Capturing the spice trade changed Portugal, and the world. The taxes on the spice trade helped fund the grand Jeronimos Monastery in Lisbon, and the exposure to foreign realms played a role in influencing the intricate carving seen in the structure.
Zooming forward to modern times, Portugal today beckons visitors inwards to enjoy sun and sea. The total contribution of travel and tourism to Portugal's GDP is nearly $35 billion, about 16.6 percent of GDP in 2016. And no wonder. Friendly people. Beautiful architecture.
Easy to get around. Yummy food. And, of course, the sun and the sea and the mystery.
Portugal also has abundant, beautiful forests.
'But 97 percent of them are in private hands,' says Dr Filipe Duarte Santos, Professor of Physics and Environmental Sciences, at the University of Lisbon, a leading climate change expert in Portugal and a review editor of the Intergovernmental Panel on Climate Change's periodic reports. This means the management of those forests, and importantly, the clearing of the undergrowth is an important task in private hands. Earlier the undergrowth was of value to rural families, but Portuguese rural families, like their Indian cousins, are finding the going tough, and are abandoning their homes and moving to the cities. This means there are fewer hands and fewer livestock to clear the undergrowth in the forests. Moreover, the more fire-resistant cork, stone pine and oak trees have been losing their economic attractiveness, and are being replaced by the highly flammable, and lucrative, eucalyptus tree. So attractive, that the eucalyptus, a non-native species to Portugal, covers a quarter of the forest surface in Portugal, and is blamed by many for the viciousness of the recent spate of forest fires.
Portugal has something else it shares with parts of India. Climate change is making Portugal drier. 'Portugal gets about 900 mm of rain a year,' says Dr Santos. 'But the rainfall is decreasing by 40 mm every decade.' This means droughts are getting more common. Importantly for the forest fire risk, spring rainfall is expected to fall. Just before the deadly forest fires of 2017, Portugal experienced a drought that was the worst in the past 100 years. 'We did not have rain for many months. In the past year, precipitation was just 30 percent of the usual. We also experience heat waves before the summer,' said Dr Santos. This meant that in the beginning of June, there was a perfect combination of conditions for fires: high temperatures, very dry soil and lots of shrubs and desiccated plants.
The fires were cruel. In 2017, more than a 100 people died in forest fires, both in the summer, and then again in an unusually hot October.
Forest fires are going up far closer to home. Just about two hours from where I live lies Theni, in Tamil Nadu. This was the site of one of the worst forest fires that Tamil Nadu has experienced in recent times. Here too, the combination of hotter summers and lower (winter) rainfall along with a human element has led to rising forest fires. Skymet, a private weather forecaster, estimates that forest fire incidence has more than triples from 80 fires in 2013 to 301 fires in 2017. When farmers clear some forest for crops (a la Indonesia), for grazing (a la Brazil), or a careless passer-by tosses a cigarette or when lightning strikes, the conditions are perfect for a conflagration.
In India and Portugal, the pattern is the same, global climate change combining with local factors, to make the impacts worse. This is also why this phenomenon is called global warming — the climate is changing everywhere. In Tamil Nadu and Portugal, global climate change creates hot, dry conditions that are conducive to forest fires. Local factors, such as the wrong choice of crop (eucalyptus) and rural emigration in Portugal or clearing of forests in Tamil Nadu, acts as the match that lights the fire. But this implies a silver lining: part of the solution in combating forest fires lies in local action. Portugal is acting. While driving through the area north of Lisbon in May 2018, I saw a tough looking official ensuring the clearing of undergrowth in a patch of forest in preparation for the coming summer. The warning systems have been upgraded. Maybe the incidence of fires will be lower this year.
Seeing the same pattern — drought and heatwaves combining with faulty societal decisions — wreaking havoc everywhere; from the charming Portuguese towns to the tropical jungles in India brings home the message that we really are living in one world. The only world we have. And it is warming.
The writer is the founder of the Sundaram Climate Institute, cleantech angel investor and author of The Climate Solution - India's Climate Crisis and What We Can Do About It published by Hachette in June. Follow her work on her website; on Twitter; or write to her at cc@climaction.net
India
John Kerry has asked the Indian government to raise its 'climate ambitions' further and that US wants to work closely with India and do whatever it can to help
World
Russian and Chinese diplomats reiterated their countries' objections to putting climate change on the agenda of the council, which is charged with maintaining international peace and security.