In her words, and mine: Getting to know Ants Among Elephants' award-winning author Sujatha Gidla
'It is liberating to hear a Dalit writer take pride in her work. It is even more liberating to hear her laugh at detractors,' writes Vijeta Kumar in her profile of Sujatha Gidla. Gidla recently won the Shakti Bhatt First Book Prize for Ants Among Elephants.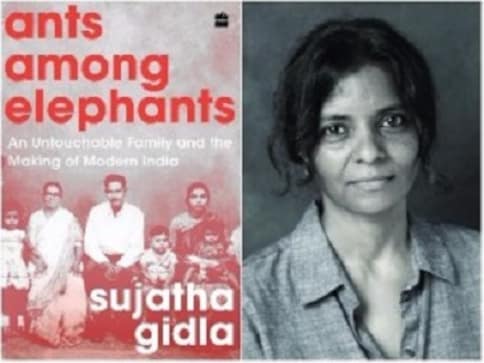 I met writer Sujatha Gidla in February 2018, at the Times Litfest in Bengaluru. We were to be interviewed together for digital feminist magazine The Ladies Finger. I saw her from a distance and wondered how to greet her; she stood up, smiled, and I half-sprinted, half-jumped towards her. We hugged. I was drawn to her instantly, just as I'd been to her book, Ants Among Elephants.
We'd exchanged emails earlier, but never met, and here I was, acting like we'd grown up together and were seeing each other after aeons!
Before our interview, she told me about the panel she'd been part of, with noted writer Perumal Murugan, Hansda Sowvendra Shekhar (author of The Adivasi Will Not Dance) and Kannan Sundaram (founder of Kalachuvadu Pathippagam), moderated by Rohini Nilekani.
Gidla told me that at the very start of the session, she asked why Rohini was moderating a panel about 'Writing under threat' — considering her husband (Nandan Nilekani) was the man behind Aadhaar.
I gaped at her, and Gidla continued talking as if she had not just dropped a bomb.
***
Months later, I am interviewing her over email. I'm overjoyed at the opportunity; I've already begun writing the piece out in my mind. I know what I want to ask her, but something came back to me strongly from that February meeting:
At lunch, she'd eaten very little as Gidla and her friend Alan were recovering from a bout of food poisoning. "You shouldn't be eating this Alan," she told him, pointing to the channa on his plate, before popping some in her mouth.
"I haven't eaten well since I left," she then said.
"Really? Didn't you eat at the party last night? How was it?" I asked.
"The party was strange. I don't think they know who I am or why I'm here. So I left in five minutes," Gidla said, referring to a dinner party where all the invited writers had dined together at the hotel.
***
Later, during The Ladies Finger interview, Gidla recalled Rohini Nilekani saying at the panel discussion that there is 'less freedom' in the US.
"What planet is she from?" Gidla asked, straight into the camera.
That evening, I watched the video of the interview and laughed as I kept rewinding to this point. It probably wasn't very funny, but I was amused by Gidla's expressive face — from genuinely wanting to know 'which planet Rohini Nilekani was from' to the look of utter seriousness before she moved on to the next question. She wouldn't let even my giggling fit distract her.
About the panel itself, Gidla said: "There were all these people wearing fancy sunglasses and sitting there. I really didn't think I'd get any applause", which made me wonder, if there would have been applause if the person asking this perfectly reasonable question was someone not Dalit.
Even so, wasn't she apprehensive of asking the question she did?
"I did not know who was going to moderate the session at the Times Litfest until the night before," says Gidla. "And then I did not know who Rohini was, perhaps because I don't live in India. I Googled the name and was flabbergasted. We have a saying in Telugu (which in current times is politically unacceptable), like 'devils reciting the Vedas'. The topic was 'Writing under threat'; this person's husband is involved in the development of Aadhaar — a huge threat to people's rights to free speech and freedom of association. At first I thought of not attending. Then a friend encouraged me to go, and question Rohini. If I did not, I would lose face with my family and the few friends I have."
***
Among the most memorable scenes in Ants among Elephants is when Gidla's mother Manjula runs after a train that has her certificates and belongings. She is filling up her water bottle when the train suddenly starts to move. Manjula, still clutching her water bottle, runs after the train with the fierceness of an athlete. It's a similar fierceness that I get to watch when Gidla declares of her experience at the Jaipur Literature Festival, "They didn't give a shit about me even though I wrote a great book" before breaking out into loud laughter.
It is liberating to hear a Dalit writer take pride in her work. It is even more liberating to hear her laugh at detractors.
Do Dalit women need to be equipped with a lot more than other writers in order to deal with attacks on what we write and how we write?
"All Dalits, whether men or women, face tremendous discrimination in every field — including writing. I don't think it is a question of how well-equipped you are. You would still be attacked," says Gidla. "I usually don't count attacks by right-wingers because they will attack no matter what. But you should expect attacks from people who call themselves progressive. If you write something mediocre, they will like it because it gives them a chance to pat your back for giving it a try, and then to say 'encouraging' words to you. But if you write something awesome then brace yourself. They do not like it. Sometimes their attacks take the form of totally ignoring your work and keeping complete silence."
"And in order to respond to their attacks, yes, you need to be well-equipped to respond. That means you should know what you are doing," she adds.
***
There is a strange schizophrenia within the world of urban Dalit women. It is like the feeling of being in a cage, even if you are outside the cage — because there is a larger albeit invisible cage that encompasses this smaller cage.
Living online is like that cage where Dalit women often have to confront the occasional 'big mercies'. Sometimes these big mercies come like pats on your head after someone throws a biscuit at you… Like having Savarna academicians smirking at your work for not being 'Avarna' enough and then adding you to lists on Twitter that they have very thoughtfully called 'DBA voices'.
The other side to this is living in a matrix where you don't know when to stop feeling grateful — for having a comfortable life, for knowing English, for living in the city, for having a job etc. And slowly this gratitude eats into your self-esteem until it begins to taste like metal in your mouth. That's the point when gratitude becomes guilt.
What is the problem with this?
It doesn't allow us to shut our minds when we work. It's what causes our eyes to look at your surnames when you win awards and accolades — whether it's that blue tick next to your Twitter handle, or your Ivy League university degree. It's what makes our eyes thirsty to have one of our own people up there — in those lists and awards.
So you can imagine my joy when Gidla won the Shakti Bhatt Prize. I have often read the Paris Review's interviews with writers who talk about the process of writing, and I have always been curious to read an interview with a Dalit woman who is speaking of her writing process and what she does when her work is attacked.
I ask Gidla: "When you were writing Ants among Elephants, were there moments when you just wanted to give up? What did you tell yourself to keep going?"
"Never. The reason was, I wrote only when I felt inspired. Then writing was ecstatic. When I did not feel like it, I did not force myself. I would let months pass until I felt inspired again. This accounts partly for the inordinate amount of time I took to finish the book. Discipline and deadlines are deadly to creativity — in my case," she says.
"But there was a time I felt very frustrated. It was after signing the contract with FSG, the editor left to pursue further studies, and a second editor moved to the UK, and a third editor took over and he too left New York. That was very frustrating. Finally the fourth editor finished the book."
I ask her a few more questions in this vein:
Me: Will we get to read more about you in the sequel to Ants among Elephants?
Gidla: "A few people tell me that a book about my generation would be a big hit. But I don't agree. My mother's and her brother's lives intersected with India's life more directly and that was what made Ants among Elephants interesting. Secondly, how to write it? If I use first person that would sound a bit … how should I say...sombre. If I use third person… well I saw how pompous it would be to refer to yourself in third person when I bought Salman Rushdie's autobiography. I think it is called Joseph Anton: A Memoir. That was his name while he was in hiding. You see my dilemma?"
Towards the beginning of Ants among Elephants, Gidla writes that years ago at a bar in Atlanta, she told a guy she was an untouchable and he said, "Oh, but you're so touchable".
It's a very innocent yet strange thing to encounter. But come to India and the encounters plus questions posed to an English-speaking Dalit woman get weirder.
Me: What was the most absurd question you've been asked about your life after Ants among Elephants was published?
Gidla: "Luckily there weren't any absurd questions, as far as I can recall. But one woman that has some programme on a TV channel contacts me every now and then. The programme is about something like 'rags-to-riches' which is absurd because, one, it is far from the truth. Secondly, neither I am nor is the book about 'rags-to-riches'."
Have you made more enemies after the success of Ants among Elephants? Do they seem incensed by your Shakti Bhatt Prize win?
"Of course. Since the book came out in July 2017, it is has been one aggravation after another to these people. First it was the New York Times review by Michiko Kakutani, then it was the Jaipur Litfest (for some reason people seem to think this is the ultimate literary festival and so a cause for jealousy), and now the Shakti Bhatt Prize. I am concerned for their health."
Has your relationship with caste and identity changed in any way through the years spent writing the book?
"My relationship to caste changed when I left India, and that was what enabled me to write. While writing the book, I used to think the downside to succeeding in getting it published would be all those people who did not know I am an untouchable until now, would now know the truth. What if they feel I betrayed them? That makes me cringe a little bit even now."
***
When I'd messaged Gidla for this interview, she said that she was on the train back to New York and she'd get back to me later. Gidla works as a conductor on the New York City Subway. The first time I Googled her, I found this picture of her, in a uniform. Since then, I have been curious to know more about her work and life in America.
Me: What is your regular day like? What do you do over the weekends? Do you think about writing when you are at work?
Gidla: "Right now it is pretty boring. Work, then book-related events or preparation for those events — reading and writing. But I have now stopped accepting interview requests and invitations so that I can start living like a normal person who did not write a book. Who would like to go to the movies, hear live music, go to the beach, and other fun stuff."
Tell me what you love about living in New York. If I come there to see you, where would you take me?
"There are many places in America where you don't see any non-white people. To me that is scary. New York, on the other hand, is a city of blacks, Jews, immigrants, and gays. Literally and figuratively — very colourful. People of many different ethnicities. And their food. The second big attraction is mass transit. That is, us — the people who run it. We are very awesome, the way we work with seriousness and the way we stride purposefully. Also in New York subway trains you see these young black kids who do acrobatic feats inside the moving trains. I love that a lot. And then, the independent movie theatres."
***
When you read the next question, imagine yourself as one of those small children in films who are made to give love letters to the heroine. And after they do, they turn around and run away with great speed.
Me: Are you a romantic person? What is Sujatha Gidla like when she is in love?
Gidla: "Well, I can say I am pretty passionate about things. You can see it in Ants among Elephants. That is about all I would like to say about romance."
***
The other thing I remembered from our February meeting was the last thing she said to me before leaving. We were in a cab on the way to her hotel. I was telling her about my family and the circus they've been through to forget our caste. I told her about my grandmother, who will not tell me any more stories about our caste because she is afraid that I will write about them.
"I don't know what to do," I had said. "I want to write about my family but I am afraid."
Gidla smiled. The cab stopped at the hotel. Before getting out and hugging me, she said, "This Adivasi may not dance, but you will write."
Entertainment
Harry and Meghan have called William a bully, they have called the King Charles a liar, they have said that the Queen just sat back and let it all happen. These are quite extraordinary allegations at the heart of the monarchy.
Entertainment
Valentine Low, who broke the story about bullying allegations made against the Duchess of Sussex, Meghan Markle wrote a book title 'Courtiers'.
World
Carroll accused Trump in the book of attacking her in an upscale Manhattan department store in late 1995 or early 1996 after they ran into each other by chance and exchanged lighthearted banter about who should try on a piece of lingerie