Comedian Abish Mathew vs Delhi's NLU girls: Wife beating isn't funny, calling a man 'pig' is not protest
Ironically, Abish Mathew and the protesters have one thing in common: they are both indefensible.
The latest tweet on comedian Abish Mathew's timeline reads: "If I made my jokes any cleaner, I'd have to sell it as hand sanitizer!"
You might mistake this for a slightly delayed reaction to the uproar over the All India Bakchod roast that Mathew was a part of, but that's not what it was. Mathew was referring to an unpleasant incident that took place while he was performing at the National Law University in New Delhi.
Upset with the nature of some of his jokes, a group of female students from the college left the show midway and came back with placards that said, "Get out, you sexist pig!"
Mathew left the show midway but later chose to downplay the incident. According to an article on Glasnost, the college's newsletter, two girls showed Matthew the middle finger while leaving the auditorium. It is also being alleged that some of the girls said, 'Get the f*** out' to the comic.
One of the girls, who was a part of the protest, told Mumbai Mirror that they intended to protest against the sexist jokes cracked by Mathew. She added that he had cracked jokes about 'domestic violence' and had commented on what Mayawati looked like, which is when she lost her cool.
The girls, obviously, were criticised by the majority of the audience for their behaviour and later told Mumbai Mirror that they were worried about their security. "It's a residential college and I have no qualms in stating that we are afraid for our security given the ugly backlash we received from the overwhelming majority of the student community," she complained to the  reporter, indicating that whoever has been critical of their behaviour would be willing to physically harm them.
While her fears seem slightly over wrought, especially in this context and even paints her fellow students as unthinking, violence-prone individuals, her method of protest against the allegedly sexist jokes have left people accusing the gang of girls of being equally violent.
Moreover, some of their fellow students feel that Mathew's joke may have been average, but hardly sexist.
Writing on Glasnost, a student who attended the event said, "He joked that five minutes is a long time for Mallu fathers because it grants them enough time to force their daughters to become nurses, ship them off to Dubai, go home, drink toddy, beat their wives and still have three minutes left."
The writer then goes on to comment on the nature of the joke and whether it is right to call it sexist. "Because an unfortunate result of the misogynistic and sexist society we live in has been that women are projected to be the victims even when it is sometimes not the case. Was the woman the butt of the domestic violence joke that Abish made? He made fun of Mallu men who drink toddy and beat their wives. I would think that it is that Mallu man who is the butt of this joke. That the behaviour of such a man should not be accepted in civilized society. Through satire, he challenges such reprehensible actions. The joke does not celebrate such men, but ridicules them."
While the writer is mostly right about using satire as means to comment on social ills, perhaps it is also necessary to use discretion while choosing the subject of satire. Clearly, 'beat their wives' and 'joke' don't seem like they belong to each other, right? The author of the above blog is right in pointing out that the joke was not aimed at women, but the very fact that wife beating figures in a narrative of humour sounds wrong. Wife beating is never, no way, funny.
Having said that, one has to agree with critics of the protesters to some extent. Showing your middle finger or calling someone a pig is not protest, it's called heckling.
While Mathew should be rightly criticised for the nature of his jokes, the method employed by the girl students were outright obnoxious. This reminds us of another incident when singer Palash Sen commented on how girls are very ordinary looking at IIT. A female student, disgusted with him, left the venue and later wrote a scathing blog on the incident. It comepelled Sen to apologise and started an informed healthy dialogue as what is permissible as humour and what isn't.
However, by behaving in churlish and deeply insulting ways themselves, the protesters have made the valid fight against sexism seem unreasonable and violent.
Ironically, Mathew and the protesters have one thing in common: they are both indefensible.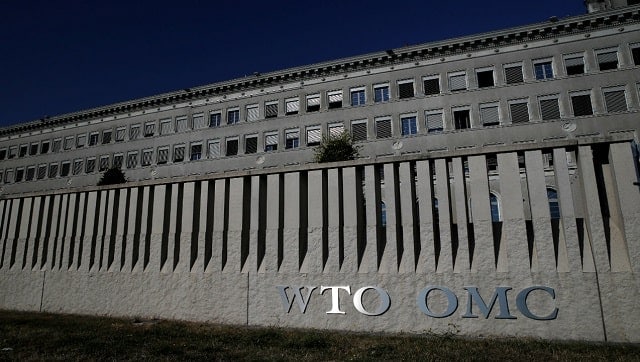 World
The new director-general — herself the first woman and the first African to lead the WTO — appointed Angela Ellard of the United States and Costa Rica's Anabel Gonzalez, along with Jean-Marie Paugam of France and China's Zhang Xiangchen.
Lifestyle
A farmer's daughter, Roohani grew up labouring on the land like most other children in Agh Mazar. But unlike her five siblings, she had her eyes on her father's tractor, and developed an uncanny knack for driving it at an early age.