Caravan Chronicles: Fortuitous breakdowns and spellbinding sunsets, from Gujarat to Rajasthan
Ankita Kumar and Rohith Subramaniam, the duo that makes up Droom Caravan Chronicles, sent us dispatches from their 100-day road trip across India, in a caravan rebuilt from a '90s Matador | #FTravellers
Editor's note: You may have heard the saying 'the journey is the destination', but some travellers actually put that philosophy into practice. Presenting, #FTravellers — on-the-road (or air/sea) dispatches from travel enthusiasts on long journeys.
The first travellers we have on board are Ankita Kumar and Rohith Subramaniam, the duo that makes up Droom Caravan Chronicles. They're on a 100-day journey across India (with 30 halt locations), in a caravan rebuilt from a '90s Matador.  
***
100 days | 30 locations | 3 travellers | 1 caravan.
This is post 5 from Droom Caravan Chronicles.
If you missed our first post on Firstpost, where we explained all about who we are and how we got onto an epic road trip through India in our caravan, here's an introduction — we're Ankita Kumar and Rohith Subramaniam, travel enthusiasts and the founders of Caravan Chronicles. We're travelling across India in a caravan that we rebuilt from a '90s Matador, for 100 days.
In this dispatch, we're going to talk to about days 51-70 of our trip. Ready?
Day 51-60
Route/milestones: Mumbai to Surat-a most fortunate breakdown-reaching Rann of Kutch-with the BSF at Dholavira-stuck on the salt flats-on to Ahmedabad
In our previous dispatch, we signed off on our 50th day on the road, as we left Mumbai for Ahmedabad. We were changing more than our location though. William, who had been travelling with us for the past two months, had to leave since his visa had expired. Sharanya, the travel blogger behind Truly Nomadly, joined us for this next leg of our journey.
We were now exactly halfway through our trip, and it naturally prompted some introspection on what the journey thus far had been like. We had moved through some difficult terrain, but the weather had been okay — the heat was tolerable so we could still comfortably sleep in our tents or the van. But now, we were moving into the hottest belt of the country, where the mercury would soar to 50°C. We prepared to brave Gujarat's heat in our little metal, non-airconditioned van.
As we drove from Mumbai to Surat, Kiro (our van) had a major breakdown about 20 km from Surat (you might remember from our last update that we'd spent a week fixing it up in Mumbai). We had stopped for dinner, and the van refused to start when we had to resume our journey. The restaurant where we'd stopped at, however, had most helpful owners. They not only gave us food and shelter but also connected us to a great mechanic, Wahab Bhai. Wahab Bhai restored Kiro to health so lovingly, we felt it was fate our van had broken down where it did. It took two days to fix Kiro, and the gear box had to be replaced once again. Finally, the van was up and running and we headed towards Rann of Kutch. It was a 600 km overnight journey. It was impossible to drive during the days because of the heat, so we would rest during the day and drive all night.
We reached Rann of Kutch early in the morning, exhausted from the journey. A guest house provided an ideal pit-stop to freshen up and have a bit of lunch. As we were researching just where the famed salt flats of the region were, we realised we'd have to drive another 300 km to reach them! So we drove that night again — a beautiful and memorable ride — to finally arrive at Dholavira while it was still dark. The stars were out, the roads were good, and there was a pleasant breeze. In the van, we played music and were mostly quiet — just taking in the magic of the moment.
At Dholavira, we were hosted by Border Security Force (BSF) personnel, who offered us hot food and rooms at their guest house. We were tired, but stayed up chatting with them about life on the border. In the morning, they escorted us to the salt flats, where we shot a few photos. We thought we could take Kiro onto the salt flats and take photos with her. Some of the BSF men were skeptical, but they helped us anyway. Just as we got onto the salt flats, Kiro got stuck! There we were, in the middle of nowhere, with a badly stuck van. It took almost 10 people to get her out!
In Kutch, we also visited sites of the Harappan civilisation. It was mind-boggling to see what the people of that time were capable of building — without any machinery. They had showers, elaborate drainage systems and even a makeshift refrigerator!
Kutch also had the most mesmerising sunrises and sunsets. The sun was like a big ball of fire lighting up the vast salt flats. After Kutch, we made our way to Ahmedabad, again, driving at night so the van wouldn't get overheated.
Day 61-70
Route/milestones: Escape to Rajasthan-shooting with Sukesh-another breakdown-a magical sunset-Japiur, ho!
In Ahmedabad, the pollution and population exhausted us! We couldn't wait to get out, and set off for Rajasthan pronto.
Now, our initial plan had been to drive to the North East, but Kiro's age (she's a 20-year-old van) and the roads in the region not being the easiest to drive on, meant a change of plans. Which was why we found ourselves following a Kerala to Rajasthan route instead.
The weather in Rajasthan proved to be a pleasant surprise. We were greeted with morning showers. However, we decided not to sleep in the van anymore and put up at a hostel called Go Stops instead.
A day's rest later, we met up with cinematographer Sukesh Vishwa from The Vibe, a production house that specialises in travel films. We were to spend the next few days with Sukesh, shooting a short film on  Caravan Chronicles. We scouted locations — visiting forts, step wells and the famous blue lanes of Jodhpur. Sukesh was flying a drone and people would gather around to watch in awe as it made its way above. We'd begin the shoot at 4.30 am, work till mid-day, rest, and then resume the shoot at 4.30 pm. We captured some stunning sunrises over the forts and beautiful moments on the streets. We met with tie and dye artisans, old shoemakers and heard many stories about the history of Jodhpur.
After three fabulous days, it was time to make our way to Pushkar to catch the epic sunset over the lake. Unfortunately, Kiro's silencer gave way. As we tried to fix the silencer, the radiator also gave up! Luckily, help was close at hand. The loss of time, however, meant another change of plans — there was no way we'd make it to Pushkar for the sunset. So we decided to finish the shoot at Sambhar Lake instead. That meant driving through most of the night. We reached Sambhar at around 2.30 am, and promptly began the shoot at 4 am — bleary-eyed and sleep-deprived.
Once the shoot was wrapped up, we rested awhile and left for Pushkar to (finally) catch the sunset. We made it just in time! It was a beautiful, albeit crowded one. We dropped Sukesh off at the airport the next morning and made our way to Jaipur. Then, we slept an entire day.
After the frenetic activity of the previous days, Jaipur was a lot more relaxed. We ate pani puri near Bapu Bazaar, shopped for Kiro, and took in some forts.
Braving the summer was quite a challenge, but we were proud, and thankful that we made it through.
Stay tuned for more from Droom Caravan Chronicles on #FTravellers.
Life
On #FTravellers, The reDiscovery Project's Ambika Vishwanath and Hoshner Reporter send us dispatches from the road, as they journey through Uttarakhand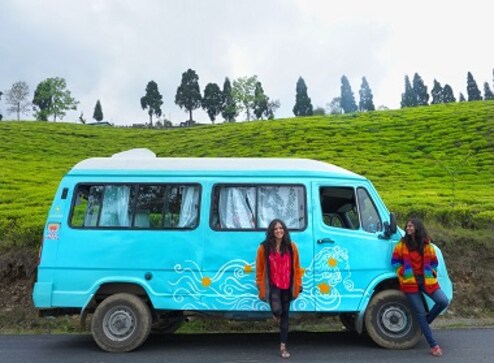 Life
Caravan Chronicles' Season Two is the story of two travellers, Ankita Kumar and Sharanya Iyer, as they spend 30 days in a van, caravanning their days through Sikkim.
Life
Ankita Kumar and Rohith Subramaniam, the duo that makes up Droom Caravan Chronicles, sent us dispatches from their 100-day road trip across India, in a caravan rebuilt from a '90s Matador | #FTravellers