Caravan Chronicles: From Goa to Gokarna and then onto Mumbai, marking 50 days on the road
Ankita Kumar and Rohith Subramaniam, the duo that makes up Droom Caravan Chronicles, sent us dispatches from their 100-day road trip across India, in a caravan rebuilt from a '90s Matador | #FTravellers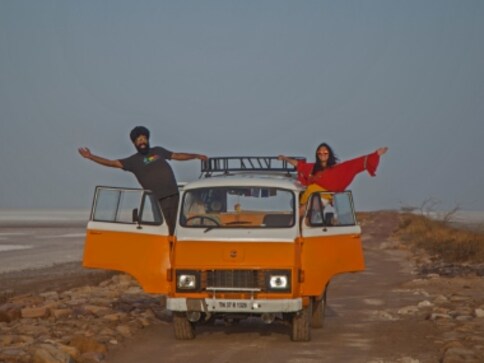 Editor's note: You may have heard the saying 'the journey is the destination', but some travellers actually put that philosophy into practice. Presenting, #FTravellers — on-the-road (or air/sea) dispatches from travel enthusiasts on long journeys.
The first travellers we have on board are Ankita Kumar and Rohith Subramaniam, the duo that makes up Droom Caravan Chronicles. They're on a 100-day journey across India (with 30 halt locations), in a caravan rebuilt from a '90s Matador.  
***
100 days | 30 locations | 3 travellers | 1 caravan.
This is post 4 from Droom Caravan Chronicles.
If you missed our first post on Firstpost, where we explained all about who we are and how we got onto an epic road trip through India in our caravan, here's an introduction — we're Ankita Kumar and Rohith Subramaniam, travel enthusiasts and the founders of Caravan Chronicles. We're travelling across India in a caravan that we rebuilt from a '90s Matador, for 100 days.
In this dispatch, we're going to talk to about days 31-50 of our trip. Ready?
Days 31-40
Route/milestones: Goa to Gokarna, a tug-of-war over books, meeting Robby of Blue Bus
On day 31 of our journey, we hit Gokarna — and this was when we felt the crazy summer heat! It was off-season so there were no tourists and we stayed at a campsite right on the beach. Sleeping in the tent was quite the task! We were soaked with perspiration (thank you, humidity!) and wanted nothing more than to escape the sweltering heat. We quickly made our way to Goa. There was no respite from the soaring mercury, but Caravan Chronicles' followers hosted us in such exceptional style, we soon forgot all about the heat.
We had our first proper meet-up at 91 Springboards in Goa where we met a lot of generous souls who were super excited by the caravan and had been following our journey (on social media) for some time now.
The three very amazing things that marked our Goa stay? Feni, Ros omelette and xacuti pav!
During our time in Goa, we also spent an evening with a few children from an NGO called Janugahi. Their energy was infectious! We distributed a few books written by Ankita's father Ramendra Kumar to them. And there was literally a massive tug-of-war to get to the books. The children's parents worked at the railway station just a couple kilometers from their place. The children we met would stay home to take care of their siblings and do the housework till Janugahi intervened and got them to go attend school. It was so heartwarming to meet these children who were so happy and full of life despite coming from such difficult circumstances.
We also met Robby who ran the Blue Bus. He'd bought the bus back in the '80s and now ran a hostel-cum-bar out of it. He has never stepped out of India but knew so much about the world because of the number of travellers he had met during his time in Goa.
We finally went to a camper park in Agonda where a lot of vans from across the world are parked. We met a Swedish couple who had bought their camper van all the way from Sweden and were doing a round the world trip in it. It was so inspiring to see their overland journey. It gave us hope that someday we might take Kiro, our van, across borders. Even though Goa is used to hippy vans and RVs, it was wonderful to see people's faces light up when they saw Kiro waddling down the road.
Days 41-50
Route/milestones: Pune-Mumbai-a big breakdown-event with Pooja Dhingra
We then drove all the way from Goa to Pune where we stayed with travel blogger friends Sandeepa and Chetan Karkhanis. This phase of the journey was mostly for relaxing and escaping the summer heat. A lot of time was also spent in organising an event in Mumbai with celebrity baker Pooja Dhingra. We collaborated with her to bake some goodies, turned our caravan into a food truck for a day and the revenue we generated was to go to CUPA — a dog shelter in Bengaluru that Ankita is closely associated with.
In Mumbai, we met with Pooja, baked in her kitchen and managed to dole out a ton of cookies, macaroons and delicious brownies for our bake sale. We raised Rs 12,000 for the dogs, to help the shelter with their medical and food costs.
While we were busy doing this, our van Kiro was at the mechanic's. She was in pretty bad shape owing to the summer heat. We were in quite a soup, as she decided to give up on us just as we reached our host's house in Mumbai. We had to tow her to BKC for the bake sale and then tow her to the mechanic's. The mechanic had to fix the gear box, the steering wheel and the suspension — all of which took almost a week. After all the work though, she was finally good to go and we decided to drive to Ahmedabad next in one go. Onwards!
Stay tuned for more from Droom Caravan Chronicles on #FTravellers.
Politics
Citing an official communication from the EC, party national convenor Kejriwal said, after Delhi and Punjab, AAP is now a state recognised party in Goa too.
Politics
From Smriti Irani's alleged links to a pub to Mahua Moitra's luxury bag, things that ought not to be of our concern are for some reason nationally debated
Football
FC Goa drew the first blood when young midfielder Muhammad Nebil struck from a counter attack to give his side an early lead.