Bangalore Literature Festival 2018: Section 377 to Dalit politics, Day 1 brings insights to the fore
The 2018 Bangalore Literature Festival kicked off on the lawns of The Lalit Ashok on Saturday, 27 October, and Day One saw a lot of interesting sessions.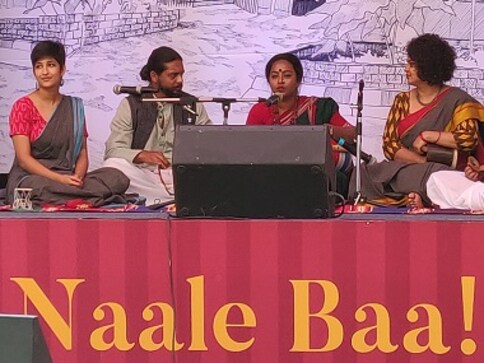 The 2018 Bangalore Literature Festival kicked off on the lawns of The Lalit Ashok on Saturday, 27 October, and Day One saw a lot of interesting sessions. Three stages — Adjust Maadi, Naale Ba (both dedicated to Bengalurean slang) and The Red Couch — were where all the activity was spread. Not to mention the two venues at Narnia and Malgudi for the Children's Literature Festival (CFL).
While the day began on a quiet note of discussions, it was the voice of Shilpa Mudbi Kothakota of the Urban Folk Project singing "Udhay Udhay", invoking the women deities of North Karnataka, that had everyone sit up in attention. This was her opening to a song telling the tale of Princess Renuka, a Shivbhakt and her journey to becoming Yellamma. This performance was a showcase of Yellamanaata, a ritualistic overnight festival that is performed by jogathis or the transgender followers of Yellamma. Her voice and her troupe's animated performance quite literally brought in an audience from the other stages and that perhaps is a singular testimony to encouraging an interest in traditional cultural performances.
There were quite a few laughs and sighs of awe when Romulus Whitaker, wildlife conservationist and founder of Madras Snake Park, and his wife, the filmmaker Janaki Lenin, took to the stage. From stories on how airport security checked Romulus twice over just to make sure he didn't have snakes on him (Rom promises he stopped carrying them a while ago!), to his adventures in the Sunderbans of Bangladesh — retrieving crocodile nests, to having microphones being swallowed by crocodiles, to winning an Emmy award unexpectedly for one of their first documentaries for NatGeo, Rom and Janaki shared an easy banter on stage and had their audience intrigued.
Questioning the foundations of the Indian republic, Chandan Gowda, faculty at Azim Premji University was in conversation with Anand Teltumbde, author and civil rights activist, raising pertinent questions on how political parties today have appropriated the iconisation of Ambedkar in post-colonial India. Teltumbde emphasised the fact that Dalit politics today is more about gaining political rent and that there has not been an independent Dalit voice now for a very long time!
At the CLF, all eyes were on Poorna Malavath, who scaled Mount Everest at the age of 13. In conversation with Aparna Jain, author of Like a Girl, and Sharda Ugra, senior sportswriter and editor, Poorna had the youngsters in the audience glued to every word she said — from her initial training in Darjeeling to convincing her crying mother that the opportunity to scale Mount Everest was worth it — even though it was fraught with danger to the adventures on her 52 day expedition. Poorna said that her reason for sharing her story was to show the world that boys and girls are equal and that girls could do anything they put their mind to.
Discussing narrative non-fiction and building the blocks of a story from life itself were authors Bachi Kakaria, Manu S Pillai and Shoba Narayan with VK Karthika, publisher, Westland. Manu's ability to hold an audience's attention with his historical anecdotes was evident from the intense involvement one could see among people attending this session. The panellists — each dealing with a different time frame and situation in history in their writing — emphasised the importance of research. In fact, Manu even spoke of how detailed footnotes for reference can help a reader find something interesting and start a whole new line of discovery.
Discussing whether 'India is Illiberal' were Naresh Fernandes, journalist and editor of Scroll.in and Chidanand Rajghatta, The Times of India's US-based foreign Eeditor. Drawing some comparisons between Indian and American political scenarios currently, Chidu (as he is well known) opined that currently the ideological pendulum in the country is swinging wider from the center as it happened in the US under successive governments. He added that proliferation of social media has occurred and its impact felt so quickly that it left a lot of people unnerved and unprepared for the speed of globalisation. Conversations today have become more toxic. These are some of the reasons why Rajghatta believes that we are sliding down the illiberal slope.
Comparing notes on intrepid travel were Dan Morrison, journalist, photographer and author, and Rhea Saran, editor-in-chief, Condenast Traveller Middle East in conversation with Aparna Raman. Some interesting thoughts from Dan who said that any danger he faced in his line of work was more accidental than incidental. In that, he has never used a local guide or translator and has found that if you keep your heart and mind open, people will let you in. Which, Rhea echoed, is similar to luxury travel today. She explained how experiential travel is no longer a buzzword but rather 'transformative travel' is. "And the one way to be transformed and touched is to be immersed in local cultures," believes Saran.
And there was an overflowing house to listen to Anjali Gopalan, Indian human rights and animal activist in conversation with Alok Prasanna Kumar, head of Vidhi Centre for Legal Policy on the journey of winning the Section 377 verdict. Taking us through the high and lows of the case Gopalan said, "All of us are successful at living two lives — one for ourselves, one for society. While it has been decriminalised, it is yet to be legalised and that means that the battle is still not over". She added that there is a need to have more youngsters come into parliament for change to really take place. The bottom line is that we need to talk more!
And there were so many more conversations that took place and will also take place on the second day of the Bangalore Literature Festival 2018.
— All images courtesy the writer
Entertainment
Author Tom Quinn said it in his recently released book that Harry and Meghan will become unhappy and insignificant.
Entertainment
Prince Harry is frightened of his wife Meghan Markle, claims royal biographer; calls her really scary'. She controls every move of Harry
Entertainment
Prince Harry's US visa is at risk now because of his memoir Spare in which the Duke of Sussex admitted to using recreational drugs before he left the UK after stepping down from the royal duties and shifted to the United States.