Bach in the Subways: Dale Henderson inspired a global movement to make music accessible
Dale Henderson, the founder of the global Bach In The Subways movement, tells us how he was inspired to take classical music to the masses in a novel way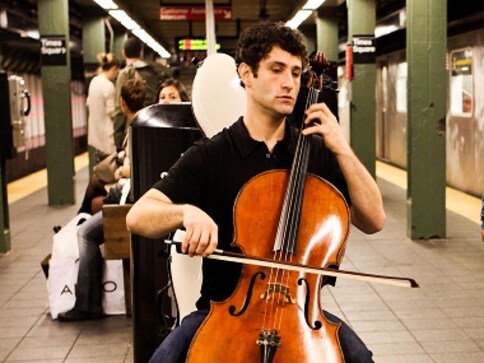 As the train pulls into Columbus Street Station on 59th street, and the racket of the New York subway train fades away, the soft, lilting tunes of Bach can be heard. The melody makes you stop, it's like that moment in time freezes, and it's as though your soul has communicated with you. And this transcendental experience that occurs on your way to work is one New Yorkers are none too surprised by; From Beethoven, to Bach, and Schubert — they're now attuned to music coming alive in the most unexpected of places — thanks to the global movement called "Bach in the Subways" which originated in the Big Apple.
Dale Henderson is the founder of this popular classical music movement, that has spread to 150 cities in 40 countries and now has over 1,000 musicians associated with it. Every conceivable type of instrument — including guitars, violins, tubas, violas, electric guitars, pianos, organs, clarinets, french horns, trumpets, trombones, symphony orchestras, smaller chamber orchestras, chamber groups, basses, electric pianos — has been part of 'Bach in the Subways', which aims to bring classical music to the masses.
Born into a northeastern American family, Dale took to the cello at the age of five. His connection with the instrument was curious — he had the option of learning the violin, but that meant waiting for six months to start lessons. Dale couldn't wait, he took up the cello instead.
He remembers being enraged during his early lessons that he couldn't play as well as Pablo Casals, the legendary Spanish cellist who was also Dale's inspiration. It was through Casals' music that a fascination for Bach passed on to Dale; he calls the music a "great revelation". Hours would go by as Dale practiced Bach in a dark room.
Of course, like any other relationship, Dale's with his cello too, had its ups and downs. It was when he was in college that Dale began to question why classical music wasn't able to break barriers to reach different sorts of people. He also felt that there was a curious dichotomy between the origins of the great composers, and the socioeconomic class of people who enjoyed their music.
"Culture is a miraculous gift to offer people and it needs to trickle down the ladder of social consciousness," Dale explains. "Music is meant for the people and it is of the people. Mozart, Bach, Beethoven belonged to the working class and were treated as servants. The idea behind Bach in the Subways was to fight these barriers that we've created through backgrounds and other cultural prejudices."
This is also why he chose to bring the cello to the masses — and the best possible way to connect with them in NYC was through the subways. "They are a representative of every type of New Yorker. However clichéd it might sound, it is essentially the melting pot of people coming together from almost every ethnicity and class in the city," says Dale.
Bach in the Subways is a product of Dale's efforts over a decade. And he admits that it took some work before he could establish his movement, in 2010.
"The concept of this movement didn't come about in a day, where I just decided to pick up my cello and play at subway stations. A friend had suggested that I play in the subways for free, and the idea grew from there. When I reached New York in 2008, it took me a good two years to establish myself and settle here. The synergy in the city just made it easier to grow, and feed into the energy that this city offers. The sense of happiness and inspiration grew and help poured in from various friends," recounts Dale.
By 2010, Dale had attained a certain level of financial stability and felt he was in a position to devote more attention to Bach in the Subways. "When you remove money from the picture, the space suddenly becomes sacred," says Dale. "I would play 2-3 times a week at some subway station and post a few hours before playing. It was heartening to see people view the post and actually turn up at those places. I had never seen such diversity in my audience as I did at those subway stations. I was overwhelmed when people told me that this music was affecting their lives, in those few moments at the subway stations."
There were logistical issues to grapple with too — such as the acoustics at subway stations. In the midst of two trains arriving/departing, the sound of the cello would stand out, soulful, in rush hour. But the tremendous chaos of the subway only made Dale's movement more successful.
By 2015, Bach in the Subways had spread to 40 countries. And on Bach's birthday in March, this year, the movement made its debut in India, in Kolkata.
Apart from these musical performances at subway stations, Dale now wants to take the movement a step ahead. He wants to take it to public schools, and bring Bach to children. "It's important to have that sense of music and culture at an early age if we want to truly change our education systems and schools," says Dale. He is also expanding the movement with the help of digital media. His motivation is simple: "I just want people to lose themselves in Bach's suites," says Dale. "I want them to feel the energy, and pass it on."
Watch a video of Dale playing Bach here:
India
The 52-cm tall idol belonging to the Chola period was stolen in May 1979 from the Nadanapureshwarar Sivan Temple at Thandanthottam, Kumbakonam in Tamil Nadu. Officials from the CID Idol Wing are now preparing the paperwork to bring back the artefact from Bonhams auction house in New York
World
The civil investigation, led by state Attorney General Letitia James, involves allegations that Trump's company, the Trump Organization, misstated the value of prized assets like golf courses and skyscrapers, misleading lenders and tax authorities
World
According to health experts, the polio virus has been identified in seven different wastewater samples in two adjacent counties north of New York City