At the Maa Sahiba Dargah, simple qawwalis about maternal love, spiritual excellence
It is said that Hazrat Nizamuddin Auliya was motivated by his mother Maa Sahiba's faith and devotion to embark on a quest for spiritual exaltation | #FirstCulture
Hidden in the prosaic Udhchini is a miraculous haven where all noise, insanity and futility comes to rest in an uninterrupted river of music, peace, and promises. On days when the soul tires of the world and its impossibilities, the dargah of Maa Sahiba is an avenue of absolute peace.
This dargah is an unexpected miracle in the otherwise unnoticeable Udhchini village, just a shot away from Mehrauli, near the Qutub Minar. A sudden and non-ornate lane lined with artless flower shops opens into a sprawling expanse of marble, incense and prayers under the most gorgeous slice of afternoon sky. The inner sanctum or the aastana, housing the grave of Maa Sahiba, is spectacular and perhaps the most beautiful among the five Chishtiya Dargahs in Delhi. A pair of huge silver doors, gleaming with delicate carvings, open into a dream of pink and silver under an ancient, calming chandelier which is studded with candles. The Dua-e-Roshni, or the prayer of light, is a sight to behold. The dargah is gorgeously lit up with candles and lamps, and the sanctum is sprayed with rose petals, oudh and sandal before the evening prayers.
The dargah of Maa Sahiba is comparatively quieter and less crowded than the dargah of Hazrat Nizamuddin Auliya, and a perfect getaway to complete a writing assignment or to listen to uninterrupted Qawwali, or to have a quiet and fulfilling afternoon in the comfort of maternal grace. For solitary souls living away from home, this space is miraculously therapeutic. And if you are lucky, you might also be treated to some chai and rusk.
Bibi Zulaikha, or Maa Sahiba, is the mother of Hazrat Nizamuddin Auliya or Mehboob-e-Ilahi, the guardian saint of Delhi. Khwaja Ahmad, the father of Nizamuddin Auliya, passed away when the Sheikh was an infant and Bibi Zulaikha raised her children. She was unparalleled in her endurance and spiritual excellence, and was committed to ensuring that her son was educated and a master of the spiritual arts. Her faith and strong bond with the Divine, which strengthened with greater challenges and difficulties in life, inspired and motivated the Sheikh in his quest for spiritual exaltation. On days when there was no food in the house, Maa Sahiba would lovingly say to her son, "Today, we are the guests of God" — a phrase which gave great solace and contentment to the young Nizamuddin. Every month when the new moon was sighted, the Sheikh would prostrate at the feet of his mother, and once she passed away, he would always pray to God at her grave.
Today, countless devotees visit the dargah of Maa Sahiba with prayers and hopes of fulfillment. It is especially crowded on Wednesdays, when special evening prayers or the Dua-e-Roshni is performed before Maghreb. And then of course there is the Qawwali — pristine, organic, simple and enchanting. Quite unlike those that are heard at other Chishtiya Sufi shrines of Delhi. It is indeed remarkable when the Qawwali rises and pierces through the sky, and all around are powerful voices singing, "Humein aapne bulaya Maa Sahiba, yeh karam nahi toh kya hai" (You have called us here, O Mother, is it not then a blessing?).
During her lifetime, Maa Sahiba was revered for her piety and it is said that there was never a time when her prayers went unanswered. The belief in her glory and mediation of divine benefaction attracts people from all over to the dargah. She is the supreme matriarch of the Chishtiya Sufi Silsila, and visit to her shrine is incumbent on all pilgrims and lovers of the Chishtiya Sufi tradition.
Maa Sahiba's presence is the mystical reassurance of the necessary miracles of being a woman — of being filled with kindness, forgiveness, perseverance and magnanimity. It is a miracle we all are equally capable of and must aspire to. The miracle of Maa Sahiba is the simplicity and the divinity of Jamaal. Jamaal or beauty is an attribute of the Divine and most essential in maintaining balance and harmony in the created world. Jamaal is also the only attribute which the created world shares with the realm of divine immortality, and is most simply defined as the "feminine". In Sufi spirituality, the mystical concepts of Jamal and Jalal represent beauty and beneficence (Jamal/feminine) and creative will (Jalal/masculine), both echoing necessary attributes and balance of divinity. The concept is also resonant of a wave and particle in Quantum Physics, and the interconnectedness and interdependence of seemingly opposing forces in the Taoist philosophy of Yin and Yang, where contradictory forces become equal and essential for a wholesome experience of life and being.
The Jamaal of Maa Sahiba is the promise of an eternal lover, a mother and a provider. It is the unparalleled love which motivated the stupendous spirituality of the most beloved saint of Delhi —Hazrat Mehboob-e-Ilahi. The Jamaal is the victory of a woman, in whose honour male qawwals perform musical haziris devotedly and consistently every single day of the year. On whose doorstep countless women, men, children and sparrows and cuckoos and cats address their pleas for divine grace. It is the quiet victory of all women who are champion of their lives and create and sustain their worlds with utmost strength, grace and dignity. The Jamaal of Maa Sahiba is the faith women have in their love, which gives them strength to overcome the various difficulties of this mortal life. It is the loving benefaction of the Divine Beloved, which oversees us and takes care of us like a lover. And victories like these need to be celebrated every waking moment.
The writer is a research scholar at the School of Arts and Aesthetics, Jawaharlal Nehru University, New Delhi. Her research interests include Sufism and contemporary film, media and sound culture in South Asia
India
Efforts to build peace and amity must continue — said one of the two clerics from Hazrat Nizamuddin Dargah, on returning home from Pakistan.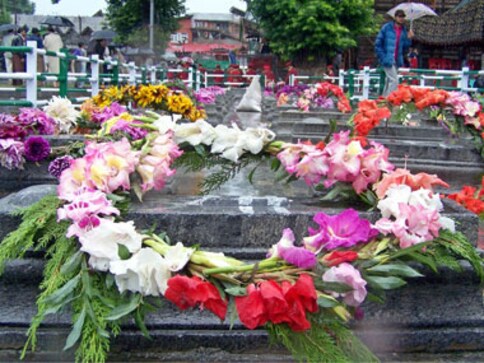 Life
The graves, professor Zeenat Shaukat Ali said quoting Prophet Muhammad, should be frequented by men and women for two reasons: one, it reminds them of death and two, they can pray for the people buried there.
India
The two missing Indian clerics of Delhi's Hazrat Nizamuddin Dargah are in custody of Pakistan's intelligence agency over their alleged links with the Muttahida Qaumi Movement (MQM), official sources said on Saturday.