As Doordarshan seeks to replace 'DD Eye', a look at what '70s logos said about a young India
From Doordarshan to State Bank of India and Indian Airlines — logos designed by NID alum in the '70s were reflective of the aspirations of a young democracy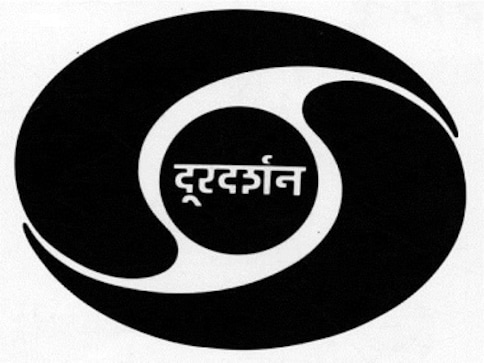 It was a decade of war and liberation, of food revolutions, of sloganeering and unrest. The tumult of the 1970s in India was the outcome of a young democracy hurtling towards its ideals, only to collide with the government of the day, and have its freedom revoked. Amid the chaos of the milieu, a project landed in the classroom of Vikas Satwalekar, erstwhile executive director of the National Institute of Design (NID) in Ahmedabad, who was conducting a course on Symbol Design. Doordarshan (DD), the country's only public service broadcaster, which began its tentative and grainy telecasts in 1959 and regular transmissions in 1965 as a subgroup of All India Radio (AIR), required a symbol — a visual representation of its corporate identity. It was soon to been separated from AIR, in April 1976, and the logo was meant to represent this newly autonomous entity.
Devashis Bhattacharyya, the student who designed what is now popularly referred to as the 'DD Eye' recalls making the two curves that comprise the logo (sometimes called 'yin and yang') by hand.  It was 1975; the only technology designers had access to, was rudimentary stationary. "This logo harks back to an analog world, although the vector image anticipates the kind of digital visual articulation one sees now," he explains.  In the absence of computers, graphic designers sketched. "Even a small iteration meant one did a draft all over again. That was the reason, one had to be very careful — a decision to make a change meant enormous changes in the whole process," he elaborates.  The 'DD Eye' was also created for DD's initial attempts at a national broadcast. "This was a time when ISRO launched its communication satellites, and DD was turning into a national broadcaster. It needed a logo that people from every corner of the country could relate to," he expands.
Bhattacharyya, who is now 66 years old, perhaps inadvertently suggests the reason for DD seeking an alternative to the logo he created when he was a 24-year-old student at NID. His 'DD Eye' logo, sketched by hand and animated by RL Mistry, belongs to a black-and-white era of analog signals and quivering transmission. DD, which has announced a competition and invited entries for a brand new visual emblem, is keen to keep up with the times. Its invitation for the contest states: "In order to engage with India's youth and to get a mindshare for DD brand within the current generation, DD is seeking a new logo design." The invitation acknowledges the "deep nostalgia" evoked by the old logo and suggests that the new design, while recalling this nostalgia, should "reflect the aspirations of new India."
While DD is undoubtedly fired by the zeal to foray into new markets with younger demographic audiences, its invitation is problematic.  Is the old 'DD Eye' logo, for instance, a mere reminder of a milieu punctuated by the Rukawat Ke Liye Khed Hai message that appeared with annoying frequency on one's boxy TV sets? Or does it represent an idiom that is diverse, timeless and undeniably Indian?
DD's flawed call for entries:
Vikas Satwalekar, under whose supervision the old 'DD Eye' logo was created, deliberates upon labelling a work of art, and in this context, a visual identity for a corporate, 'old' or 'new' or 'dated' or 'contemporary.' He advises caution while denouncing a design for being out-dated, or glorifying its avant-garde traits. "I do not subscribe to the view that a visual identity in itself is either dated or contemporary," he emphasises. "These are attributes of the public perception of an organisation or product."  Stating that the logo designed by Bhattacharyya is "iconic and timeless", he also argues that while "a new logo may hold out a promise, the promise has to be ultimately delivered by the quality of the product."
DD's call for new logo designs is also a poorly articulated one. Satwalekar describes it as "sketchy and quite generic."  Referring to a sentence from the call for entries — "The logo shall comprise an attractive design depicting Doordarshan" — he says, "Attractive? That is a wholly subjective criterion!"
He acknowledges that an organisation like DD might feel the need to undertake a rebranding exercise: "An image makeover, a different audience — these are all perfectly valid reasons for rebranding because the organisation is heralding a significant change," he explains. But he isn't convinced that changing the logo alone will achieve the shift in image and perception that DD is eager for. A new visual identity is emblematic of an organisation's new purpose, but, asks Satwalekar, "What is this new purpose? How will it manifest in their programming? Is DD going to make changes in its organisational structure?"
Pertinent questions, which bring to fore a potent symbol that appears on car bonnets, airline liveries, washing machines, cereal boxes, handbags, phones, computer screens, flatscreen TVs , shoes, underwear — the logo. Paul Rand, the American modernist and graphic designer who created some of the most iconic logos of the corporate world — IBM, ABC, UPS, Enron, Morningstar, Inc., and NeXT —  defined the logo and its chief function, in an article titled Logos, Flags and Escutcheons, first published in 1991 by AIGA,  the professional association for design.  He wrote:
"Here's what a logo is and does: 
A logo is a flag, a signature, an escutcheon.
A logo doesn't sell (directly), it identifies.
A logo is rarely a description of a business.
A logo derives its meaning from the quality of the thing it symbolizes, not the other way around.
A logo is less important than the product it signifies; what it means is more important than what it looks like."
Rand's definition is suggestive of all that a logo is capable of achieving for a brand, as an emblem of its ideals and as a visual summation of its philosophy. It also reveals the unrealistic expectations companies have of their logos — of conferring upon their brands, a value or worth that may or may not exist.  DD's rebranding exercise is perhaps a case of expecting too much of a new logo — that a contemporary design might denote a contemporary organisation reflects a naivety that Rand hints at, when he discusses why organisations undertake the task of redesigning a logo: "There are as many reasons for designing a new logo, or updating an old one, as there are opinions. The belief that a new or updated design will be some kind of charm that will magically transform any business, is not uncommon. A redesigned logo may have the advantage of implying something new, something improved — but this is short-lived if a company doesn't live up to its claim."
A new or updated logo, then, must signal a new and updated company, one that has really sloughed off whatever constitutes its dead skin — old management, a philosophy at odds with the milieu, obsolete products or technology. Itu Chaudhuri, a Delhi-based graphic designer and founder of Itu Chaudhuri Design, echoes Rand when he dwells upon DD's call for a new logo. Chaudhuri, whose work includes designing the logo and website for e-commerce store Almirah, redesigning the financial daily The Economic Times, as well as reimagining the website of The Hindu, cites three reasons why any company should consider changing its logo. "When a company believes that it has come a long way and its logo no longer reflects that; or when an organisation embarks upon deep-rooted changes and needs a logo to hint at that; or when the market or target audience changes and the brand continues to satisfy its audience, but the logo doesn't, is when redesigning the logo becomes a legitimate exercise," he explains.  "DD would have to change in its entirety; merely changing the logo is a cosmetic way of making people believe that DD is up to something new," he adds .
DD's new logo must become an insignia that presages visible changes in DD's programming, or management, or both. Else, it will be reduced to a decorative crest that merely alludes to better offerings, without ever living up to its promises.
An Indian idiom: is there one?
The 1970s were also a decade when NID established links with other national organisations, like the Indian Space Research Organisation (ISRO), the Indian Institute of Management, Ahmedabad (IIM-A) and the National Dairy Development Board (NDDB). Ashoke Chatterjee, the second executive  director (he was appointed in 1975) was keen to usher in an age of design solutions that responded to the Indian economy and the unique challenges of it environment.  At a meeting titled Design for Development held at NID in 1979 and organised by the United Nations Industrial Development Organisation (UNIDO) and The International Council of Societies of Industrial Design (ICSID), he spoke of NID'S mission as a design institute: "It will be clear from what I have said that NID's basic task is to create an Indian idiom of Industrial Design and Visual Communication: design disciplines relevant to the needs of a huge economy which embraces every stage of industrial development."
Aligned to NID's design culture of unearthing solutions for the microcosm of institutes around it, were several logos created for national organisations. The visual identity for 'Operation Flood', for instance, was a response to Dr Verghese Kurien's simple brief – flood the country with fresh pasteurised milk. 'Operation Flood' was launched by NDDB in 1970, and its symbol, created by Satwalekar in 1973, was the lone but elegant, drop. Satwalekar recalls designing what became an instantly recognisable symbol: "A flow of liquid begins when drops converge to form a trickle…torrent…flood, the circular form with an opening at the bottom placed in the middle of the drop (form) was indicative of the pasteurisation process…the starting point of the flow moving upwards."
Satwalekar's design was approved by Dr Kurien, and the symbol appeared on stationery items, packaging, vending machines, rail and road milk tankers, distribution centres and uniforms. "The synergy between the client and the designer was exhilarating and vastly productive," Satwalekar reminisces.
There were logos conceived in the decades prior to the '70s, which also represented NID's involvement with a new nation's tremulous first steps towards setting up banks, airlines, film institutes, railways. The logo for Indian Airlines was designed by the late Benoy Sarkar in 1967. Sarkar had been a student of Paul Rand at Yale University, and was teaching at NID when he designed the logo. He describes it in Design Folio, and NID publication: "The symbol chosen is based on the golden section of the ancient Greeks. It is aesthetic and has a pleasant formal division, geometrically simple and fits the letters 'IA' for Indian Airlines."
The visual identity for the State Bank of India (SBI), also designed in 1967 by Shekhar Kamath, is still being used.  Kamath, who has been quoted in the 2013 tome titled 50 Years of the National Institute of Design: 1961-2011, explains the enduring symbol of economic inclusion that he created — the keyhole:  "I knew that 90 percent of these branches were in the rural areas. So, I figured that the design had to be simple and easily recognisable by all, including those who were illiterate. They should be able to simply look at the logo and associate it with security."
Each of these symbols was a powerful solution to a client's design brief. And while NID created some of the most longstanding logos of Indian organisations, their iconography was not overtly, or deliberately Indian. There were emblems that borrowed from Indian motifs — for instance, Benoy Sarkar's 1974 logo for India Trade Promotion Organisation (ITPO), formerly known as Trade Fair Authority of India (TFAI) was inspired by an inscription on a gold coin belonging to King Samudragupta's epoch (330-380 AD). SM Shah's logo for the Film and Television Institute of India (FTII) was an imaginative rendering of the Devnagri script. But even these symbols were not consciously attempting an Indian aesthetic.  Satwalekar observes that, "If these are symbols with marked Indian visual metaphors, I believe that is more due to the client's desire for a specific aim rather than the designer imposing 'Indianness'."
An Indian idiom, represented by each of these logos, is perhaps what DD is referring to, when it states that the new logo should represent an ambitious new India. But Indianness is something that draws from multiple influences. Chaudhuri mentions the Raag Shudh Kalyan, in an attempt to explain the heterogeneous nature of Indianness. "Its most powerful rendering was by Ustaad Mohammad Hussain Sarāhang, an Afghan," he says. DD too, in picking a new logo, should consider one that is as vivid and pluralistic as the milieu it is meant to represent.  And a contest may not be ideal in identifying such a logo; Chaudhuri describes the contest as "the equivalent of a swayamvar, in which the target is unknown; the bride, unreachable." A long conversation then, between the designer and the client, is perhaps one way of arriving at a new logo for DD.
Politics
Since coming to power in 2014, Narendra Modi has had many fashion moments — from his monogrammed suit to his colourful shawls. Love him or hate him, but no one can deny that the prime minister has style
India
A wazukhana is described as an ablution pond where worshippers wash themselves before praying at the mosque. At Varanasi's Gyanvapi Mosque, this has become the topic of debate with the videography survey reporting the presence of a Shivling while Muslims are saying it is a fountain
India
Aviation regulator Directorate General of Civil Aviation (DGCA) is conducting an investigation into this incident. The A320neo planes of Air India have CFM's Leap engines on them