Around the heart in 80 dates: 11 steps that will help you to nail that first date
These 11 simple tips will help you nail that all-important first-date. Remember what they say about first impressions!
Editor's note: This is the fourth in a six-part series called 'Around the heart in 80 dates', that guides young people on how to ace the dating game. Read part one — Do Indians even know how to date? — here. Part two, talks about how to ask him/her out. Part three discussed how to set up a successful first date. 
The road to love is fraught with many stumbling blocks, isn't it? And the one that's proven to be the biggest hurdle is that much dreaded first date. For many it's the Loch Ness Monster evoking fear in even the bravest of hearts; for others it's the Bermuda Triangle where love goes to disappear.
You've already spent so much time and effort in finding 'the one'. You've downloaded the apps, you've put yourself out there, you've hunted, you've scrounged, you've swiped and you've used your best pickup lines. And now — now, that you finally have a lock-in, the opportunity to meet the person who could be everything you've been waiting for, is a date round the corner. Suddenly you feel like your final exams are about to start. Your throat clamps, you begin to sweat, your vision is blurred and you're convinced that you're running a fever!
But the first date doesn't have to be a tightrope from where you're sure you'll fall. It can be great way to meet a new person and start a first in many conversations that could fill your life forever. You can balance both your hopes and reality. You can see things for what they are and stop praying for that miracle. You can either take things to the next level or stop wasting precious time on something that will ultimately go nowhere. The first aid is a frog that you can turn into a Prince!
Of course, for that you need a little skill and tact. Some practicality combined with sensitivity; some reflection and observation. And these few tips for the beginning of many beautiful things in your life:
1. Be on time — As a rule, you should neither be thirty minutes early or late. You can't appear desperate, and this is also not the time to make a fashion statement that'll backfire on you. A delay of 15-20 minutes is pardonable; beyond that – your date (or you) has the right to be perturbed.
2. Be well-dressed — You must dress according to the venue. If you're meeting for coffee, be casual. The key is to look like you made an effort without spending the day in a salon or with your head dunked in hair gel. Ladies, beware of overdressing! You're hot when you're comfortable in your skin, not because you spent your monthly salary on nails and hair and makeup. We know you're trying to make a good first impression (and, you will!) but your personality will take you further than your clothes.
3. Meet and greet — When meeting someone for (probably) the first time you have to follow certain protocol. A handshake is fine, or you can toy with a two-second side-hug, but air kisses (fake) and hugs (overfamiliar), can make the other person uncomfortable.
4. Don't act overfamiliar — Your date is neither your buddy nor your lover. Don't try to create familiarity by using nicknames or terms of endearment. I can't tell you the number of girls who've been called 'babes', 'jaanu', 'sexy', 'item', 'baby', 'darling' and 'doll'. Not cool, guys. Not cool at all.
5. Do not order for someone  — Sounds ludicrous right? But it happens more often than not. Even if the restaurant is your adda and you're a Michelin star chef, let the other person take their time and decide. If they're being indecisive then by all means chip in your two cents. Otherwise, sit back and let the other person get what they want.
6. Be mindful of the food — Since most dates involve the appearance of food, be respectful of another person's eating habits. Even if it's a coffee date, ask your date if they'd like a bite to eat. If they're vegetarian, don't order a non-veg sharing platter. Ask them if they're ok with you eating meat (some people are genuinely not). Also, don't order the most expensive item on the menu. The other person may have the intention of paying for it or going splitsies. And — a quick side note — ladies, eat like a normal person or he'll think you have weird food issues. A salad is not going to carry you through the night or impress anyone (especially not your stomach).
7. Disown that phone — Do not get on your phone, unless it's an emergency. If you have to talk, keep it brief; no longer than two-three minutes. Don't text or Tweet; it's rude.
8. Chitter chatter — Talk but also listen. But don't talk about your ex, or your fetishes, or your unflattering opinion about someone your date and you know in common. Don't tell the person that this is your third date this week. Be open-minded but mindful of red flags. Don't cross-examine the other person as if it's a job interview, or ask them their salary as if it's shaadi.com. Don't get drunk.
9. Establish intentions — Are you looking for a fling, marriage or just seeing where things go? Be straightforward and respect the other person's intentions as well. Either way, there is no need to rush into anything. Don't ask your date to marry you, unless it's clearly a done deal for both sides. Don't jump into bed, unless it's clearly a hook-up for both sides, because the other person may then assume that you're not looking for a serious relationship. Again, I know people who've had sex after the first date and today they're raising kids together, so there are no hard-and-fast rules. But this is an anomaly, not the norm, so it's better to be cautious. Savour the dating process.
10. Foot the bill — This is the deal breaker on most first dates and the one issue that divides everyone. Who do you think should pay? The guy or the girl? Come on! It's the 21st century! A girl must always be ready to pay! Yet — I'll be brutally honest — I know that some girls judge a guy who makes them split the cheque, at least on the first date. I've therefore established a system that seems fair to both genders. Ladies, when the bill comes, reach into your purse and take out your card or cash. If the guy says 'let me get it!' then let him get it. But, if he doesn't stop you, don't resent it. It's okay! And if you shout 'let's split the bill' he is going to think you're serious and let you do it. Don't whine about this afterwards or think less of him. Be classy, always. Gentlemen, if a lady insists on splitting the bill, then do that. And — if you think that she is purposely ordering the most expensive items on the menu, like the lobster and champagne (this has happened), then by all means you are within your rights to go Dutch. Ultimately, it boils down to a few thousand rupees here or there, do you really want to jeopardise a good person or a good time over such trivialities?
11. Show chivalry — I know it's not cool to be chivalrous in this time of gender equality, but it's still a virtue that can make any girl's heart melt. Walk the girl to her car or an Uber, if you're not dropping her. Check if she's reached home safely, even if you don't plan on seeing her again. These are small courtesies that can only earn you brownie points and a second date!
Next week I'll talk about what you can do after the first date to take it from date to mate.
Meghna Pant is the award-winning author of The Trouble With Women (Juggernaut, 2016), Happy Birthday (Random House, 2013) and One And A Half Wife (Westland, 2012). She has previously worked as a business journalist with Times Now, NDTV and Bloomberg-UTV. Follow her on Twitter @MeghnaPant.
Subscribe to Moneycontrol Pro at ₹499 for the first year. Use code PRO499. Limited period offer. *T&C apply
Arts & Culture
If you appreciate sifting through boxes of anonymous photos at an antiques store — that spur to emotional imagination — then at least some of In Memory of Memory will scratch an itch.
Entertainment
If there's anything to take away from Malcolm & Marie, it's this idea of gratitude for people in our lives who make it possible to do what we do, says Zendaya.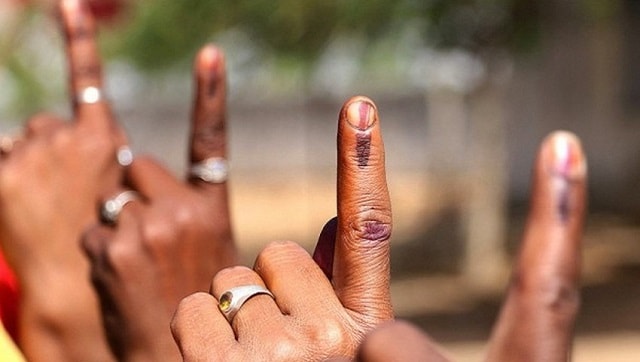 Politics
The date of making nominations for the first, second and third phase are 9 March, 12 March and 19 March, respectively, while the last date for withdrawal of candidatures are 12 March, 17 March and 22 March, respectively