A Valentine's Day open letter to my HIV positive friend: Love yourself more
In his series titled 'Letter to the Subalterns', Harish Iyer writes, 'You are not special. You are one of my friends. And that is not going to change because you have some stupid virus strolling inside your body.'
Editor's note: In this series titled 'Letter to the Subalterns' noted rights activist Harish Iyer reaches out to marginalised, oppressed groups and individuals. On this Valentine's Day, he writes a letter to his HIV positive single friend.
Dear Friend,
I remember having met you a couple of years back. You were at a government hospital, waiting for your results. Your heart was beating harder than the first time we "rolled over the hay", almost a decade before this date. I mean, our hearts beat fastest when we are orgasmic, right? I remember the fear that radiated from your eyes. I remember your fumbling words and trembling lips. HIV is such a thing. I remember very vividly, you grasped my hand so hard I had marks on my wrist. I remember how you asked me to assure you that the result would be a "negative" and I continued to hug you every time you cried this aloud.
You had unsafe sex then. I wasn't sure. I didn't want to lie to you and tell you that you were at no risk. You had risked it. You refused to get your mate to slip a condom, even when he insisted. You wanted the real thing and no barriers between you and your partner.  How I know? Well, the only time we had sex, you were thoroughly disappointed that I would not go all the way with you because you insisted on having it without a condom. You had not changed, though I wish you had.
I remember, holding you close to my chest and walking inside the counselling room.  By the way, you were asked to come to the counselling room by the nurse, and you had figured there would be something wrong. I remember you not leaving my hand for a moment and insisting that I stand there with you. That day was a fateful day for you. Your result was positive. You were HIV Positive.
I knew that there was no time for complaints. I remember every day, after that day, that you and I met up or spoke over the phone. I remember the days you would call me at the dead of the night to come down and take a walk with you. I remember how you shouted at me for no apparent reason and stopped talking to me. It is a pattern I knew of, we push those who we trust our secrets with, as their presence reminds us of those secrets and vulnerable times. I remember being hurt for a moment, but it was a familiar feeling, so I could get up and rise.
You then vanished into oblivion. I remember you would emerge at times and then you would vanish again.  I wanted to tell you that I understand you and what was running in your head then. I am happy that you are on anti-retroviral therapy to keep the HIV from multiplying and it therefore helps you build a stronger immune system.  I do hope that you practice safe sex and ensure that your partner does too. HIV positive people are capable of living absolutely fantastic lives. I know of people who use condoms always and are their partners are not HIV positive.
If for any reason, the condom breaks your partner needs to give a tinkle to the Humsafar Trust, a very proactive organisation based in Mumbai. There are HIV preventive measures like PEP that could be used in the first 72 hours of possible exposure to the virus. Humsafar Trust can give you the right information about it.
Being HIV positive doesn't mean that you need to live a lovelorn life or be scared eternally of loving someone because of the fear of passing the virus. You can stay healthy.
I don't want to be condescending towards you.  I want to rather tell you that you are not different or special. I want to tell you that I love you and I hate you. I get annoyed with you, and I appreciate you. You are not special. You are one of my friends. And that is not going to change because you have some stupid virus strolling inside your body. You and I are friends.
I want to see you find love. I want you to believe that you will find love. But before that, I want you to snap out of the depression, and love yourself more. This valentine's day, have a pact with yourself – that you will love yourself more than ever before.
So, let me waste no time in putting it to you in the most uncreative way. It's more than a decade away, but I still remember the day we rolled over the hay. Let's do it again this valentine's day. Love, you are single, I am single, let's mingle?
Will you be my valentine?
India
Nothing will change if we don't go to Shiro's in Worli or the Bar Stock Exchange in Mumbai. The 'Guysexual' of Firstpost will still be doling out his homo gyaan. The earth will still revolve around the sun.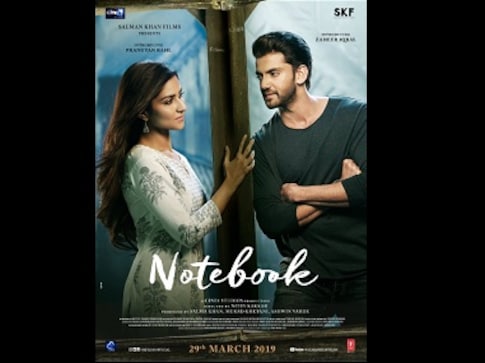 Entertainment
Salman Khan is launching newcomers Pranutan Bahl and Zaheer Iqbal in Notebook which releases on 29 March