Zaira Wasim molestation case: Accused sent to custody till 13 December
The man who allegedly molested Dangal actress Zaira Wasim has been arrested by the police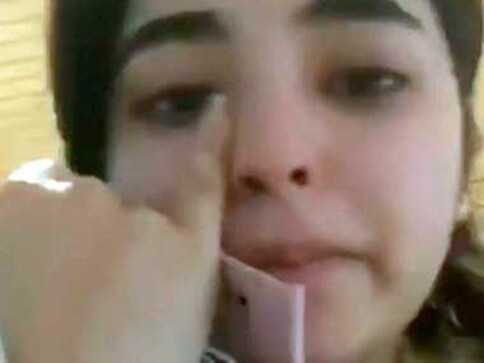 Mumbai police on Sunday arrested the man who allegedly molested Dangal actress Zaira Wasim on board a flight. According to a report by The Economic Times, he will be kept in custody till 13 December.
The accused was identified as 39-year-old Vikas Sachdeva, a senior executive at an entertainment firm in Mumbai, according to a Times of India report.
According to ANI, the action was taken after the Mumbai Police registered an FIR against Sachdeva under section 354 IPC & POCSO Act in the matter. The 17-year-old actress said that she was molested mid-air by a middle-aged man, drawing strong reactions by women's rights activists and politicians.
Sachdeva's wife, Divya Sachdeva, has now responded to the allegations leveled against her husband and has come out in his defense.
"We as a family are completely shattered. My father is an ex-army officer and my husband is an income tax officer's son. We respect women. She (Zaira) is making an allegation for publicity to get the limelight. He had gone for the condolence prayer of his real mama. He was in trauma and shock. He was exhausted and just wanted to sleep. Every time women needn't be right. Men can be innocent too," said Divya, according to a News18 report.
Divya said that her husband was "innocent" and that he did not have any "intention to molest", according to a tweet by ANI.
Sachdeva also told the police that his foot touched the actor by mistake and that he apologised to her after she raised an alarm. The National Award winning Kashmiri actress complained about her ordeal on an Instagram live video, claiming that a middle-aged man seated behind her moved his foot up and down her neck and back. In the self-shot video on Instagram, Zaira is also seen breaking down. "I just landed, the whole irony of this that I yelled... and this is not done... this is not how you should be treated or made to feel. This is terrible...This is how they will take care of girls? No one will help us if we don't decide to help ourselves and that is the worst thing," she said, looking visibly disturbed. The incident took place on board a Vistara Airlines flight from Delhi to Mumbai. Jammu and Kashmir Chief Minister Mehbooba Mufti reacted to the incident, saying she was appalled by what happened to Zaira. "Any harassment or crime against women should be dealt with swiftly and effectively. As a mother of two daughters, I am appalled at what happened with Zaira," Mufti tweeted and urged the authorities to take strict action. Former Jammu and Kashmir Chief Minister Omar Abdullah said the passenger should be identified by Air Vistara and legal action should be taken against him. The Civil Aviation Ministry has sought a report on the incident and the National Commission for Women (NCW) has written to the Maharashtra DGP and the ethics officer demanding a "satisfactory explanation to the commission" on the matter within 24 hours. NCW chairperson Rekha Sharma, Swati Maliwal of the Delhi Commission for Women (DCW) and Maharashtra State Commission for Women (MSCW) Chairperson Vijaya Rahatkar, issued notices to authorities concerned to take due action. It is also reported that DCW has sent a notice to Vistara Airlines seeking a report till 16 December. Vistara Airlines apologized to Zaira and said it was carrying out a detailed investigation. "We will support Wasim in every way required and also if she decides to report this matter to the police... We apologise for what Wasim experienced and we have zero tolerance for such behaviour," a post on the airlines' official Twitter page stated.
From the film industry, director Onir and actress Swara Bhasker came out in support of Zaira. "Shame Vistara that your staff did nothing. Shame on all the passengers, they are equally guilty as this moron. It should not be difficult for airlines to locate him from seat no. He should be arrested and punished," Onir tweeted. Swara slammed it an "intolerable" incident and said, "We are now at that point where a 17-year-old child has to remind us what is right and what is wrong. I'm so sorry that adults around you let you down, Zaira Wasim. But you keep up the good fight. Stay strong." Filmmaker Ravinder Randhawa was also enraged by the criticism Wasim received after talking about the incident, saying "We are a nation where a rape happened in broad daylight and no one intervened. But we are quick to question the victim and her intentions the moment she raises her voice. So, all you cowards out there. Zaira Wasim is a brave girl, braver than all," he said. 
Wrestler Babita Phogat also tweeted a video in support of Zaira, who played the younger version of Geeta Phogat in Dangal.
"If someone is misbehaving with you, give a tight slap on their face. They will never dare to repeat their actions again. Zaira, you don't need to be afraid of anyone and just be 'dhaakad' (bold) in real life as well," Babita said in the video.
With inputs from agencies
World
The complaint made public late Monday by several pension and investment funds that own Meta stock said Meta's leadership and board have failed to protect the company's and shareholders' interests by turning a blind eye to "systemic evidence" of criminal activity
Entertainment
While the 38-year-old looked like everything that dreams are made of, users believed that Khloe Kardashian fell prey to photoshop failure.
Entertainment
Over the period, the superstar has served us with some of the finest, uniquely written, and authentic characters in his films. Be it PK from PK, Rancho from 3 Idiots, DJ from Rang De Basanti, Mahavir Singh Phogat from Dangal, and his latest Laal from Laal Singh Chaddha.