With increasing domestic resistance, Seychelles' Opposition blocks military agreement with India
Two months after India signed a revised agreement with the Indian Ocean archipelago nation of Seychelles for the building of military facilities on Assumption Island, Seychelles' Opposition has refused to let it pass in their Parliament
Two months after India signed a revised agreement with the Indian Ocean archipelago nation of Seychelles for the building of military facilities on Assumption Island, Seychelles' Opposition has refused to let it pass in their Parliament.
Leader of Opposition Wavel John Charles Ramkalawan and ruling party members told Seychelles' president Danny Faure that they would not allow the agreement to go through "in its present form", The Times of India reported. On Sunday, Faure acknowledged the Opposition's position on the agreement and said that he would not present it to the National Assembly in April, as was scheduled, the report said.
"It is not proper for me to send the agreement to the Speaker when the Leader of the Opposition, who is in majority in the Assembly, has signalled he will not ratify it," Faure said. Refuting the perception that the agreement helped create an Indian military base on the island, saying it was actually a "Seychelles Coast Guard facility".
The island in Seychelles is leased to India for the operation of a naval base and air strip by the Indian Navy. Former foreign secretary S Jaishankar and Seychelles secretary of state Barry Faure signed the agreement on 28 January.
"Relations with countries in the Indian Ocean Region and nurturing a climate of peace and stability are important cornerstones of India's foreign policy," Jaishankar had said, adding, that India seeks a future for Indian Ocean that lives up to the name of SAGAR — an acronym for 'Security And Growth for All in the Region'.
How the deal evolved
The deal was struck in principle in 2015 during a visit to Seychelles by Prime Minister Narendra Modi, but progress since has been slow.
The government of Seychelles, based in Victoria on Mahe Island 1,135 kilometres northeast of Assumption, says the base will help coastguards patrol its 1.3 million square kilometres exclusive economic zone for illegal fishing, drug trafficking and piracy.
Currently, the remote coral island has a tin shack post office, an airstrip and almost no people, it is less than seven kilometres long, has a high point just 30 metres above sea level and is covered in bird excrement. But its location lends it strategic importance for monitoring shipping in the Mozambique Channel.
India plans to invest $550 million in building the base to help it ensure the safety of its vessels in the southern Indian Ocean. It also says the base will be a resource for other shipping nations. "Assumption is very close to the Mozambique Channel where much of the international trade is transiting, and not just for India but for other countries as well, and our interest is that our trading vessels are safe," India's ambassador in Victoria, Ausaf Sayeed, said.
India has had a military cooperation agreement with the Seychelles since 2003 and the deal would give it use of the Assumption base for up to 30 years. Indian soldiers would be deployed on the island and help train Seychelles' troops.
But ratification of the 2015 agreement has been slow with a new, amended pact only signed between the two countries on 27 January. "What we did in relation to the first agreement is to clarify some points that could give rise to litigation," said Frank Ally, Seychelles' attorney general.
He said these included a prohibition on any nuclear uses of the island or weapons storage. India is also not allowed to use Assumption in war.
Seeking to allay fears, the government has made available to the public some details of the classified defence agreement.
Weekly protests
Even after government efforts, the project remains controversial with small weekly demonstrations in the capital. Indian presence in Seychelles is a sensitive matter. Some fear an influx of Indian workers who, they say, might come to dominate the economy, while others consider a foreign power building a military base an affront to sovereignty and national pride.
"The Seychelles can make its own military base, I am against any foreign military presence!" said Guilmert Corgat, a businessman in Victoria who attended a town hall meeting on the plan in late February. "If this deal is so good for the Seychelles, why don't we hold a referendum?" asked Alexia Amesbury, a lawyer.
During the discussions, foreign minister Barry Faure was forced to insist the government was not giving the island away, "because Assumption belongs to the Seychelles".
Opponents of the plan also cite Assumption's relative proximity to Aldabra atoll, a UNESCO World Heritage Site that is home to the world's largest population of giant tortoises. Environmentalists worry about the possible impact of a large military presence so close to an ecosystem that has survived precisely because of the absence of people.
Despite the dissenting voices, Sayeed remains positive that parliament will ratify the new agreement when it reopens in March.
With the Opposition, like the government, broadly in favour of the base, though against too many concessions to India, the diplomat's optimism may be well-founded. "I think politicians and people who see the positive side of this cooperation will be in favour, and I am convinced that it will pass," he said.
China's shadow looms
With China acquiring its first African naval base in Djibouti and mulling more overseas bases around the Indian Ocean, New Delhi sent Jaishankar on a visit to Seychelles in January to counter Beijing's growing presence and engage with Seychelles to further its development plans.
Also, with Seychelles and China exploring new ways to expand their cooperation in defence and trade, there has been a sharp increase in the number of Chinese visitors in Seychelles over the last six years, ringing alarm bells in New Delhi, according to The Indian Express.
As part of counter-piracy efforts, India had gifted two patrol vessels to Seychelles — the Tarmugli in 2006 and the Tarasa in 2014. India also hoped to draw Mauritius and Seychelles into a trilateral regional security forum comprising Sri Lanka, India and the Maldives, according to The Diplomat. India has also provided a Dornier aircraft, two Chetak helicopters and a fast-attack craft to Seychelles, besides training the Seychelles People's Defence Forces (SPDF).
During his visit in March, Modi handed over one more Dornier aircraft to the island nation.
Assumption Island is also seen as an ideal location by the SPDF which will allow the Seychelles military to better undertake surveillance of the Exclusive Economic Zone (EEZ). The island will also help India limit China's footprint in the region. With Beijing eyeing additional overseas bases, Pakistan, Myanmar, Sri Lanka, the Maldives, and the Seychelles are the possible candidates for another Chinese facility, The Diplomat report added.
In the face of resistance from within the Seychelles government over the infrastructure development agreement, India's priority would be to engage with the island nation and counter any economic advantage that China can offer.
With inputs from agencies
Find latest and upcoming tech gadgets online on Tech2 Gadgets. Get technology news, gadgets reviews & ratings. Popular gadgets including laptop, tablet and mobile specifications, features, prices, comparison.
Lifestyle
Following a parched few months in luxury retail, can digital fashion weeks like LFW offer greater business to designers?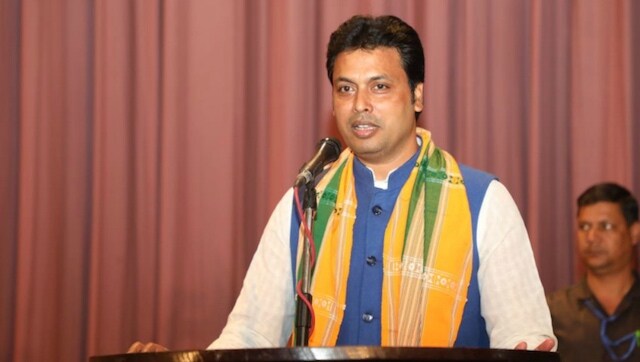 Politics
A team of 12 dissident Tripura MLAs is camping in New Delhi to meet the BJP's national president JP Nadda
World
Traditionally, presidents have tried to avoid making statements that might prove embarrassing later on. They choose their words carefully and proceed 'out of an abundance of caution', per the tagline of the moment in Washington