India, Seychelles sign four pacts to improve security ties during PM Modi's visit
India on Wednesday agreed to help Seychelles in mapping its hydrology reserves under four agreements signed during the visit of PM Narendra Modi.
Victoria: Seeking to expand its footprint in the strategic Indian Ocean, India on Wednesday agreed to help Seychelles in mapping its hydrology reserves under four agreements signed during the visit of Prime Minister Narendra Modi who launched a coastal surveillance radar project to boost security cooperation with the island nation.
The Prime Minister also announced that India will give a second Dronier aircraft to Seychelles and provide free of cost visas for three months for its citizens and making it available to them on arrival.
After one-to-one and delegation-level talks with Seyechelles President James Alix Michel, Modi, the first Indian Prime Minister to visit Seychelles in 34 years, also said they underlined the importance of comprehensive cooperation in the Indian Ocean region.
"We expressed support for a more active and productive Indian Ocean Rim Association," Modi, who arrived in Victoria on Tuesday on the first leg of his three-nation tour, told reporters.
He also launched the Coastal Surveillance Radar Project, describing it as another symbol of the cooperation between the two countries.
Amid increasing Chinese focus on the Indian Ocean, India is aiming to pitch in with all help to island nations like Seychelles, Mauritius and Sri Lanka.
China has been making inroads into these island nations with infrastructure projects that has raised India's eyebrows.
The first CSR would be based in Mahe Island, capital of Seychelles.
"This is part of the capability enhancement project for Seychelles in which India is helping," official sources said, adding that it will help keep a watch on the coastline and Exclusive Economic Zone (EEZ) and combat piracy.
Modi and Michel witnessed the signing of four agreements: cooperation in hydrographyic survey, renewable energy, infrastructure development and jointly develop navigation charts and electronic navigational charts for sale to other countries.
"Our agreement today on hydrographic survey adds a new dimension to our maritime cooperation. I thank Seychelles for their confidence in India," Modi said. "Our security partnership is strong. It has enabled us to fulfil our shared responsibility to advance maritime security in the region," he said.
"It is a privilege to be a partner of Seychelles in the development of its security capabilities," Modi said, adding India's help will enable Seychelles to secure its beautiful islands and the vast expanse of waters around them. "Seychelles will also continue to make an enormous contribution to the safety and security of the Indian Ocean Region," he said.
Modi said he held "very productive" talks with Michel and described Seychelles as "a vital partner in our Indian Ocean neighbourhood".
"Short it may be, but this visit has been very productive. It is no surprise that Seychelles is my first destination in the Indian Ocean Region," Modi said.
"We also hope that Seychelles will soon be a full partner in the maritime security cooperation between India, Maldives and Sri Lanka," he said.
Modi said he was deeply touched by the extraordinary hospitality and warmth he received in the country. "Our relationship is unique and special. It is founded on deep sense of mutual trust and confidence. It is marked by a spirit of respect and equality; and enormous goodwill and warmth," he said.
Modi and Michel also agreed to establish a Joint Working Group to expand cooperation on the Blue Economy to harness new possibilities of the ocean in a sustainable and balanced manner.
"Seychelles is a leader in advancing the concept of Blue Economy. We also believe that the Ocean Economy is indispensable to meeting our future challenges," Modi said. "This cooperation will increase our understanding of marine ecology and resources," he said.
"This is a major step in advancing our scientific and economic cooperation," the Prime Minister said. "We stressed our support for expansion in our modest trade and investment relations."
Modi expressed hope that Seychelles would be able to quickly utilise the committed USD 75 million in grants and credit provided by India in accordance with its priorities.
He thanked President Michel for his country's consistent support to India in international forums, including its bid for a permanent membership of the UN Security Council. He invited President Michel to visit India at an early date.
Calling India a leader, Michel said and his country looks up to India. He said he looks forward to visit India. Michel said his country valued strategic partnership with India.
Modi said the two countries have strong convergence of views on climate change. "We are two nations that are vulnerable to its impact. And, we are deeply committed to combating it," he said.
"We stressed our shared commitment to strong national action. We also called for a strong and ambitious global effort, especially from the developed world, on climate change," the Prime Minister said.
Foreign Secretary S Jaishankar and National Security Adviser Ajit Doval were part of the Indian delegation during Modi's talks with President Michel at the State House in Victoria that lasted one hour.
Michel had received Modi at the airport late last night. Seychelles has a population of 90,000 people and 10 per cent of them are of Indian-origin.
PTI
India
India's ability to launch a military counter-offensive against China received yet anothet boost when Prime Minister Narendra Modi inaugurated the Donyi Polo Airport in Itanagar, Arunachal Pradesh. This will help the Indian Army and the Indian Air Force to operate along the border with Tibet
Opinion
PM Modi's magnanimity and his deft ability to move in sync with times, completely dwarf Nehru's miserly thought and stingy vision. Clearly, Modi, the social democrat and the anti-coloniser, has outdone Nehru in more ways than one, in terms of progressiveness and so much more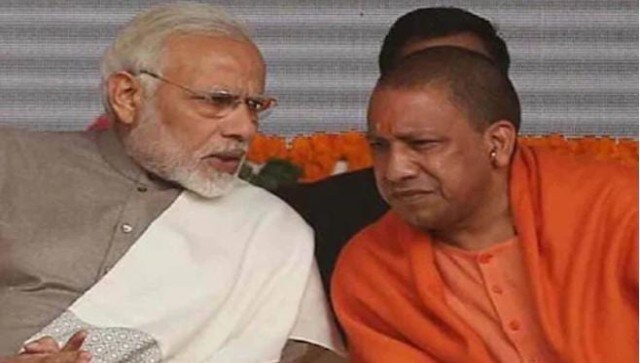 Politics
Today, Uttar Pradesh is fortunate to get the leadership of two karm-yogis, PM Modi and CM Yogi, the land has transformed itself exceptionally in last five and a half years to become new India's growth engine