Watch: Video of innovative irrigation technique using cattle goes viral, internet has mixed reactions
While many people appreciated the creativity of rural India, some people claimed that it was animal exploitation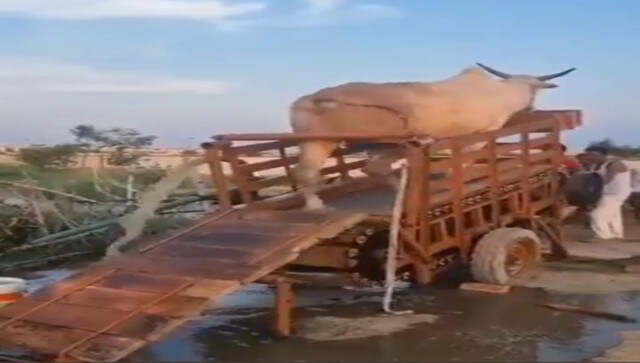 The world has many engineers, but just having an engineering degree doesn't make you innovative. At the end of the day, it's not the degree that matters, but the real skill which brings change.
A video is making rounds on social media which shows the innovative and creative talent of people living in rural India.
The video was shared on Twitter by Awanish Sharan, Indian Administrative Service (IAS) officer. In the clip, an ox can be seen walking on a treadmill on a bullock cart, generating water, which is being sprinkled on the ground. Several other frames are also shown in the video in which the cattle can be seen walking on the treadmill to generate electricity.
In the caption of the video, Awanish Sharan wrote, "RURAL INDIA Innovation. It's Amazing!"
Have a look at this video here:
While many people appreciated the creativity of rural India, some people claimed that it was animal exploitation. A user commented, "Animal exploitation in the name of innovation."
Some viewers said that it is not an innovation, the rural India is forced to do it because of the lack of electricity. A person wrote, "Can't it be shown as lack of electricity?"
Some people sarcastically wrote that humans should be put on that treadmill as it will help them lose some extra fat.
While the video was being criticised for the animal cruelty, there were many viewers who were also very impressed by the innovative technique for irrigation and electricity generation.
Needless to say, videos over innovation often go viral on social media. A video was shared earlier this month in which a man was seen making a wearable umbrella by applying two hangers on its stick with a tape.
After he was done with his creation, he wore the umbrella like a bag, took his belongings, and started walking. The video was originally shared by an account named DJ Neel, but it was later shared by Congress MP Shashi Tharoor.
Watch this video here:
These videos reaffirm the popular saying that necessity is the mother of invention.
Read all the Latest News, Trending News, Cricket News, Bollywood News,
India News and Entertainment News here. Follow us on Facebook, Twitter and Instagram.
News & Analysis
Most employees have rejected Elon Musk's idea of Twitter 2.0. Fearing that they might sabotage Twitter, Musk has locked all Twitter staff, barring a few from his core team, out of all offices.
News & Analysis
Elon Musk fired over 20 engineers or so who were discussing and criticising his plans for Twitter on Twitter's internal Slack channels. The fired employees were told that their "recent behaviours violated company policy."
News & Analysis
Many of Twitter's top advertisers, including 14 of the top 50 brands, have stopped their ad spends since Musk's acquisition. Last year, nearly 90 per cent of the company's $5 billion revenue came from advertising, which makes this situation alarming for Musk and his team.