One quick Google search on murders and rapes in the national capital will throw up a series of news reports featuring places like New Seemapuri, New Seelampur and Sultanpuri. These are all hubs of addiction. Why doesn't the government establish a structure to rescue and revive men and women before addiction becomes a habit and crime its accomplice? Vinay, a former Tihar Jail inmate who has worked closely on drug de-addiction in Jail No.3, said, "I have met Jyoti Singh's rapists in jail and I can tell you that they had a history of addiction. One of them dropped out of school and got into drug abuse as early as age seven. Unless we understand that drug addicts can turn into a threat for anybody, it will become difficult for us to protect ourselves from them. We may not give them love or sympathy, but if they aren't given attention, then we are all at risk," He further said, "People think sexual offences aren't committed for money, so there's no correlation with drugs, but that's untrue. Substance abuse induces dark thoughts, hyperactivity, restlessness and anxiety. Actions become unpredictable and an addict probably enjoys that feeling of doing unexpected things."
"More than 80 percent of the nearly 16,000 convicts in Tihar are addicted to tobacco or ganja, smack or alcohol," said Vinay, who runs the Charitar Nirman Sewadar Trust, an NGO working on de-addiction and social reformation. He gave the example of a 60-something drug peddler he met in jail, who had once confessed to him that he was on his 40th term in jail and was a regular here since his teenage years when he first got exposed to gaanja. "There is massive depression and insomnia in jails and the standard procedure of handing out sleeping pills isn't proving to be effective," Vinay spoke about the need for more counselors to talk people out of depression and give them a second chance at life. "Prisoners are alone both in joy and in despair," he said. He said that drugs are the only known emotional release for those in jails.
The see-saw of drug abuse and crime starts swinging early. The New Delhi station was earlier home for Rohit and Irfan, both of whom worked there as chain snatchers and pickpocketers. The two now live in a rehab centre for children far away from the station and recall their days of petty theft. "We used to commit several thefts for addiction," they said. Many homeless children come to the station in search of a livelihood, and end up trapped in drug abuse. "Delhi's big railway stations are home to more than 200 child addicts. They mostly pick bottles, aluminum foils and cardboards from trains and then spend the Rs 200-300 they make on drugs," Sanjay Gupta, director of Childhood Enhancement through Training and Action (CHETNA) told Firstpost.
CHETNA runs an informal recreation centre for children inside Nizamuddin Police Station in order to foster a friendly relations between the police and street children who are susceptible to drugs and crime. "There are two reasons why many children living on railway stations spend their money on drugs. Firstly, they eat leftovers from the trains, so the extra money is still in their pockets at night. Secondly, if they leave that money in those pockets, there's a good chance that their peers might steal it while they're asleep. So, it is safer for them to blow it up on substances like puncture and white fluid," added Sanjay.
The bond between drugs and crime is a strong one. The founder of the Navjyoti Foundation and now Lieutenant Governor of Puducherry, Kiran Bedi spoke to Firstpost about a possible way to break it. "We need to cut out supply lines. The supply lines are a breach in the system. What we need to work on is detection. By strengthening community policing and intelligence, we need to dry those taps through which drugs flow into society," the retired Director General, Bureau of Police Research and Development, explained.
The need to strengthen intelligence collection to keep a check on any drug sale made anywhere is what Kiran Bedi considers the first crucial step to curbing the problem. The second step is to reform those already in the clasp of addiction. "The rehabilitation homes should impart skills to channelise the energy of addicts in a constructive direction, and families should bring food for these addicts while they're in those centres," she said.
Does Delhi have enough psychiatrists who are trained to re-orient potential criminals? Not really. The Delhi AIDS Control Society (DACS) made a presentation in March 2017 to the newly formed intersectoral committee set up for a comprehensive response for drug abuse prevention and drug de-addiction services in Delhi under the chairpersonship of the Chief Secretary, Delhi Government. The DACS said that there is a scarcity of psychiatrists and trained manpower. It suggested a plan to train more than 400 medical officers working in 260 Delhi government officer dispensaries and 150 specialists working in 32 Delhi government hospitals on a long-term basis at the Institute of Human Behaviour & Allied Sciences (IHBAS). The presentation also stressed the need to keep an eye on the sale and purchase of addictive medicines in pharmacies and asked medical stores to keep a limited stock of such drugs. It also stated that drug licenses of 20 shops had been cancelled last year.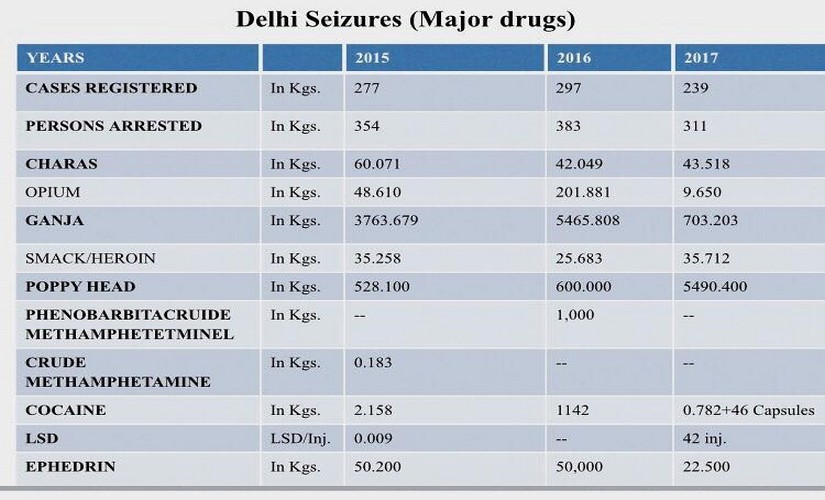 The Narcotics Branch of the Delhi Police, which is also part of the intersectoral committee formed earlier this year, made a presentation to the committee in September 2017. The presentation shed light on the fact that under the Drugs and Cosmetics Act, 1940, the police has a limited role. And cognisance be taken only on the complaint of a Drug Inspector. Although recently, a provision under Section 36 A(c) has been introduced in this Act, the role of the police is still limited to spurious and adulterated drugs. The Delhi Police admitted to the committee that it doesn't have field data in drug demand. On the basis of general assessment and seizure, it has been able to place the demand in the following sequence: ganja, poppy head, opium, heroin, charas, pharmaceutical drugs and cocaine. The Delhi police further stated that until September 2017, as many as 239 cases were registered and 311 people had already been arrested.
The Delhi Zonal Unit of the Narcotics Control Bureau, also part of the intersectoral committee, brought it to the notice of the committee that stakeholders like the Police, Excise, Customs, Directorate of Revenue Intelligence have equal power as per The Narcotic Drugs and Psychotropic Substances Act, 1985 and that they must be activated to multiply force on the war on drugs. It added that regular field-level coordination is necessary and parallelly, also shared that their unit was falling short of 11 intelligence officers and 10 sepoys. It also emphasised on the need to implement Section 64 of the NDPS Act, which states: 'Immunity from prosecution to addicts volunteering for treatment, provided that the said immunity from prosecution may be withdrawn if the addict does not undergo the complete treatment for de-addiction'. Most addicts are defiant and in denial of their condition. If they accept that they need treatment, the state can save its resources and time.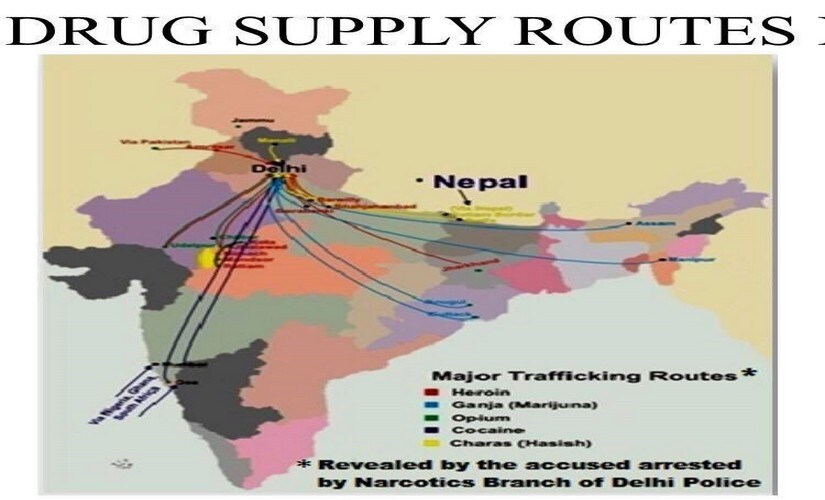 Updated Date: Nov 14, 2017 17:05 PM