Vatican temporarily relieves rape-accused Bishop Franco Mulakkal from duties at Jalandhar diocese
The Kerala Police has been questioning the accused priest Franco Mulakkal for the second day in Kochi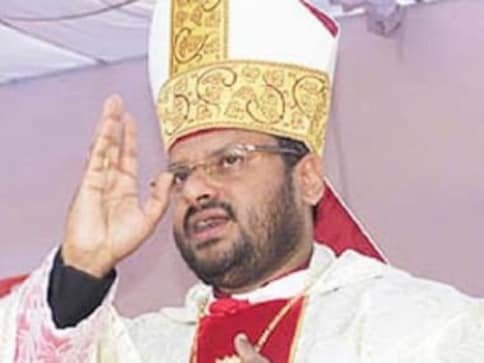 Senior Catholic priest Franco Mulakkal, who has been accused of raping a nun in Kerala, has been temporarily relieved from his duties as the bishop of the Jalandhar diocese by the Vatican, according to several media reports.
As per the Vatican's response, Pope Francis appointed retired reverend Agnelo Rufino Gracias, titular bishop of Molicunza and AuxiliaruBishop emeritus of Bombay, as the Apostolic Administrator of the Jalandhar diocese, according to the report.
The Pope made the decision in response to Mulakkal's letter dated 16 September offering to "step aside temporarily" as the bishop of the Jalandhar diocese, Kerala Catholic Bishops Council Spokesman Fr Varghese Vallikkattu had said.  He wrote the letter after Kerala Police summoned him to appear before it for questioning in the case.
The announcement came even as the senior Catholic priest is being questioned by the Special Investigation Team for the second day in Kochi on Thursday.
On Wednesday, Mulakkal was grilled by the Kerala Police for seven hours. Deputy Superintendent of Police K Subhash, who heads the SIT) questioned the 54-year-old clergyman at the Crime Branch office.
Bishop Mulakkal has been accused of repeated rape by the Kerala-based nun of the Missionaries of Jesus Congregation of the Jalandhar diocese. He has denied the charges and maintained that the allegations were "cooked up to wreak vengeance".
With inputs from TK Devasia
World
Pope Frances thanked the school survivors for their courage in sharing their suffering, which he had heard for the first time this past spring when delegations of First Nations, Metis and Inuit peoples traveled to the Vatican to seek an apology
Explainers
The Ernakulam-Angamaly Archdiocese Metropolitan Vicar Archbishop Mar Antony Kariyil and a section of priests are taking on Church head Cardinal George Alencherry, who has the Vatican's backing, over the most important form of worship in the Catholic Church
World
Some members of Indigenous tribes said they found the gesture incongruous with the past transgressions at church-run schools that Pope Francis apologised for