Uttar Pradesh Police assault woman in Meerut: New video shows VHP activists thrashing her friend in front of cop
Two days after the Uttar Pradesh Police drew flak over a video showing few personnel harassing a medical student for allegedly being in a relationship with a Muslim man in Meerut, a new video related to the same incident surfaced on Thursday.
Days after a video of Uttar Pradesh Police personnel purportedly harassing a medical student for being in a relationship with a Muslim man went viral, a new video showing the woman's partner being assaulted in the presence of a policeman—allegedly by members of the Vishwa Hindu Parishad who accused him of 'love jihad'—has surfaced.
The men are reportedly heard saying, "Ek ek ko aur chun chun ke maarenge (we will thrash all such people one by one)". According to the video, the policeman appears to be making a half-hearted attempt to stop the men from thrashing the victim.
DGP OP Singh condemned the incident on Twitter and said corrective action was being taken.
The Meerut incident is an act of gross imprudence by few errant cops. Irresponsible & Insensitive behaviour by UP cops would not be tolerated. A job of a policeman is to maintain highest standards of probity which must be upheld at all times. Corrective action is being taken.

— DGP UP (@dgpup) September 27, 2018
The incident occurred on Sunday when the men allegedly barged into the man's home in Meerut, and manhandled the duo.
According to a report in The Times of India, an FIR has been filed against 18 known and 25-30 unknown people. The men have been charged with rioting, voluntarily causing hurt and hurting religious sentiments, and criminal intimidation.
On Tuesday, after the first video clip that went viral, Head Constable Salek Chand and constables Neetu Singh and Priyanka were suspended for allegedly misbehaving with the man and woman in collusion with the VHP activists.
The said video purportedly showed a Dial 100 police team asking objectionable, religion-related questions from the couple and making the woman constable beat up the woman inside the vehicle.
The police swung into action based on a phone call from VHP activists. The police then apprehended the man and woman on VHP activists' complaint, but eventually released them.
Speaking to India Today, the college student said that during the incident, a woman claiming to be from Arya Samaj asked her why she was at the man's house and if she wished to marry him despite his faith. The student was also allegedly told that she would be let off if she agreed to file a rape case against the man. She refused to do so and then called her parents, who took her home.
With inputs from agencies
India
The principal, Ram Singh Verma, was shot twice. The incident took place at Adarsh Ramswaroop Inter College in Sadarpur police station area of Biswan tehsil, according to the police
India
Superintendent of Police Elamaran G said prima facie the matter seems to be that of suicide as the door was bolted from inside. Further investigation is underway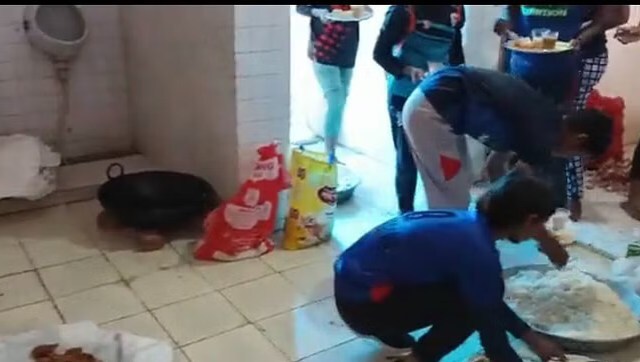 Sports
A purported video shows that food was served to kabaddi players in a toilet during a sports meet in Uttar Pradesh.