ULFA's second coming in Assam: Engineers, doctors swell ranks as militant outfit witnesses surge in recruits
Many youth (in one case, a class 9 girl) from across Assam may have left for the jungles where Paresh Baruah leads hundreds of his armed fighters, who operate from training camps.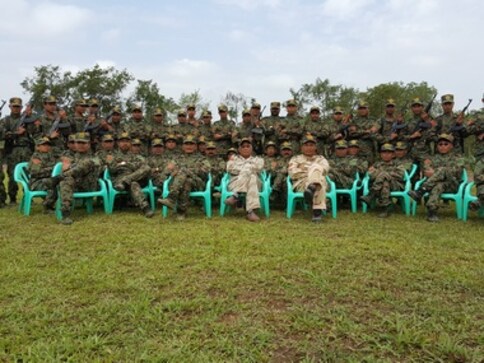 Twenty-eight years ago on a cold misty night of November, the sleepy village of Lakhipathar woke up rudely to the booming sound of mortars and automatic weapons. About 530 kilometres east of Guwahati and located amid dense rainforests near Digboi in Upper Assam, Lakhipathar was the scene of a fiery battle between the army and about 300 United Liberation Front of Assam (ULFA) guerrillas who later melted away into the darkness.
The incident was followed by prolonged atrocities by the army in the neighbouring villages, which included rapes, a few of which were documented but largely unreported. It led to a surge of sympathy for the banned outfit which peaked in the mid-1990s before bowing down to waning support that remained at rock-bottom till very recently.
But now the times are changing in Assam and there are telltale signs. "Young people are now leaving by the droves from all over Assam to join ULFA. And since ULFA swears by the guerrilla style and not the open positional warfare, even 300 well-trained fighters can prove to be a very effective force," says Prabal Neog, who joined the banned outfit 31 years ago and also led the dreaded 28th Battalion before being arrested.
Information collated from a variety of sources, including common people, the security forces, intelligence agencies and pro-talk ULFA cadres, indicate that many youth (in one case, a class 9 girl) from across Assam have left for the jungles where Paresh Baruah leads hundreds of his armed fighters, who operate from training camps along the lawless China-Myanmar border. Baruah remains steadfast in his demand for a sovereign Assam.
A hip-hop Assamese song "Bangladeshi", which talks of taking up guns to protect Assamese identity and culture, has become an overnight sensation on social media. And in the villages and towns, there is hushed talk. Members of ULFA are no longer referred to as "ugroponthis" but as "lora bur" (our boys).
The changing attitude is reflecting on the reading tastes too. The North East Book Fair in Guwahati, which concluded last month, recorded unprecedented sale of books of writers like the late journalist Parag Kumar Das and renowned leftist thinker Hiren Gohain or of Mao Tse- tung's political works. "Most of Das' re-printed books like Sanglot Fenla, Swadhin Axomor Orthonitee (Economy of Independent Assam) have sold out," says Ractim Thakuria, a distributor-seller of Barna Books, which has set up a stall at the fair. Sanglot Fenla is a quintessential story of why the Assamese have taken to weapons after all democratic protests have yielded nothing. The title Swadhin Axomor Orthonitee itself is self-explanatory.
Das, an alumnus of Delhi University's prestigious St Stephen's College and the Delhi School of Economics, had become an avowed supporter of the ULFA before being gunned down in 1996.
But what is new this time is that the new recruits are not the unemployed and unemployable poverty-hit individuals but well-educated and well-heeled youth, including already employed engineers (including at least one US-returned software engineer), doctors and, according to unverified reports, at least, two lawyers. While the numbers are not definitive, different sources put them at hundreds.
At the crux of the problem is the threat to Assamese identity, language and culture. Antu Choudang, once the ULFA's dreaded demolition experts, says, "... Assam is being forced to take in lakhs of illegal foreigners. For India, the citizenship cut-off date is 1951, but for Assam it is 1971. Clause 6 of the Assam Accord promised constitutional safeguards, but nothing has been given even after 33 years. Our youth are therefore losing faith in the democratic process."
"Not content with that, out of nowhere, the Citizenship (Amendment) Bill, 2016, is being forced on us. They fail to understand that the Assamese nation is not based on religion. Our great Vaishnava saint Sankardeb stressed on a philosophy of pure devotion regardless of religion, caste or creed. That philosophy is being systematically demolished and a fundamentalist Hindu character is being imparted. We refuse to be part of that," the 51-year-old says.
The general mood in the villages is a mixture of defiance and aggression. "No government, in the state or in the Centre, has been sincere with the Assamese till now. Till now, there has only been betrayal and going back on promises. The illegal immigration issue and the Citizenship Amendment Bill have only made us realise that there is no point. We will, therefore, do what we want and in our own way," says a Lakhipathar villager requesting anonymity.
Mao had said, "Political power grows out of the barrel of a gun." Clearly, there is a growing tribe of Mao believers in Assam.
Explainers
The Indian Army takes in Nepalese soldiers under the tripartite treaty signed between Nepal, India and Britain in 1947. India currently has 43 Gorkha battalions serving in seven regiments
Explainers
Codeine is an opioid medication that doctors may use to treat pain. It is used in cough syrups and has mild pain-relieving properties, but it is a powerful drug that one can get addicted to
Explainers
Serbia, which has refused to recognise Kosovo, cherishes the region as the heart of its statehood and religion. Kosovo's majority ethnic Albanians, who are mostly Muslims, view Kosovo as their country and accuse Serbia of occupation and repression