Two arrested for shooting woman dancer who took break at wedding in UP's Chitrakoot; victim out of danger, say police
The dancer, Hina, sustained a bullet injury in her jaw and two others sustained pellet injuries during firing at the function held to celebrate the wedding of the daughter of village head Suhir Singh Patel on 30 November
Two persons were arrested on Friday for allegedly shooting a 22-year-old dancer in her face at a marriage function in Uttar Pradesh's Chitrakoot

The dancer sustained a bullet injury in her jaw and two others sustained pellet injuries during firing at the function

She was rushed to a hospital where her condition was stated to be out of danger
Chitrakoot: Two persons were arrested on Friday for allegedly shooting a 22-year-old dancer in her face at a marriage function at Tikra village in Mau area in Uttar Pradesh's Chitrakoot district, said police.
The dancer, Hina, sustained a bullet injury in her jaw and two others sustained pellet injuries during firing at the function held on 1 December, to celebrate village head Suhir Singh Patel daughter's wedding, said Superintendent of Police Ankit Mittal.
"Three people were injured. The firing took place after a dispute about a dance at the wedding" said Balwant Singh, ASP.
In the 42-second video of the incident, men were heard saying, 'Goli chal jayegi' (A shot will be fired) and then 'goli chala hi do' (Go ahead and shoot). The victim, who was then dancing on the stage, was shot in the face.
Hina was rushed to a hospital where her condition was reported to be out of danger, Mittal said.  He further added that the men who fired the shots were identified as Sudhir Singh and Phool Singh and were arrested on Friday.
With inputs from agencies
Explainers
Rahul Gandhi has joined a small 'infamous' club of politicians who have been disqualified as MPs or MLAs after being convicted in a crime. Here's a look at the other prominent names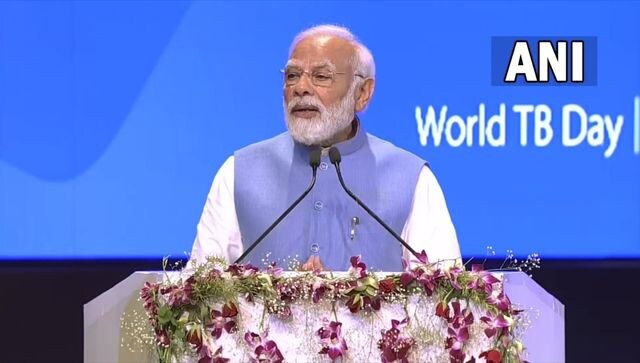 World
2030 is the global target to eradicate TB but India is now working on the target of ending TB by the year 2025: PM Narendra Modi at the 'One World TB Summit' in Varanasi, Uttar Pradesh.
India
Rampur, located 320 km north of the Uttar Pradesh capital, was once known for its several small-scale units that made high-quality foldable knives