Triple talaq: Court decision will not give Muslim women relief, matter is best left to Parliament
What is marriage? What is divorce? These two questions are at the heart of the debate the country is currently having over triple talaq.
What is marriage? What is divorce? These two questions are at the heart of the debate the country is having over triple talaq.
The matter is in front of the Supreme Court, which will decide if this practice is or is not in line with fundamental rights enshrined in the Constitution. But there are certain things we need to understand in order to fully appreciate the magnitude of what is happening.
Muslim law in India comes from The Muslim Personal Law (Shariat) Application Act, 1937 which says that in so far as matters concerning marriage, divorce, inheritance and other personal matters, the law governing Muslims in India shall be the Muslim personal law or the Shariat.
This law exists along with other civil laws and statutory laws that govern Muslim personal affairs, such as the Dissolution of Muslim Marriages Act, 1937.
Under Shariat, as applied to India, only a man can initiate divorce—under the Dissolution of Muslim Marriages Act, 1937 a woman may also initiate the divorce—the only difference being that under the former, the husband does not need to show cause, while under the latter, the wife must show cause.
So when the Supreme Court looks at triple talaq, it is looking at a specific mode of Islamic divorce under the Shariat and is checking to see if that mode is compatible with the Constitution. Like all other forms of divorce under the Shairat, a man initiates triple talaq (note: a Muslim woman can only sue for divorce for cause and not at will) and may instantaneously divorce his wife. This is not the case with other religions in India who have their own personal laws, where all marriages are to be dissolved only for cause and not at will.
Challenging triple talaq will not give Muslim women relief. Their husbands still retain the right to divorce them at will and without going to court: Albeit through a slightly longer procedure.
These problems stem from how Shariat is applied to India. Muslim personal law has not evolved since its pre-independence form. Unlike Muslim personal law, Hindu personal law was codified extensively in the 1950s through the Hindu Marriage Act, Hindu Succession Act, Hindu Minority and Guardianship Act, and the Hindu Adoptions and Maintenance Act.
Funnily enough, today, when it comes to divorce, a Hindu woman is in the same position as a Muslim woman—she must seek the intervention of a court who will judge if there is a cause for a divorce before granting her one—her only hope for a quick process is to have her husband consent to it. The same is the case with a Hindu man. However, unlike a Muslim man, a Hindu man may not divorce his wife at will.
Which brings us back to the main point: Triple talaq goes to the core of how we, as a society, view marriage and divorce. If we were to view marriage as an institution where people are bound for life and can't leave at will, then knocking down triple talaq will hardly achieve anything.
This is because a Muslim man can still divorce his wife at will using the other modes of Islamic divorce, which the woman can't stop. So the only way forward would be to remove divorce from the ambit of Shariat as it is applicable to India and modify the Dissolution of Muslim Marriages Act, 1937 and force Muslim men to have to use the same procedures as women to obtain a divorce.
Or society can choose to be more progressive and look at marriage as what it is: A relationship between two consenting adults where either party is free to leave "at will". This will mean that both the husband and the wife can unilaterally obtain a divorce. It will require amending the Dissolution of Muslim Marriages Act, 1937 to provide women with an at will ground such as "irreconcilable differences with her spouse" and a procedure for her to get a divorce. That is true equality, the ability of both parties to leave at will.
But that's something India isn't ready for. Neither is this government. That's why despite at will divorce being contemplated under the Marriage Laws (Amendment) Bill, 2013 under the Lok Sabha, the new government has been reluctant to reintroduce the bill.
The problem with the Supreme Court having to decide triple talaq—due to Parliament abdicating its lawmaking functions and refusing to legislate on an issue deemed too sensitive—is that firstly, we will have the Supreme Court first determining if triple talaq is permissible via Islamic jurisprudence and secondly, testing that proposition against the Constitution.
To a pious Muslim, this amounts to someone without Islamic authority interpreting Muslim law, similar to how many Hindus view Max Muller and his translation of Indian works. Muller lacked authority, and his translations and interpretations continue to be debated.
An issue like this is best left to Parliament. The Attorney General should turn up at court and say Parliament is considering amending the laws, move a bill and provide Muslim men and women with true equality when it comes to marriage law.
This would render triple talaq irrelevant not because it conflicts with the Constitution, but because there is a law on divorce made by Parliament that overrides triple talaq. With all due respect to our courts, questions of this nature must be debated and adjudicated by Parliament.
Lifestyle
Through this fortnightly column, Tales From TJ Road, Bachi Karkaria tells the story of Mumbai's metromorphosis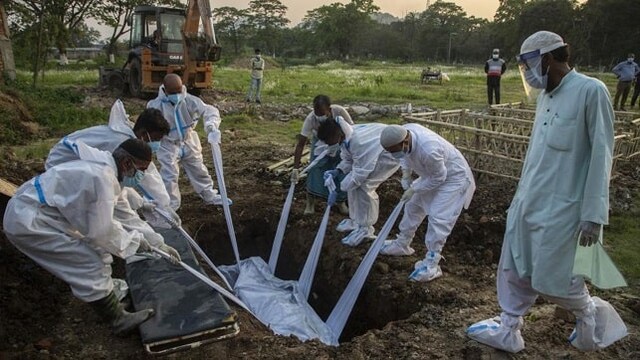 India
We are facing our worst moment in modern history, struggling to stay afloat. If we do not show courage and honesty to speak for justice now, we may never be able to recover compassion.
Politics
The ECI failed most notably in issuing detailed guidelines for campaigning activities and making sure they were followed