Most people cannot accept an artist who speaks up or questions authority, TM Krishna tells Firstpost
In the wake of his New Delhi concert being cancelled by the AAI (allegedly due to threats from right-wing groups) TM Krishna dwells on the role of art — and the artist — in a democracy
On Thursday, 16 November, the Airports Authority of India (AAI) announced that a two-day programme organised in Nehru Park, New Delhi, (in collaboration with the cultural body Spic Macay) was being 'postponed'. There had been threats from right-wing groups demanding that one of the artists performing at the event, the Carnatic classical music singer TM Krishna, be removed from the roster for his "anti-national" pronouncements. The AAI, however, has not specified if this was why the concert — to be held over 17 and 18 November — was called off (the Arwind Kejriwal-led Delhi government later offered to host a concert by Krishna).
The musician spoke to Firstpost about online hate-mongering campaigns, the role of art and artists in a democracy, and why politicising art does not "sully" it in any way.
Edited excerpts:
On the threat posed by organised online bullying
This (issue) is not about my concert being cancelled.
It's about — how do we respond to bullying? Bullying that's taken on the tones of a mafia operation, and is so easily done. A few people say: "No we don't want such artists, these kinds of artists are against us." How do we respond to the fact that such things can then influence musicians, organisations etc? I can understand if a private organisation is scared, but a governmental body?
I've come to believe that the trolling we see online is not accidental or arbitrary; there are nexuses at play that we haven't recognised. Doesn't it seem like — with all that is going on — that there are connections we aren't recognising that are making people in authority, in government authority, take these decisions?
On art and democracy
What we forget is that art is always something everybody needs to engage with. You have to create larger communities that have conversations with art; you have to create a society where there is freedom in the way an art form is shared — be it theatre, music or dance whatever.
I think the problem that we are facing now is because we want to control the kind of art that is performed; you want to control the kind of artist who is allowed to perform. We want to control what a writer can write or speak (about).
So control is being imposed on free speech... I don't know whether or not this needs to change. What does need to change is the attitude towards the democratic expression that art is, and most importantly the dissenting expression that art should be. The contestations through art, contestations through the word, we have to accept these as they are the most beautiful part of democracy.
But somehow we are heading in the exact opposite direction.
On art and politics
We have tried to keep art as a pure, pristine, untouched and unadulterated divinity. The moment people want to create a political discourse through art, there is a feeling that one is sullying the culture — which is not true at all. Most people cannot accept an artist who speaks, an artist who questions. They mistakenly believe that is not part of art.
The more political our art world gets, the more sharing there will be in this country, the more listening there will be. Art is a mode of questioning.
Because you depoliticise art, you don't see the politics in art. So when an artist shows you the politics in it, you are completely disturbed.
The other issue is one of conflation: I come from a place of privilege — caste privilege, class privilege. I sing an art form that is part of the same privilege. Political systems today propagate that form of privilege. Hindutva is an upper caste, stringent, sharp notion of a Hindu. When I question any one of those paradigms, I question all those paradigms. I am automatically seen as the enemy: of the state, of the culture, of the tradition and of the sampradaya.
On support from the fraternity
Universally, artists take care of their own. Unfortunately — I am saying this with sadness — the nature of our society, which is extremely feudal, makes artists obedient to the establishment and authority. And hence coming together and standing up for each other never happens in reality.
Such things (trolling, online bullying) do affect the younger generation of artists and perhaps (my) contemporaries too. But isn't that the purpose? To frighten you… Fear psychosis, fear mongering, scaring people is the primary reason these people (trolls) operate.
After the so-called 'postponement' was announced by the AAI, there were so many tweets which said: "It's wonderful that AAI has taken this decision". So when people see this, they will be afraid of speaking out. I am really worried that voices will become whispers and whispers will — or have already — become silence. If that's the direction we are moving in, then I don't know where we are headed as a country. Then is there anything really to celebrate? I may seem pessimistic, but that is the way I feel right now.
I would however like to take this opportunity to say that the amount of support that has come from the people of Delhi, actually across the country, is something I will always be thankful for. People have come out and said, 'No this cannot happen.' People from Delhi have volunteered their homes, lawns for a concert on 17 November. I am most touched by all this. It's also reassuring.
Also read: TM Krishna's Delhi concert rescheduled; will now be held at Garden of Five Senses on 17 November
Subscribe to Moneycontrol Pro at ₹499 for the first year. Use code PRO499. Limited period offer. *T&C apply
Politics
Asked about the meet, the Congress said they were senior and highly respected members of the party and their best contribution to the Congress' cause would be to get active in five poll-bound states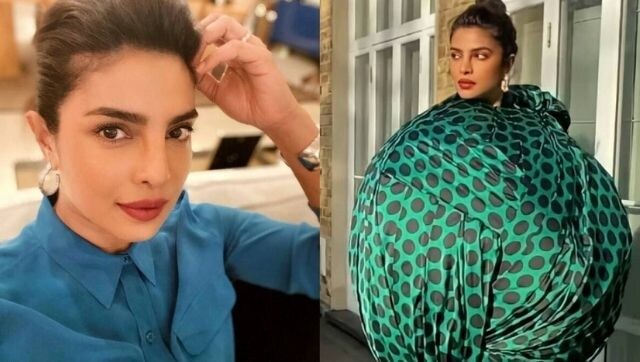 Entertainment
Prior to this, Priyanka Chopra Jonas' Met Gala trenchcoat outfit was the subject of fashion memes that broke the internet back in 2019
Entertainment
Maria Bakalava, who essayed Sacha Baron Cohen's teenager daughter Tutar in Borat 2, discusses dabbling in comedy in the film, and getting nominated for Golden Globe, SAG and Critics Choice awards.