News website The Wire Wednesday issued a fresh statement on the allegations of sexual harassment against senior journalist and its consulting editor Vinod Dua, saying that documentary filmmaker Nishtha Jain—who had accused Dua of sexual harassment—had not yet filed a complaint with the The Wire's internal complaints committee.
"The Wire has informed Ms Jain that at The Wire's request, four persons have kindly agreed to be members of an external committee to investigate/examine her complaint in a timebound manner," the statement. "No complaint has been received from Ms Jain yet," the statement further said.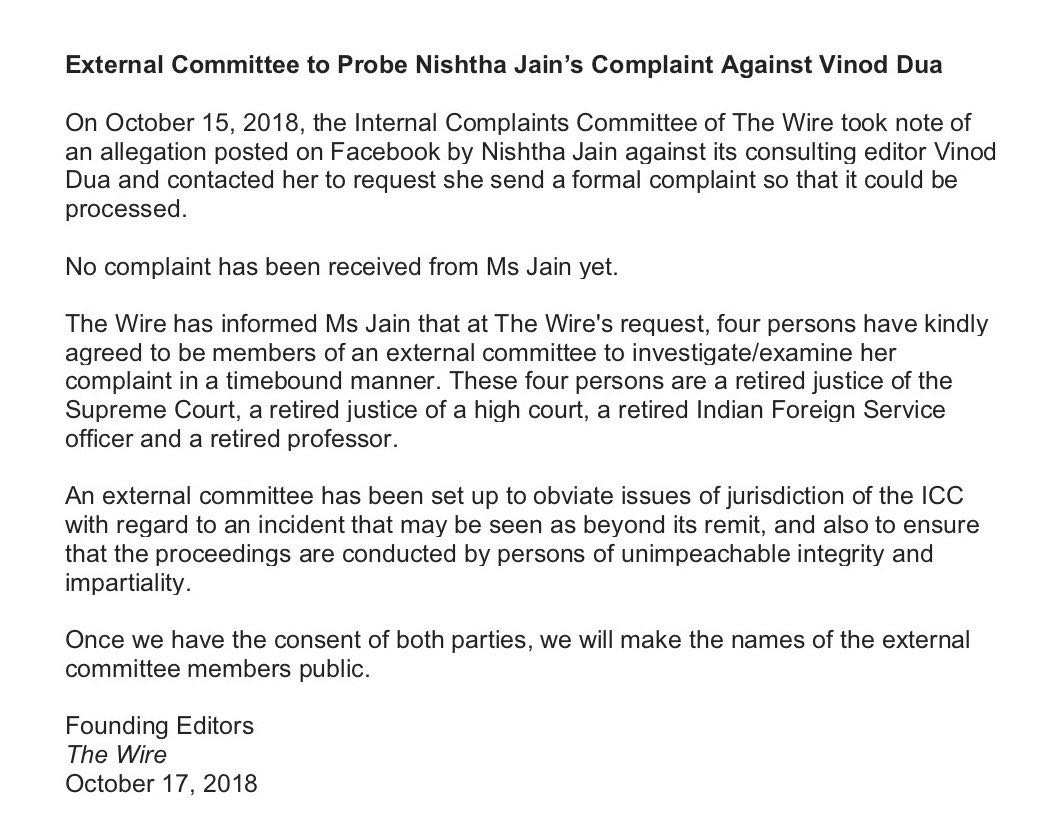 Referencing Akshay Kumar's off-colour remark on Dua's daughter Mallika on a comedy reality TV show that had enraged Dua, Jain put out a lengthy Facebook post Saturday, calling out the media personality for his sexism from years ago. She also named Mallika in her allegations.
Mallika then responded with a statement on Instagram, asserting that Jain dragging her name into the controversy was "in terrible taste". Jain eventually apologised to Mallika for inadvertently shaming her.
The Wire also addressed the issue in a statement earlier.
"We have seen Nishtha Jain's Facebook post where she accuses Vinod Dua, a consulting editor of The Wire, of an incident of sexual harassment in 1989. Dua denies the charge."
"Though the incident pertains to 26 years before Mr Dua's association with The Wire, our ICC has taken note of Ms Jain's allegation. We await the outcome of their deliberations in the matter," the previous statement stated.
With inputs from PTI
Updated Date: Oct 18, 2018 22:56:25 IST