Vinod Dua issues statement on sexual harassment accusation against him on The Wire podcast, mocks #MeToo movement
Vinod Dua denied the allegation levelled against him, and called it a 'figment of someone's imagination'.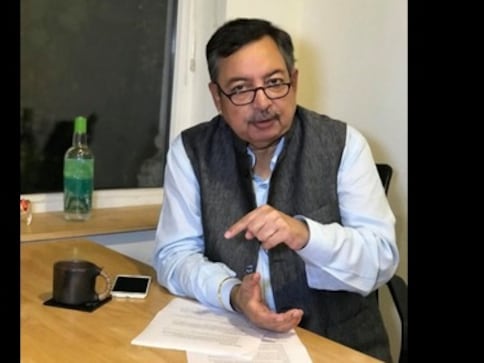 Veteran journalist Vinod Dua issued a rambling statement on the sexual harassment accusation against him, and mocked the #MeToo movement as "trivial" in an election year in the latest episode of his The Wire podcast 'Jan Gan Man Ki Baat: Rafale Deal and Rising Fuel Prices', according to a report in Newslaundry. Dua also said he was suspending his show for a week to give The Wire an opportunity to probe the sexual harassment allegation against him, according to the report.
"With elections closing in, the questions that should be asked have been relegated to the background. Neither the sarkari media nor durbari media are asking these questions, newspapers aren't asking them either. What is being debated upon is who, how many years ago, sexually harassed whom. A Union minister has also been named...  and there has been some muck thrown at me too... I will mention this too," Dua said.
"Some dirt has been flung at me. Not of sexual harassment but troubling," Dua added, according to the report. "Thirty years ago some woman felt that I did something that troubled her. These allegations can be levelled against anyone, whether it be a pope, a judge, a lawyer, a priest, an innocent man or a doctor. The person who has been accused has no option but to deny these allegations."
Dua then denied the allegation levelled against him, calling it a "figment of someone's imagination". He ended the programme by saying that because he was answerable to the public and The Wire, he was suspending the show for a week to allow the organisation to investigate the allegation, according to the report.
The Wire later pulled down the podcast hours after it was uploaded and re-posted it after editing out the bits where Dua mocked the #MeToo movement, according to the report.
Filmmaker alleges harassment
In a Facebook post dated 14 October, filmmaker Nishtha Jain detailed sexual harassment she allegedly suffered at the hands of Dua, when she met him in June 1989.
Jain said she was a recent graduate of Jamia Mass Communication Centre at the time, and had an interview with Dua (who was known for having hosted the popular TV series Janvani) for a new show, a political satire. "Before I could settle down, he began telling a lewd sexual joke in that soft voice, barely opening his mouth. I don't remember the joke but it wasn't worth a laugh, just dirty. I felt hot in my face and I sat there, most probably with an angry look," Jain wrote in her Facebook post.
Jain says Dua humiliated her during the interview, especially for 'daring' to ask for a fee of Rs 5,000 for the project. She writes that she went home, and told her family of the incident. A little later, she got a job as a video editor in Newstrack. She alleges that Dua was aware of her having taken up this new job, and her timings, and when she left office late one evening, found him waiting in the parking lot in an SUV.
"He said he wanted to talk to me and asked me to enter his car. Assuming that he wanted to apologise for his behaviour, I entered the car but before I could even settle down he began slobbering all over my face. I managed to get out and get into my office car and leave. I spotted him again in the parking in the coming nights and would go right back and wait till someone was ready to leave along with me in the office car. After a few days he stopped stalking me," Jain writes in her Facebook post.
 She claimed that she found Dua's championing of #MeToo hypocritical in light of her own experience with him.
The Wire, where Dua is a consulting editor, later issued a statement in response to Jain's allegations:
We have seen Nishtha Jain's Facebook post where she accuses Vinod Dua, a consulting editor of The Wire, of an incident of sexual harassment in 1989. Dua denies the charges.
Though the incident pertains to 26 years before Mr Dua's association with The Wire, our ICC has taken note of Ms Jain's allegation. We await the outcome of their deliberations in the matter.
Actor and comedian Mallika Dua, daughter of Vinod, also later released a statement addressing the allegation. She clarified that it was not her "battle to fight". Though she will stand by her father as he fights his battle, she will continue to "stand up against bigotry, misogyny, stand up for survivors".
***
Network 18, of which Firstpost is a part, has received complaints of sexual harassment as well. The complaints which are within the purview of the workplace have been forwarded to our PoSH committee for appropriate action.
Explainers
Wrestling Federation of India chief Brij Bhushan Sharan Singh has been accused of sexually harassing female wrestlers, mental torture and not paying wrestlers. The BJP MP from Kaiserganj has denied all the charges
Entertainment
Time's Up — the now-embattled anti-harassment organization founded with fanfare during the early days of the #MeToo reckoning against sexual misconduct — is ceasing operations, at least in its current form
Entertainment
Spacey received a lifetime achievement award from the museum, discussed key roles during a master class and then introduced the 1999 film American Beauty, for which he won his second acting Oscar, to a sold-out crowd