Editor's Note: Firstpost and Alt-News have tied up to call out fake news, misinformation and disinformation that have become prevalent in the daily news cycle. Watch this space for updates.
Remember when actor and BJP MP Paresh Rawal, in a rather distasteful tweet, called for author and activist Arundhati Roy to be tied to the army jeep instead of the stone pelter? The tweet appeared on 22 May, 2017.
Rawal was referring to the controversial 9 April incident in Kashmir where Farooq Dar, a civilian was tied to an Indian Army vehicle and paraded across nine villages as a 'human shield' against stone-pelters. It was later revealed that Dar was a civilian who had stepped out of his home to cast his vote, but instead was captured by the army. While this was happening in volatile Kashmir, a "news website" called the Postcard News posted this on Facebook: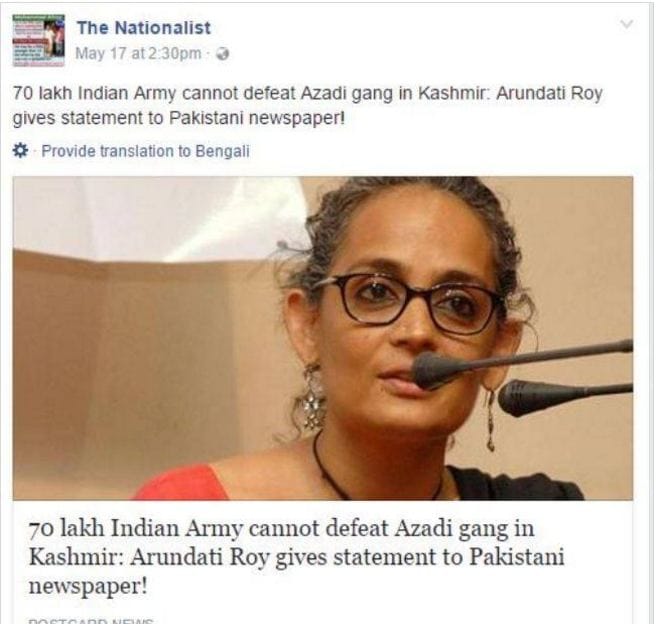 Rawal, of course, did not put in much efforts in checking whether the news was verified or not, but jumped right in to launch a vitriolic attack on Roy.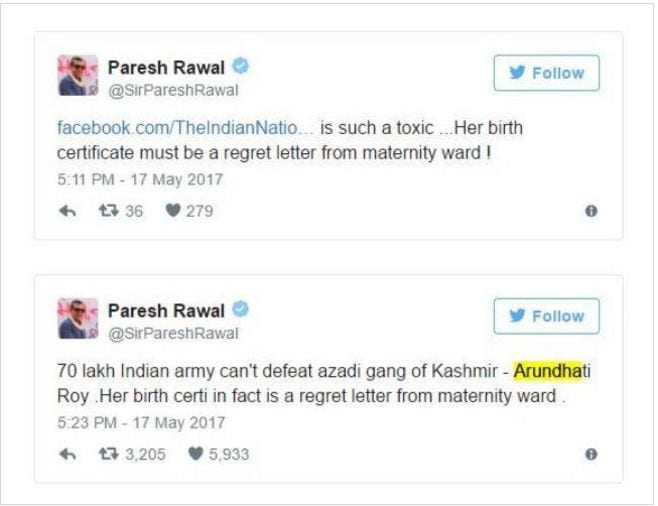 The tweets by Rawal were deleted but the actor was belligerent even in his apology. "With this letter, I inform to all my supporters and citizens of this country that I am being coerced to delete something I tweeted on 21 May, or else Twitter would block my account." However, this is not to rake up old stories written to malign a certain section of the society, or an ideology.
Rawal's tweets and the discovery of the "news" shared by this particular website brought forth the misgivings about a proliferating social media and how we consume news these days. The definition of news and social media and dissemination of information is becoming blurry as days go by, and social media has become the primary source of news for many. At a time like this, it becomes imperative to sift actual news from propaganda or agenda. While most newspapers, TV channels and online publications employ due diligence before publishing a story, it is almost impossible to spot fake news from the real one sometimes. Case in point: Paresh Rawal's tweets.
Fake news does not exist in a vacuum. It is a network which is widely connected to several such networks which enables it to thrive and actively promotes them and Postcard News is just one in the thousands. In an article, Alt-News has debunked how Postcard News functions and shared a list of nine such fake stories which was done by the website and picked up by mainstream media channels. An article which claimed to be a 'a mindblowing analysis' on ancient India was shared by the Ministry of Micro, Small & Medium Enterprises.
— Ministry of MSME (@minmsme) July 26, 2017
Alt-News, in their own words, is an anti-propaganda site that acts as an antidote to fake propagandists that have established themselves in social media as well as mainstream media. Firstpost, along with Alt-News, will try to debunk the unhealthy ecosystem that fake news websites have built around us. Watch this space for more.

Your guide to the latest election news, analysis, commentary, live updates and schedule for Lok Sabha Elections 2019 on firstpost.com/elections. Follow us on Twitter and Instagram or like our Facebook page for updates from all 543 constituencies for the upcoming general elections.
Updated Date: Sep 25, 2017 17:32:26 IST