By Abhishek Waghmare
The Tamil Nadu government declared a drought on 10 January, 2017, after 144 farmers ended their lives between October and December, 2016.
The retreating northeast monsoon—usually unnoticed in India owing to the singular importance of the larger southwest monsoon—in 2016 was the worst ever over the last 140 years, according to Indian Meteorological Department (IMD) records, since 1876.
"It is an unprecedented situation," S Panneerselvam, Professor and Head, Agro Climate Research Centre, Tamil Nadu Agriculture University, Coimbatore, told IndiaSpend. "It has severely affected 21 of 32 districts of Tamil Nadu."
"Tamil Nadu celebrates Pongal on January the 16th," said Panneerselvam. "It is when the harvest begins, but the yield this time is going to be the worst the state will see."
On January 5, 2017, reservoirs in Tamil Nadu were at less than 20 percent of their capacity, cited as the worst ever for the state.
Record-keeping began in 1871, but a worse northeast monsoon, which sweeps across Tamil Nadu, coastal Andhra Pradesh, south interior Karnataka and Kerala, between October and December, was recorded in 1876, making 2016 the year of the second-worst monsoon in 145 years.
Overall, the northeast monsoon was 45 percent short of the average for this period, the state worst hit being Tamil Nadu, where rainfall for the season was 62 percent short of normal. Although the southwest monsoon–which waters the subcontinent between June and September–was classified as normal across India (3 percent below average), it was 19 percent deficient in Tamil Nadu.
Hit by shortages from both monsoons, Tamil Nadu, where the winter crop depends more on the northeast monsoon than in any other Indian state, reported a 33 percent drop in the winter sowing of rice, according to latest crop sowing situation report, updated weekly by the agriculture ministry.
More than 60 percent deficit in October-December rains in four states
The northeast monsoon becomes active after the southwest monsoon retreats from the subcontinent. While there is no specific date for the retreat of southwest and the onset of northeast monsoon, October is regarded as the starting period of the lesser monsoon.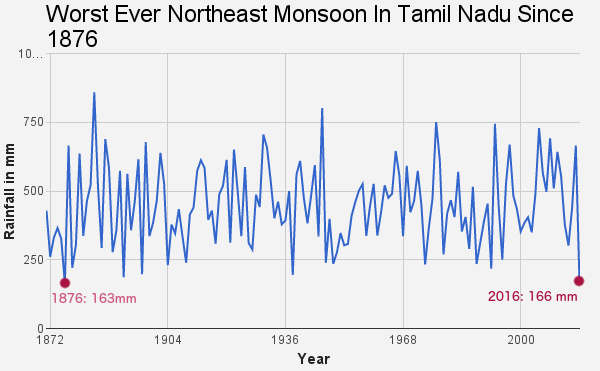 Source: Monthly rainfall dataset, Indian Institute of Tropical Meteorology
Apart from the two monsoons, Tamil Nadu also receives pre-monsoon rains, all important for agriculture.
Nagapattinam, Thiruvarur and Thanjavur were the worst hit districts in Tamil Nadu.
"There are 135,000 paddy farmers among the 175,000 lakh farmers in our district, Nagapattinam, which falls in the Cauvery delta. Half the farmers have sown the paddy crop, but less than 20 percent of the crop has crossed the flowering stage," said J Sekar, joint director of the agriculture department in the eastern coastal district of Nagapattinam. "Even this mature crop will yield nothing."
"Under the Pradhan Mantri Fasal Bima Yojana (prime minister's crop insurance scheme), about 130,000 (95 percent) paddy farmers in the district are insured," said Sekhar. His claim could not be independently verified. "A premium of about Rs 11 crore has been collected. This will provide a safety net to our farmers."
The failure of the northeast monsoon was evident across the South except Telangana, where farming is mostly rain-fed and dependent on the southwest monsoon.
Reservoirs in–or nearing crisis–across the South
With the northeast monsoon failing and the southwest sketchy, reservoirs in the southern states are in crisis–or nearing one.
Tamil Nadu, Andhra Pradesh, Telangana, Karnataka and Kerala now report the highest deficits nationwide. Tamil Nadu reservoirs are 82 percent short of normal levels—the highest deficit in India currently—while those in Andhra Pradesh are 53 percent short, Karnataka 39 percent and Kerala 37 percent.
Karnataka declared a drought in 22 districts and some additional talukas in October 2016; the state has received Rs 1,782 crore from the central government. All of Kerala has been declared drought hit.
As 2016 ended, South India's combined reservoir levels were 34 percent of capacity, which is 22 percentage points less than 56 percent, the average water availability over the last 10 years.
In Tamil Nadu, a third of fields not sown
Tamil Nadu had targeted 14.5 lakh hectares under rice in 2016-17, according to the weekly sowing situation report dated January 6, 2017, of the agriculture ministry, more than any other state. But no more than 7.18 lakh hectares had been sown until January 5, 2017, which is 3.5 lakh hectares—or 33 percent –less than the five-year sowing average of 10.68 lakh hectares.
Compared to the first-week-of-January average of 17.28 lakh hectares of sowing, rice has been planted on 12.74 lakh hectares across India, leaving a deficit of 4.54 lakh hectares, or 26 percent.
"Less area coverage has been reported from the states of Tamil Nadu (3.50 lakh hectare), Andhra Pradesh (0.31 lakh hectare), Karnataka (0.15 lakh hectare), Telangana (0.13 lakh hectare), Assam (0.12 lakh hectare), Odisha (0.09 lakh hectare) and Kerala (0.09 lakh hectare)," said the government's sowing report.
The author is an analyst with IndiaSpend.
Your guide to the latest election news, analysis, commentary, live updates and schedule for Lok Sabha Elections 2019 on firstpost.com/elections. Follow us on Twitter and Instagram or like our Facebook page for updates from all 543 constituencies for the upcoming general elections.
Updated Date: Jan 10, 2017 18:21:32 IST