Swaraj at 70 Part 1: Past 25 years are a matter of pride, but there's a long way to go, says Baijayant 'Jay' Panda
The first part of 'Swaraj at 70' sees Jay Panda speak about the current political scenario, cow vigilantism, land displacement and more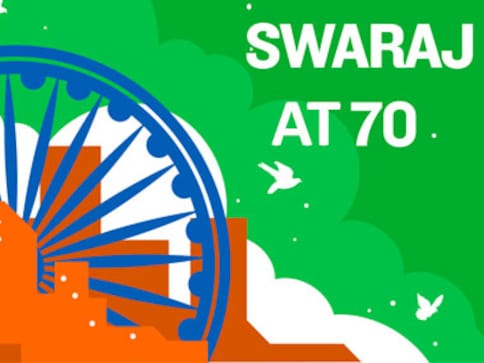 Editor's note: It's ironic that 70 years after India became an Independent country and a democracy, the invocation of aazadi evokes bitter conflicts. Whether it is on university campuses or in the midst of the conflict in the Kashmir Valley – both calling for aazadi and challenging that call as anti-national arouses mighty passions. By comparison, swaraj is hardly ever invoked in the public discourse. It almost seems like a historical artefact, a fragment of fading memories of the Freedom Struggle. This is the first part of a series titled Swaraj at 70 that seeks to take a closer look at this dichotomy.
Oriya politician Baijayant 'Jay' Panda has journeyed a long way from an education in engineering and work in the corporate sector to the Lok Sabha. Elected from the Kendrapara constituency in 2014, the 53-year-old has served as the spokesperson for the Biju Janata Dal Parliamentary Party till he was removed from the post in May this year. Panda is vice-chairman of Indian Metals and Ferro Alloys, a company founded by his parents in 1961, which now has a market cap of about Rs 1,429 crore.
His family has a large footprint in Odisha, with investments in media, financial services, aviation, infrastructure, mining, power and real estate. His Parliamentary engagements include efforts to prevent malnutrition among children and stop consumption of tobacco. He has introduced several Private Member's bills that covered issues such as: fast track courts to try cases against elected representatives; removal of exemption from criminal prosecution given to sitting MPs, MLAs and MLCs; amendments to the Information Technology law, in order to remove restraints on free speech.
Panda spoke to Firstpost about the current political scenario, cow vigilantism, land displacement, the local economy among other issues. Edited excerpts follow:
What feelings does Swaraj evoke for you today?
One is pride for what India is gradually becoming and second is recognition that it is a work in progress. India's Independence has been the biggest experiment in the history of the world. We got a big bang democracy, which means we had a universal adult franchise on day one. None of the other major democracies had that, they evolved over centuries.
While I was growing up in the 1970s, and even up until the 1990s, many international articles would wonder if democracy could last in India. But what has happened to India in the last quarter-century, as it emerges as a major economic power and a player in the geopolitics of the world, is a matter of pride. But we also have to recognise that we have a long way to go. We are not yet a middle-income country. We still have many internal crises to deal with. So, I have a balanced view on these things.
In terms of work still to be done, what are some of the structural dimensions we could tackle to attain Swaraj?
I compare our democracy with other democracies when they were evolving. For example, we had a lot of logjam and disruptions in the Parliament but other democracies, when they were in the formative stage, went through the same process. In the United States Senate, there were fist fights and in the United Kingdom as well, it took a long time to settle down. Democracy is a slow process to build institutions but we are doing a quite a good job of it.
Yet, there is a lot to be done. One example of what we have done superbly is the Election Commission, which conducts the world's largest elections so well that it is admired and emulated by other countries. An example of where we are still a work in progress is the backlog in our judicial system. Thirty years ago, the judiciary took upon itself the task to appoint judges and this is not the case in any democracy.
How do you visualise us tackling judicial backlog – with one of the largest numbers of undertrials in prison? Isn't this a terrible undermining of Swaraj?
It is a travesty of justice but we should not be surprised this has happened because of the backlog in the judicial system and the delay in police reforms and the prosecution system – we should not tolerate this. In a democracy, even when the issues and solutions are obvious to many people, they cannot implement it unless there is a buy-in by a much wider number of stakeholders. Unlike in China, where if the top leadership is convinced about the decision they can do it. That has certain strengths and weakness as it can bring the country down as it happened during the Cultural Revolution.
In a system like ours, which is democratic but also very disparate, with a very large number of stakeholders, it is a slow and nonlinear process. That means that it can take a long time for the realisation to dawn that things can change. But then, there can also be a rapid scaling up of getting things done. Look at how GST happened. It was in the offing for 17 years and then it picked up speed in the last one year and got done. Similarly, the fact that police and judicial reforms are necessary has been known to people for 20-25 years and once a critical mass is reached, reforms can happen in a period of two to three years.
What are the missing ingredients that are holding back the critical mass?
The missing ingredients are common to many different sectors where reforms are required. I will summarise the principles as follows. Any democracy exists on the principle of checks and balances. We inherited the British Raj systems without reforming them at the beginning, so we don't have checks and balances. For example, until the three judges cases, the government used to appoint judges. In the last 20 years, we are introducing checks and balances.
For example, in the appointment of the Chief Vigilance Commissioner and other key posts, which the government used to appoint, checks and balances have been brought in. So, in several cases, you have a committee where the government, the Speaker and the leader of the Opposition sit together and they decide – if two out of three or three out of five stakeholders are convinced that someone is the right person, they can be appointed.
We need similar checks and balances in the Judiciary. The Collegium system is completely non-transparent and it leads to nepotism, it leads to the selection of certain 'wrong' judges. So, we need a delicate balance of checks and balances so that the government can function but not whimsically. One of the areas that
One of the controversial areas is displacement. What is your assessment on the issue, where we stand today because arbitrary displacement is one of the most fundamental violations of Swaraj?
Everything fits into the principle that I spelt out: We must have a system that is decisive but also has checks and balances. Neither extreme is acceptable – one where the system bulldozes anyone and the other where everyone has a veto and the system cannot function at all.
Take for example the case of the Rourkela steel plant and the Hirakhud Dam built in the 1950s. There are still cases being heard of people who were removed from their lands and are still awaiting compensation. So, for over 70 years, these disputes were completely one-sided. Jawaharlal Nehru was the prime minister back then when thousands were simply shoved aside and steel plants and dams were built. But over the last 20 years, the pendulum has swung to the other extreme, where it is almost impossible to acquire land in a big way in India, no matter how beneficial it is and for how many people.
You saw the example of Posco, which was building a large steel plant in Paradip but backed out. Vedanta is a different cup of tea because it was in a tribal and forest area. But Posco was neither in a tribal or forest area and it could not acquire land because in 470 people from three villages blocked the project, which was to benefit about 20,000 people. So, just as you cannot have a system where the government bulldozes and doesn't care about the rights of the displaced, neither can one go to the opposite extreme where a project which benefits tens and thousands of people can be held up by forty or fifty people.
I have had discussions with many activists who think that every last person and village should have a veto. That is not practical. Neither should eminent domain be all pervasive nor should it be that every individual or small group can have a veto over decisions that impact hundreds of villages.
If you give a veto to every last person it won't be fair compensation... it will be the other way around. If the Constitution can be changed with two-thirds of representation agreeing to change it, so you should be able to have a certain ratio where if a vast majority agrees to something then the decision is taken. There are creative solutions coming around. The best example is what is happening in Andhra Pradesh, with the land pooling system that Chief Minister Chandrababu Naidu has pioneered... it seems to be very encouraging.
Does it involve more direct rewards sharing?
Indeed, for the building of the new capital at Amravati, they have acquired about 30,000 acres from farmers and other small land holders. They are going to give some small compensation up front. After the development of the land, they are going to give a portion of the land back. For example, if a farmer has one acre of land, he is given some small immediate compensation but after they have developed the area, built sewers, schools, roads then for that one acre he gets a quarter acre of the land back. But now, the value of the land will be much more than the one acre he had given. It seems to be working. There are no protests, no disruptions.
In many such situations, the problem also arises from venal behaviour by many players in the long chain of command, who take advantage of others. Do you think this is a major issue as a society?
Well, nobody comes out smelling of roses. You have villains on every side. There are corporates who have manipulated the system and taken a large amount of land for special economic zones (SEZs), and not developed SEZs but just real estate projects. You have government officials who have been corrupt. You have activists and NGOs who have played a negative role. Which is why this whole idea, that its black and white, is not true. It's a problem with many shades of grey. The solution can't be that you don't have eminent domain. Neither can the solution be that you only have eminent domain – we have to have checks and balances.
Nowadays, we see the phenomena of people being lynched at random – cow vigilantism is only one of the reasons why it is happening. Do you see that as a societal crisis or is it part of the political economy also? What is happening in the innards of the society?
We have had incidents of mob violence and lynching which are absolutely unacceptable. No civilised society can accept that. Unfortunately, there are many causes for this. One of the main causes is that we have not had the police and judicial reforms which have been desperately needed for last two or three decades. If justice itself takes a long time, then it does not deter people from committing crimes. In societies where criminal cases are prosecuted within a few months, the law and order situation is much better. But where even criminal cases take 30-40 years to be decided, nobody is deterred, so the law is taken into their own hands – whether it is cow vigilantes or the stone throwers who suddenly lynched the police officer in Srinagar.
It's a question of a systematic failure and the advantage being taken of that failure by various groups. Unfortunately, some of the narratives (about lynchings) don't cover the entire spectrum. They only talk about your lynching versus my lynching. Some kinds of lynchings are held up as abhorrent and other kinds of lynchings are not talked about. That is not correct as we have to condemn equally and take steps so there is zero tolerance for any form of vigilantism.
But why is there so much rage and hatred floating around?
Let us look at a different but related phenomenon, which is road rage. Turn back the clock thirty years and you will not see people arguing with each other and killing each other. But, it has become common place in the last 10 years. One reason is that there is huge stress due to people being stuck in traffic jams for hours. These are systemic issues. If you could have 16-lane highways miraculously built overnight, road rage will not be eliminated but it will substantially go down.
Then we also have demographic issues. We have large numbers of young people and we don't have enough jobs in the formal sector for all of them. This is despite the fact that economic growth has rebounded. The World Bank expects that about 68 percent of Indian jobs will not exist in the next 20 to 30 years. The seven percent growth rate now is not creating the same number of jobs that it would have created in the 1990s. So, we have to look at much higher growth rates and other innovative out-of-the-box solutions.
Is it also necessary to redefine growth?
I have a different view. Anyone who thinks that growth is not necessary should know that this approach will not work at all. Growth is necessary but not a sufficient condition. The reason the Chinese economy went from being the same size as India in the 1980s to about five and a half times the size of India is that they had a high growth rate for three decades. If we don't have economic growth, then malnourishment will be much worse. But just because we have economic growth does not mean that malnourishment will go away on its own.
So, what are some of the key systemic changes at the national policy level that would ensure better nutrition at the bottom of the pyramid?
While we have had improved the growth rate over the last three decades, the improvement in malnourishment levels has also happened but at a slower trajectory. Without economic growth, there would have been no such decline but the question is: Why is malnourishment declining slower than the growth rate? The answer to that is that we are over-centralised. No country has succeeded with the kind of 'over-centralisation' we have. You've seen centralisation in the Soviet Union, it didn't work and it collapsed.
Centralisation in a small country like Cuba did not work. Centralisation in Venezuela is collapsing now. China turned around because it stopped being centralised and it decentralised and empowered the mayors. So, I have been campaigning for more federalism. There has to be fiscal devolution, not only to the states but down to the district and the panchayat level. This has started happening after the 14th Finance Commission recommendations. You will see dramatically increased resources going to the panchayat level. Will this be the magic solution? Not immediately, because these things take some time.
Do you see accountability structures coming up at the panchayat level since there is an aspiration that people want more accountability?
Yes, I do, but it will be a decade or two before we see the full results.
Do you find a cynicism and tiredness that could undermine us along the way? Or is that an urban middle-class phenomenon?
I do think it is a middle-class urban phenomenon. If you spend time in rural areas, as I do, you will see there is enormous optimism, enormous energy.
What are the creative solutions you have come up with in the case of migrants workers, which you have closely been involved with?
The fundamental answer is that you must have more economic growth in low-growth areas. If you don't have economic growth, economic opportunity, then people will be forced to migrate. Migration comes in different flavours and some of it is positive. You have skilled migration also. For example, my constituency Kendrapara is home to all plumbers of India. These plumbers get trained and have been apprenticed under some relative and as a result, they go out of Odisha and make a very good living.
I have also been working with brick kiln workers from Odisha who are exploited in other states – they live in subhuman conditions and are treated very badly. Due to welfare programs like subsidised rice, people are no longer starving, but if there is a wedding in the family or a medical emergency then they don't have that kind of money. So, what these agents do is that they give upfront Rs 50,000 but they (labourers) have to come with their family and work in the brick kiln for 7-8 months. They are exploited and sometimes their women are assaulted, their children lose a chance of education and are often used as labourers.
In the brick kilns in Ranga Reddy district in Telangana, my effort has been to tell the state government to enforce the laws. We have laws for minimum wages – but if you add up what they (workers) get, it does not meet the minimum wage requirements. It's a question of implementation, not new laws.
What are your hopes and anxieties for revitalising the local economy?
My hopes are that we will be able to unleash the potential throughout the country. My worry is that many people seem to think that growth is not an answer – that is dangerous thinking. Without growth, there is no solution to the migrant labourers' problem or any other problem. We have to figure out how to harness those (social) priorities along with the economic growth that is necessary.
Swaraj at 70: The concept of aazadi is no longer enough
Part 2: Not being able to disagree without causing upheaval is dangerous, says Sushobha Barve
Part 3: Alternative brand of politics has disappeared from India, says Piyush Mishra
Part 4: Youth can play a significant role in solving farm crisis, says Kavitha Kuruganti
Part 5: For true freedom, we need to end oppression of handouts and subsidies, says Arun Maira
Part 6: People's aspirations are no longer limited by age and class, says Ashni Biyani
Part 7: India needs a more inclusive model of development, says Vijay Mahajan
Part 8: Politicising of human rights issues has pushed liberal discourse into corner, says Kalyani Menon-Sen
Part 9: Technology has the potential to redefine social fabric of India, says Siddharth Sthalekar
Part 10: Food sovereignty should be ultimate goal of democracy, says Jean Dreze

World
Releasing the study, a State Department statement called again on Beijing "to cease its unlawful and coercive activities in the South China Sea."
World
New Delhi and Beijing will hold the 14th Commander level meeting on the Chinese side of Moldo on Wednesday
World
Over 13 million residents of Xi'an have been forced into a strict lockdown since 23 December as part of China's measures to curb the spread of COVID-19 cases