Supreme Court terms triple talaq 'illegal', 'unconstitutional': In 3:2 judgment, SC declares instant divorce 'invalid'
The Supreme Court has upheld the practice of triple talaq for six months, and has asked Union Government to bring legislation within the time-frame.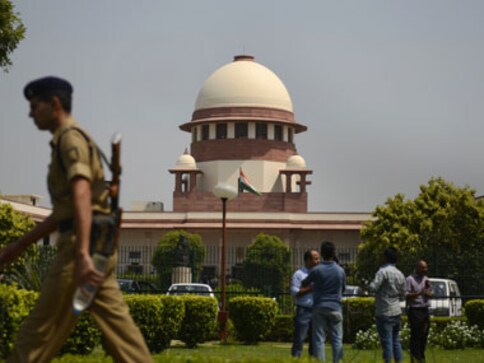 The Supreme Court by a majority verdict on Tuesday ruled that the practice of divorce through triple talaq among Muslims is "void", "illegal" and "unconstitutional". The apex court by 3:2 verdict held that the triple talaq is against the basic tenets of Quran.
While Chief Justice JS Khehar and Justice S Abdul Nazeer were in favour of putting on hold for six months the practice of triple talaq, asking the government to come out with a law in this regard, Justices Kurian Joseph, RF Nariman and UU Lalit held it as violative of the Constitution. The apex court has also ruled that the injunction will continue in case the government fails to bring the law in force within six months.
Khehar on Tuesday said that Talaq-e-biddat was not in violation of Articles 14, 15, 21, and 25 of the Constitution, reported ANI. He also asserted that all parties must arrive as a solution by keeping politics aside.
Js Joseph, Nariman nd Lalit disagree with CJI nd say TT is against the Holy Quran, constitutional protection not permissible @LiveLawIndia

— Prabhati N. Mishra (@Prabhati_Mishra) August 22, 2017
The five-member bench was divided 3:2 on the ruling of the verdict. "Talaq-e-biddat is an integral part of Sunni community practiced since 1000 years," ANI quoted Khehar as saying. Opposing the view of Khehar and Justice S Abdul Nazeer, Justice RF Nariman, Justice UU Lalit and Justice Kurien called the practice of instant divorce "unconstitutional".
According to NDTV, Justice Kurien Joseph said that the practice was "bad in law". The top court also expressed hope that the Union government would consider the Muslim bodies and Sharia law while considering the changes in the legislation.
Before the verdict was out on Tuesday, the All India Muslim Personal Law Board (AIMPLB) told CNN-News18 that it was unconstitutional for the judiciary to interfere in the relgious practices of Muslims. The board also said that there cannot be any uniform civil code in a diverse nation like India.
Former attorney-general Mukul Rohatgi also came out to speak on the significance of Tuesday.
Rejected that the practice was a religious issue, the bench had in May called it a gender issue. Rohatgi had then made a strong pitch for judicial scrutiny on grounds including violation of fundamental rights like gender justice and said that the apex court cannot shy away.
On 12 May 2017, the Supreme Court said the practice of triple talaq was the "worst" form of dissolution of marriages among Muslims, despite there being schools of thought which termed it as "legal".
Click here to follow live updates on the Supreme Court verdict on triple talaq
With inputs from PTI
India
The Court has also asked the Centre, the Election Commission, Kapil Sibal, and the petitioners to submit their recommendations on the makeup of an expert group that will explore how to control freebies and report to it within seven days
India
If elected, Justice UU Lalit's tenure as the Chief Justice of India (CJI) will be less than three months as he retires on 8 November this year
India
Rajya Sabha Member of Parliament and senior advocate, Kapil Sibal, in an event, has expressed his displeasure over some of the recent judgements passed by the Supreme Court saying he has "no hope left" in the institution