Supreme Court on Monday ordered a ban on sale of firecrackers during Diwali till 1 November in the Delhi and National Capital Region. The news met with a mixed reaction with certain sections of the society rejoicing at the apex court order, while traders and businessman were busy counting their losses.
As per a 2016 survey conducted by the Associated Chambers of Commerce and Industry of India (ASSOCHAM), the usage of crackers declined by 20 percent last year, but they're still a popular way of celebrating Diwali. Last year, New Delhi breathed in polluted air with particulate matter that was nearly 16 times above the safe limit. As per the National Air Quality Index, and as expected, pollution levels remained severe on Diwali night in 2016 and owing to a lack of wind, the high degree of emissions from crackers didn't disperse. At Anand Vihar, the Delhi Pollution Control Committee's data from last year showed a concentration of PM2.5 (particles less than or 2.5 micrometers in diameter) at 883 micrograms per cubic metre, 14 times more than the standard of 60 micrograms per cubic metre. In West Delhi's Punjabi Bagh, the level of PM2.5 and PM10 soared at over ten times and 15 times the respective standards. R.K. Puram in South Delhi recorded PM2.5 at over 12 times and PM10 at over 14 times above the standard.
On 9 November 2017, 10 days before Diwali, aqicn.org (a real-time air quality index that records pollution in more than 60 countries) suggests that Delhi might be headed down the same road.
While RK Puram recorded a level of PM2.5 is 178 micrograms per cubic metre and 117 in Anand Vihar, both of these figures fall under the category 'unhealthy'. In Punjabi Bagh, the PM2.5 level was a moderate 91. As explained on the website, unhealthy is described as a situation where 'everyone may begin to experience health effects; members of sensitive groups may experience more serious health effects.' It further states that 'active children and adults, and people with respiratory diseases such as asthma should avoid prolonged outdoor exertion; everyone else, especially children, should limit prolonged outdoor exertion'.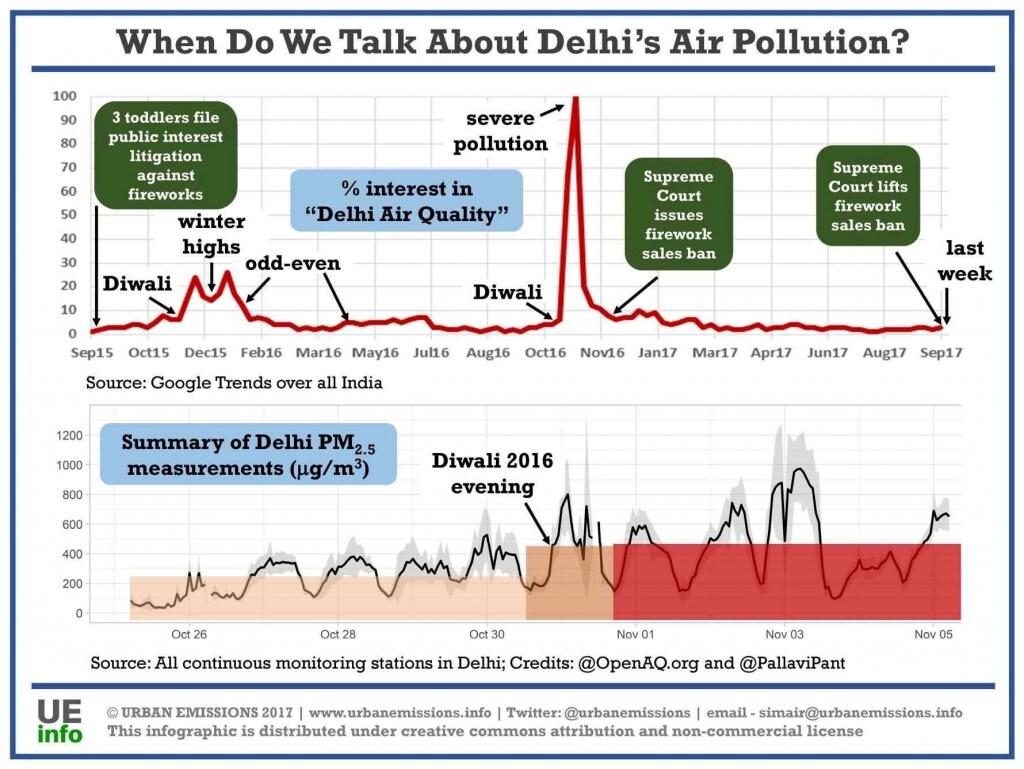 Owing to alarming levels of pollution last year, the Supreme Court has restored the ban on the sale of firecrackers till 1 November. The court said that it wants to test the effect of the ban on air quality post Diwali.
The apex court had temporarily lifted its earlier order, saying a complete ban would be an extreme step. A three-judge bench of the apex court headed by Justice A K Sikri upheld the 11 November, 2016 order suspending 'all licenses that permit sale of fireworks wholesale and retail within the territory of NCR'. A welcome step, indisputably, but crackers only push an envelope that is already full.
For one, here's how environmental rules can easily be bent. There's an industrial junkyard in Mayapuri (West Delhi) where a Cobalt 60 (a synthetic radioactive isotope of cobalt produced artificially in nuclear reactors and used) blast occurred in 2010. Those working here told Firstpost that after the incident, a license was imposed on the usage of metal cutters but that in turn prompted bribery.
Firstpost also learnt that this license can be procured in a day or two for less than a lakh. And, for a fragment of that amount, e-waste certificates were issued to even those who didn't have industrial waste businesses. Another terrifying consequence was that the market shifted base from a largely industrial Mayapuri to the more densely residential pockets like Matiala and Najafgarh near the Haryana border and Mustafabad in North East Delhi.
In Mayapuri, there exists a graveyard of machines where every surviving organ is extracted, revived and auctioned. Chemical coolants are left to dry on the floor; heaps of catalytic converters are lying in the open (the part that controls pollution emission in cars) and there's no lab to test or even a team of scientists dedicated to train industrial-junk workers in the recycling of chemical coolant residues. Those working here remain vulnerable at the hands of scrap imported from China, Iran and Iraq. No masks or gloves, wielding crackers often lead to workers choking up on smoke and suffering cuts and burns.
Last year, the Ministry of Environment, Forest and Climate Change made an insertion in the Hazardous and Other Wastes (Management and Transboundary Movement Rules, 2016 (hereinafter referred to the said rules), of the Environment (Protection) Act, 1986: "The import of solid plastic waste at column (2), against Basel Number 83010 in Schedule VI, excluding post-consumer wastes, is permitted to units in Special Economic Zones notified by the Centre." Environmental activists had taken a dim view of this move and said that an end-of-life product was being euphemized as 'non waste', thereby turning India into a dumping ground of the world.
In the new ban, the Supreme Court has made all sale of crackers subject to compliance with the Explosives Rules, 2008 of the Explosives Act 1884 that was designed to regulate the manufacture, possession, use, sale, (transport, import and export) of explosives. Now, it is worth noting that these were detailed rules came about in 2008.
They stated that 'adirvettu or kadina' stand for sound producing devices made of iron tube, having a strong base with a hole filled up with gunpowder approved by the Chief Controller of Explosives; 'Ammonium Nitrate Fuel Oil Explosive (ANFO)' stands for an explosive mixture of ammonium nitrate and fuel oil that isn't cap sensitive, but doesn't include emulsion or slurry explosives or site mixed explosives (SME); an 'authorised explosive' is one that is included in the list of authorised explosives published by the Central Government in the Official Gazette; an 'emulsion explosive' is an explosive material in the form of emulsion, containing substantial amount of oxidiser dissolved in water droplets surrounded by an immiscible fuel.
The rules gave out definitions for an 'explosive limit' as the maximum quantity of explosives permitted by the licensing authority to be stored or processed in a particular premises and 'fireworks' as low-hazard explosives. On paper, rules look crisp but the pollution levels during Diwali seem to suggest that implementation is all flaky.
Interestingly, the rules also state a difference in public and private firecrackers. No license is needed for possession of fireworks up to 100 kg for private use. Shortly after November 1 will begin the Great Indian wedding season. Common with the wedding crowd are garland bombs that go up to 10,000 pieces and usually cost over Rs 5,000 are a status symbol, as is the 1,000 sky shot that costs more than Rs 10,000. While high-end wedding planners promote electronic cracker-showers with low noise and smoke, in a city like Delhi which can have over 25,000 weddings in a day (7 December 2015), everyone in the capital is forced to partake in the smoky celebrations.
Hope the new ban doesn't prompt smuggling and bribery at a festive hour because any every wrong move will thicken that blanket of grey beneath which Delhi will gasp for its every breath.
Firstpost is now on WhatsApp. For the latest analysis, commentary and news updates, sign up for our WhatsApp services. Just go to Firstpost.com/Whatsapp and hit the Subscribe button.
Updated Date: Oct 10, 2017 16:02 PM