Srinagar bypolls: With voting being taboo in Budgam, only 709 of 35,169 voters cast ballot
The tense atmosphere around polling booths and the areas surrounding them was such that it was near-impossible to see a single person on the streets as repolling was conducted in 38 polling stations in the Srinagar parliamentary constituency on Thursday
Budgam: The tense atmosphere around polling booths and the areas surrounding them was such that it was near-impossible to see a single person on the streets as repolling was conducted in 38 polling stations in the Srinagar parliamentary constituency on Thursday.
"No one here now wants to be seen as associated with the government. Voting does not mean electing your representative here, but being part of the machinery that killed eight people in one day. Either way, it is your democratic right," Qamar Ali Mirzai, a social activist, told Firstpost in the main town of Budgam, as paramilitary soldiers made rounds of the streets.
Despite the reelection in the violence-hit polling stations of Srinagar parliamentary constituency, only a two percent voter turnout was recorded — till the time of the last count — on Thursday evening, compared to 7.1 percent in the whole constituency on Sunday, when eight civilians were killed and more than hundred people injured in clashes between security forces and protesters in central Kashmir.
"Something unusual has happened in Kashmir, and even in this district, since last year. It seems mainstream politics has come to symbolise atrocities and the space underneath the mainstream political leaders is shrinking with every passing day," Mirzai, 49, a resident of main town of Budgam, said. The fear and uncertainty was so palpable that a majority of the agents from polling stations were missing. At least 300 soldiers were seen guarding each polling station. These polling stations looked less like polling stations and more like paramilitary camps.
"I came to vote because I want a job for my son. Someone has promised me that if I vote, he will get a job," Taja Begum, 72, who was among the 235 voters, who exercised their franchise at Dooniwari, Chadoora polling station, told Firstpost.
"If we choose someone, he or she will repair our roads. What will we get out of mara-mari (violence)?" asked Haji Yasuf Dar, another voter at the same polling booth.
But outside Dooniwari, Chadoora village the street wore a deserted look. People gazed at the few vehicles that passed from the attics of their homes. Soldiers patrolled in groups, and Kashmir it seemed had returned to the early 1990s.
Election Commission officials here said only 709 votes were cast at 38 polling stations (out of a possible 35,169 votes) by the time voting came to a close at 4 pm.
The state government had imposed Section 144 in all parts (except the poll-bound areas) of the district and a united faction of Hurriyat conference, led by Syed Ali Shah Geelani, has called for a hartal in the poll-bound areas. Voting was peaceful, except for a few minor stone-pelting incidents.
"It is a slur on so-called democracy," a joint statement issued by the Hurriyat conference, said. "Re-polling in Budgam and rescheduling polls in Anantnag constituency is just to affect the routine life and school education," said the leaders in the joint statement.
As the paramilitary soldiers were withdrawing Beerwah area of Budgam after the polling ended clashes erupted. Protests erupted as youth pelted stones on government forces, triggering clashes.
There is zero percent voter turnout at a polling station in Bagh-e-Mehtab, an area of Srinagar, as no vote was cast till 3 pm. "No one came here, we waited throughout the day," the presiding officer said. Mainstream political parties in the Valley were hoping to see an increase in polling percentage in these 38 polling stations, but it turned to be a lot lower than Sunday's voter turnout.
India
The searches were carried out in connection with a probe into two cases pertaining to alleged issuance of around two lakh arms licences in erstwhile state of Jammu and Kashmir
India
These exchanges took place at Punjab's Attari, along the Rajasthan front and in Jammu, and with the BGB along the border with Bangladesh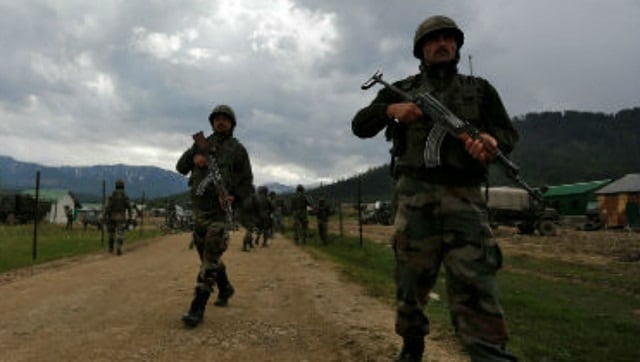 India
The police said that one of the militants, identified as Fayaz War, was involved in several attacks and killings of civilians and security personnel. He was the last perpetrator of violence in north Kashmir