Special status category for Andhra Pradesh: CPM, Congress, YSRCP extend support to statewide bandh; bus services affected
Normal life was affected in Andhra Pradesh with people's group Andhra Pradesh Pratyeka Hoda Saadhana Samiti launching a statewide band on Monday to press for special status for the state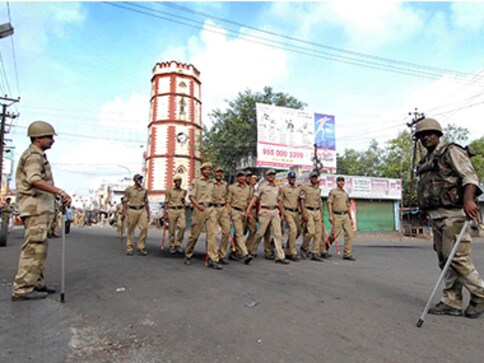 Normal life was affected in Andhra Pradesh with people's group Andhra Pradesh Pratyeka Hoda Saadhana Samiti launching a statewide shutdown on Monday to press for special status for the state. The strike has received support from YSR Congress Party, Congress and CPM, however, the ruling TDP has opposed it.
According to a report in The Times of India, state-run bus services (Andhra Pradesh State Road Transport Services) were disrupted after "activists of Andhra Pradesh Pratyeka Hoda Sadhana Samithi along with Left parties blocked bus stations across the state" on Monday morning.
The report also said transport services between Karnataka and Andhra Pradesh are also likely to be affected as well with the Karnataka State Road Transport Corporation announcing that it will operate its buses only till the Andhra Pradesh state border.
While members of Left parties reportedly blocked the National Highway 16 which connects Kolkata and Chennai, ANI shared visuals where members of the Communist Party of India (Marxist) could be seen staging rasta roko.
The ruling Telugu Desam Party in Andhra Pradesh, as well as various political parties in the state, have been protesting against the Centre for a while for not fulfilling its promise to accord a special status for the state after the state of Andhra Pradesh was bifurcated into Telangana and the residuary Andhra Pradesh state in 2014.
The second half of the Budget Session was washed out due to protest by various parties including the TDP, which sought to move a no-confidence motion against the government after pulling out of BJP-led National Democratic Alliance (NDA).
TDP leader and Andhra Pradesh chief minister Chandrababu Naidu, however, condemned the bandh, saying bandhs were not welcome because they stall development.
Speaking with The Indian Express, YSCRCP political affairs committee member Ambati Rambabu accused the chief minister of 'double standards'. "When Naidu was the opposition leader, he had called for bandhs on many occasions, but as a Chief Minister he is now opposing them (bandhs), saying they hinder development," he said, adding that "bandh was a form of a democratic protest and he had no right to oppose it".
Rambabu also alleged that the Naidu government has been issuing notices to those supporting the bandh, saying cases would be booked against them. "Why this intimidation? As long as they are peaceful, we will continue all forms of democratic protests," Rambabu was quoted as saying in the report.
With inputs from PTI
World
According to reports, the proposed corridor is expected to connect Mumbai with the port city of Bandar Abbas in Iran before going on to Armenia and onward to Russia or Europe
World
The plan is part of the South Korean government's drive to invest heavily in six key technologies, including chips, displays and batteries, all areas where the country's tech giants are well-established already
World
Massive strikes are expected from Tuesday, with unions promising to bring the country 'to a standstill' and strikes set to hit many sectors such as transport, energy and oil refining