Sheikh Hasina in India: Symbolism aside, will the visit improve bilateral ties, address critical issues?
While the optics of Sheikh Hasina's visit are impressive, success of such visits is judged by forward movement on matters that acquire public prominence.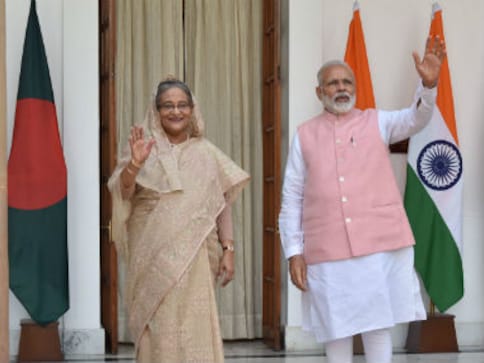 As her motorcade drove up Raisina Hill towards Rashtrapati Bhawan on Friday, to begin a very substantive and extraordinarily welcoming state visit to India, Bangladesh Prime Minister Sheikh Hasina may have, if only for a few brief seconds, thought of the vicissitudes of life.
Some four decades ago, she lived a short distance away from Rashtrapati Bhawan, taking refuge from the murderous gang that had killed her illustrious father, Sheikh Mujibur Rehman, and her family in Dhaka in 1975.
Now, she had returned on an important political trip as the leader of her country. And the person who had cared for her like an 'elder brother' during those dark days, now lived at the Rashtrapati Bhawan as the President of India – Pranab Mukerjee.
Hasina is not reluctant to acknowledge India's role in the liberation of Bangladesh and has always expressed gratitude to the Indian soldiers, who made the ultimate sacrifice in that struggle to end Pakistan's genocide.
Significantly, during the state visit, she honoured the families of seven Indian soldiers who had laid down their lives in the 1971 war. Speaking on the occasion, where Prime Minister Narendra Modi was also present, she said, "History of Bangladesh has been written by blood of the Indian martyrs, along with those of Bangladesh."
There are many in Bangladesh who do not wish to remember India's contribution to their country's liberation struggle. Her public gesture on Indian soil was a reprimand to these elements.
On his part, Modi went far beyond protocol to welcome Hasina. He was at the airport to receive her personally; he has done this only twice for other foreign guests – former US president Barack Obama and UAE crown prince Sheikh Mohammad Bin Zayed.
More special was his gesture of standing beside her, as she signed the visitor's book at Hyderabad House. Modi also spoke at length about Hasina's courage in the face of great adversity and her steely resolve to achieve her father's vision.
Thus, the atmosphere and the symbolism of her visit and the personal chemistry of the leaders, an important diplomatic ingredient for Modi, could not have been better. But, will this visit take the relationship forward in the areas that are critical for each country?
The Joint Statement issued after the two prime ministers' discussions details the comprehensive and dynamic bilateral partnership. It stretches across trade to infrastructural development to security issues to people-people concerns. It now seeks to move into new areas, including space and civil nuclear energy cooperation.
While all this is impressive, the fact remains that success of such visits is judged by forward movement on a few matters that acquire public prominence and become sensitive for each government.
For India, the main objectives in Bangladesh are to secure connectivity to the North East; ensure that it does not become a launch pad for anti-India activities, including terrorism and insurgencies; and ensure that it does not fall in the Chinese embrace. Illegal migration continues to be a major worry for India.
Bangladesh wishes to secure the flow of river waters, especially of the Teesta, maintain an independent foreign policy and secure easy and continuing market access in India. Some sections in Bangladesh, however, are wary of a formal defence relationship with India.
While Hasina is conscious of Modi's constraints on River Teesta, because of the opposition of West Bengal chief minister Mamata Banerjee, the absence of forward movement on the issue embarrasses her politically. Her opponents assert that she has been positive on India's interests, while ignoring a core Bangladeshi concern. Begum Khaleda Zia, the main opposition leader, accused her of selling out to India during this visit.
The landmark border demarcation agreement, signed two years ago, was seen as a great success for both countries. Nevertheless, the opposition will focus on Teesta as the country edges towards elections in end 2018 or early 2019.
In Hasina's presence, Modi, while assuring Bangladeshis of India's commitment and "continuing efforts" to resolve the Teesta water sharing issue, expressed his firm belief that only his and Hasina's government could achieve such a task.
However, the Joint Statement showed no forward movement. On her part, Mamata, who was present at the lunch hosted for Hasina, virtually ruled out consenting to earmark more Teesta water for Bangladesh, by asking that other rivers be surveyed for water sharing as well.
Unlike the past, Bangladesh under Hasina has cooperated with India on security issues. It has also proceeded to incrementally expand connectivity. It is combating fundamentalist Islamic forces that are reflexively pro-Pakistan.
Thus, from India's perspective, a positive political future for Hasina is a positive for bilateral ties. In this context, the Teesta issue gains even more significance and can queer the pitch. Modi's political and diplomatic skills will be put to test, especially when China is enlarging its presence in India's neighbourhood.
Politics
Banerjee's petition challenged Adhikari's victory from the Nandigram constituency and sought a reevaluation of the result
India
The heart of the conflict is an unresolved border issue — a 164.6-kilometre long inter-state border, which separates Assam and Mizoram. This border is shared by three districts of South Assam — Cachar, Hailakandi and Karimganj — and three districts of Mizoram — Kolasib, Mamit and Aizawl
World
US president Joe Biden has been facing tremendous pressure from lawmakers in both parties to come up with a plan to help evacuate Afghan military helpers before the US troop withdrawal on 31 August