Security guard rapes stray dog in Mumbai's Kandivali: India must strengthen PCA Act to deter sexual crimes against animals
A security guard was recently arrested for raping a stray dog in a manner similar to the 2012 Delhi gangrape. His release on a bail of Rs 3,000, has highlighted the need for stricter laws to deter sexual crimes against animals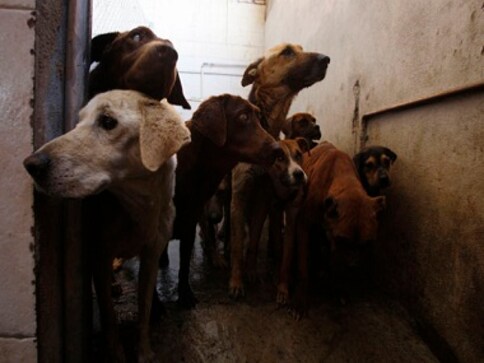 A security guard was recently accused of brutally raping a stray dog named Bindu by forcing a sharp object into her vagina and causing a painful death. The accused, Premshankar Rai, though arrested immediately by the Samta Nagar Police Station in Mumbai's Kandivali area, was released on a bail of Rs 3,000.
Heartbreakingly, barely a month ago, Bindu had given birth to seven puppies who she was still nursing when she was attacked. Rai was arrested after an FIR was filed by local animal rights group Mumbai Animal Association (MAA).
The group also took in the pups following the crime. After People for the Ethical Treatment of Animals (PETA) India learned about the culprit's release, it urged the Mumbai Police Commissioner to prevent another Jyoti Singh-like case by re-arresting the man and ensuring Section 377 of the Indian Penal Code is added to the FIR which regards rape of an animal a non-bailable offense and carries a punishment of up to ten years' jail time. The NGO warned that Rai's next victim could be a human. Indeed, Jyoti was infamously raped and killed with a rod.
Reports of sexual and other abuse of animals have become more common in the country. Recent cases include a pregnant goat who was gang-raped to death by eight men in Haryana, a female stray dog who was filmed being raped in Jaipur, a housing colony security guard who was caught regularly taking a female stray dog into a washroom to abuse her and a 19 year-old-boy who was caught having sex with a female stray dog in a public toilet.
Other cases of cruelty that made it to the headlines include a Bengaluru woman who killed eight puppies, Chennai medical students who threw a puppy off a roof, a young man in Maharashtra's Washim area who mercilessly beat up and killed a langur, three men who attacked a sleeping stray dog in a temple in Junagadh with bamboo until he bled to death and Vellore medical students who tortured and impaled a monkey to death. And these are just some of the many such cases.
The Bengaluru woman was let off on a fine of measly ₹1,000 for brutally killing eight puppies. However, the order of the Magistrate court has been challenged in a higher court. As for the Chennai medical students who threw a puppy off the roof of a medical college continue to study medicine and are out on bail. The trial is on but they are roaming free. The three men from Junagadh who mercilessly beat up and killed a sleeping stray dog were arrested but released on bail immediately, so also the Vellore students who tortured and raped a monkey. The students are still on suspension from the college and have not been allowed to appear for their exams or continue with their academics.
However, the man in Washim who mercilessly beat up and killed a grey langur was denied bail a record breaking five times, including by the Bombay High Court. He is currently in judicial custody, lodged at a jail. This was possible only because the perpetrator was booked under the Wildlife Protection Act (WPA), 1972, which is much stronger than the Prevention of Cruelty to Animals Act, 1960. However the WPA applies only to select wild animals that are protected under Schedule I to IV of the said Act. The punishment for offences related to wildlife crimes is a jail term of up to seven years and a fine of upto ₹10,000 for the first offence. The offence being non-bailable in nature. However, the conviction rates have not been very convincing and a lot of illegal wildlife trade and crime goes unregistered and unreported.
The PCA Act is toothless as most animal abusers get away without facing any consequences. The conviction rates are extremely low in animal cruelty cases and India has hardly seen anyone face any exemplary punishment for the dastardly acts committed by them in the past 60 years since the PCA Act has been enacted.
This signifies the need to urgently amend and strengthen the PCA Act to deter animal abusers from committing acts of cruelty to animals. Like the father of our nation Mahatma Gandhi once said, "The greatness of a nation can be judged by the way its animals are treated."
Indians certainly are not treating animals like they should be, considering the fact that they are sentient beings, who feel pain and have emotions, just like humans do. Animals in India have been reduced to inanimate objects and it is the outdated laws that are to be blamed for.
All lives matter and hence it is imperative that India not only protect fellow humans from abuse and torture but also animals who have been inhabiting this planet way before us. Animals also have a right to live a life of dignity and respect, as rightly opined by the Supreme Court.
In countries like the USA, serious cases of animal cruelty and abuse like the ones mentioned above are investigated by the FBI. Sadly, in India it is not so. Serious cases of animal abuse continue to remain with the local police stations and don't even go to the crime branch, let alone the CBI. Foreign countries have understood the need of protecting animals through stronger welfare legislations and it is about time India too follows the footsteps of these countries.
Cruelty to animals should worry everyone. Research in psychology and criminology shows that people who commit acts of cruelty to animals often don't stop there — many move on to hurting humans. And the FBI has found that a history of cruelty to animals is one of the traits that regularly appear in its records of serial rapists and murderers.
A US study conducted over a 21-year period found that 70 percent of people who abused animals went on to commit other crimes and about two-thirds of them also assaulted a human. It also found that 100 percent of individuals convicted of sexual homicide had a history of cruelty to animals. And importantly, another US study found that 96 percent of the offenders who had engaged in bestiality (sexual assault of an animal) also admitted to having sexually assaulted humans.
Examples of such individuals include Ameerul Islam, who used to rape and kill dogs and goats before he was sentenced to death for raping and murdering law student Jisha in Kerala. Convicted criminal Joseph Bateson of Northern Ireland — who allegedly sexually assaulted farm animals — was found guilty of 17 counts of gross indecency with a child and indecent assault after he sexually abused a six-year-old boy. And American criminal Jerry Cook was convicted of cruelty to animals, assault and battery following an incident in which he raped a dog — fatally injuring her in the process — and attacked the owner of a home he was burglarising. Cook's history of violence began nearly two decades earlier, when he was convicted of first-degree rape of a human.
What's more? American serial killer and cannibal Jeffrey Dahmer impaled the heads of dogs and cats on sticks. In the UK, the abuser of a child known as Baby P, Steven Barker, tortured animals, including frogs, whom he would skin before breaking their legs. In India, Veerappan was a poacher as well as a serial killer, and the infamous Noida serial murders of children took place at the home of Moninder Singh Pandher, who was fond of hunting.
The highest office of the judiciary, the Supreme Court of India, came to the rescue of the voiceless animals in 2014. It took cognizance of the need of an amendment to the PCA Act, 1960, and very strongly and clearly directed the Parliament with the following in Animal Welfare Board of India vs A Nagaraja and Others:
- "Parliament is expected to make proper amendment of the PCA Act to provide an effective deterrent to achieve the object and purpose of the Act and for violation of Section 11, adequate penalties and punishments should be imposed."
- "Parliament, it is expected, would elevate rights of animals to that of constitutional rights, as done by many of the countries around the world, so as to protect their dignity and honour."
Section 377 of the Indian Penal Code is the only provision under the Indian law that specifically criminalises bestiality. That's why PETA India has requested that the Ministry of Home Affairs and the Ministry of Law and Justice retain the criminalisation of sexual assault of an animal by a human being under Section 377 when amending the current wording to decriminalise sexual acts between same-sex partners and between other consenting adults.
Section 377 is strong enough and provides to punish acts of bestiality in a manner that would deter others from committing them. However, the problem lies in its enforceability. The section is often not included in the charges even when cases of sexual abuse towards animals are reported. Many police officers are not even aware that Section 377 applies to cases of bestiality and that it's one of the reasons why such cases go unreported or unregistered.
Sexual abuse of animals is not uncommon. Cattle in the dairy industry are often sexually abused by men who work in tabelas/dairy farms as most of them are away from their families and abuse animals to satisfy their sexual urges. Multiple cases of cows and buffaloes being raped have been coming to the fore and there is very little we are doing to prevent such cases from taking place.
The number of cases of bestiality have seen a sharp rise in the recent past. In the Jaipur rape case, in which a female stray dog was raped and filmed, the perpetrator is said to have sexually abused goats and sheep in the past. He has a history of sexually abusing animals, and had he been booked the first time, many other goats and sheeps including the dog could have been spared.
Various animal rights groups have long been calling for strengthening of punishments for crimes mentioned in India's Prevention of Cruelty to Animals (PCA) Act 1960. Right now, it contains outdated penalties, such as a maximum fine of Rs 50 for convicted first offenders who abuse an animal, barely equivalent to a slap on the wrist.
Reporting animal abuse is the only way to reduce and also at times to prevent it. Citizens must be alert and report animal cruelty as soon as they witness it. Everyone must raise their voice for the animals who can't speak for themselves. For if they don't, who else will. Animal abuse must be brought to the attention of the police and animal protection groups immediately so as to bring the offenders to the book which may also prevent other animals and even humans from becoming targets of such abusers.
The author is an animal rights activist and emergency response coordinator with PETA India
India
Rajya Sabha Member of Parliament and senior advocate, Kapil Sibal, in an event, has expressed his displeasure over some of the recent judgements passed by the Supreme Court saying he has "no hope left" in the institution
India
Supreme Court noted that it was the appellants who had challenged their conviction by way of an appeal before the high court.
India
The observations came while granting bail to a man who was accused of facilitating the escape of persons who murdered the Mayor of Chittor district in Andhra Pradesh