SC's position on SC/ST Act rooted in misplaced fear of 'misuse,' will lead to further victimisation of Dalits, Adivasis
If the Supreme Court doesn't rethink its position on the SC/ST Act, reporting of cases under the law will drop as victims may face further discrimination.
By Taruni Kumar
Any law that is put in place to protect the rights of minorities immediately creates one kind of response: massive, pearl-clutching fear that 'the law will be misused'. Discussing a law against marital rape? Chhe, you just want to victimise all husbands. Rape law? There are so many false cases that women register just to blackmail men, apparently. How many? Oh, just Google na. SC/ST Atrocities Act? "Innocent citizens are termed accused, which is not intended by legislature. The legislature never intended to use the Atrocities Act as an instrument to blackmail or to wreak personal vengeance." That last objection came from a two-judge bench of the Supreme Court on 20 March, with which they diluted the provisions of arrest under the Act.
This inspired a nationwide Bharat Bandh called by Dalit organisations on 2 April. At least nine people died in the violence: Six in Madhya Pradesh, two in Uttar Pradesh and one in Rajasthan. According to officials, seven of the nine killed were Dalits.
The government filed an appeal on Monday and after hearing it on Tuesday, the SC responded, "We are only concerned about innocent people being put behind bars. We are not against the Act at all. But innocents can't be punished on a unilateral version. Why does the government want people to be arrested without verification?" So, isn't the idea of all law to not punish the innocent anyway? But to also protect the victimised?
Dalit activists are understandably enraged by the court's decision. "The Act isn't even being used, where are we going to talk about abuse? So many incidents happen that don't get reported under the Act because people who aren't educated don't even know it exists," says Manisha Mashaal, an anti-caste activist, orator and singer.
As Ram Vilas Paswan, president of the Lok Janshakti Party, and current Union Minister, pointed out on Friday, "Any law can be misused and if riders are added to the SC/ST Act, poor persons will not even go to file any FIR."
The fact that the Supreme Court has fallen into the trap to the age-old phobia of "misuse" shows that the highest Court in the land too believes that protecting 'higher' castes from the mere wisp of accusation is more important than protecting Dalits and Adivasis from actual violence. In essence, the court seems to think that caste is no longer an issue.
Soon after, Uttar Pradesh cabinet minister and Suheldev Bharatiya Samaj Party chief Om Prakash Rajbhar came out in support of the Supreme Court's ruling with a statement that falls squarely into this space of fear of the "misuse" of law by the oppressed against the privileged. "The decision of the Supreme Court is absolutely appropriate," he said, "as the SC/ST Act is widely misused, similar to the Dowry Prohibition Act. Innocent people are harassed in the garb of this Act."
Except, the National Crime Records Bureau (NCRB) data seems to disagree. In 2016, a total of 40,801 crimes against Dalits was reported, up from 38,670 in 2015. And if anybody is jumping up from their sofa to say that stuff happens only in 'roooral India', the data showed that urban centres tend to show similar patterns of atrocities to their surrounding rural belts.
And as is usually the case, most crimes against Dalits are against Dalit women including assault, sexual harassment, stalking, voyeurism and insult to modesty. Six Dalit women face sexual assaault every day and the sexual assaults of Dalit women have doubled in the last decade.
"Anyway, [the police] didn't file FIRs and wouldn't conduct proper investigations, now the condition is just going to get worse,'" says Mashaal.
Manjula Pradeep, a lawyer and former Executive Director of the Navsarjan trust, a grassroots organisation working to empower Dalits in India, says, "Even when a Dalit woman wants to fight a case, is she empowered? The first roadblock is her own family. Now if she doesn't have support from her own family and then doesn't have support from the judicial system either, how vulnerable is she left? Dalit women face a lot of hostility not just from the police and the judiciary but also from the community and if there is a dilution in the Act, it will affect the registration of cases of violence and crimes against Dalit women."
If the Supreme Court doesn't rethink its position on the SC/ST Act, these NCRB numbers are probably going to be lower during the next data collection round. However, this will not be because we have been magically transported into a post-caste world. Reporting crimes, especially of the nature of assault or humiliation, is a harrowing experience in itself and if there's a chance that the victim will be further discriminated against during the course of filing a complaint or not be taken seriously, reporting will drop drastically. Remember the 2015 case where a Dalit family was forced to strip naked in the middle of a market because the UP Police refused to file a complaint? Or the more recent January case of a Dalit man complaining that he was beaten up and told to lick the shoes of a police officer while in lock-up?
Less knowledge of the crimes against Dalits won't mean they've disappeared, dear Supreme Court. There's a large bird that's known for burying its head in the sand when faced with danger. It's not indigenous to India, so in our current environment, some would say it would be fairly anti-national to emulate it.
And what of the government's petition appealing the decision?
"They are afraid of losing power and the elections. They're afraid of what happened on Monday. So they're trying to treat us as a vote bank. But we're not fools," says Pradeep.
Mashaal says, "This government's goal is to finish off or maim Dalit communities or marginalised communities, so what is this petition but a political move? The BJP government's end goal is to get rid of reservations in the country. Does it think that the discrimination that the community has faced for centuries has been wiped out in the last ten? They're trying to foment trouble with smaller issues like the breaking of statues and the Act so that they can focus on the larger picture like removing reservations and impede development for the community while we are distracted."
Pradeep says, "We set up a national coalition and pushed for a review of the 1989 Atrocity Act to make some amendments. With great difficulty we got these amendments in 2015, and now the judiciary is trying to dilute the Act?"
It is not just that the Supreme Court has diluted the SC/ST Act that is troubling, it is also that it seems unaware that it has played the same card that comes from the privilege afforded to upper castes: The privilege of not knowing what caste discrimination looks or feels like. And if the highest Court in the country can be blinded by this privilege, then a diluted SC/ST Act is even more so the exact opposite of what the Dalit and Adivasi communities need.
Follow live updates on proceedings in the Supreme Court here.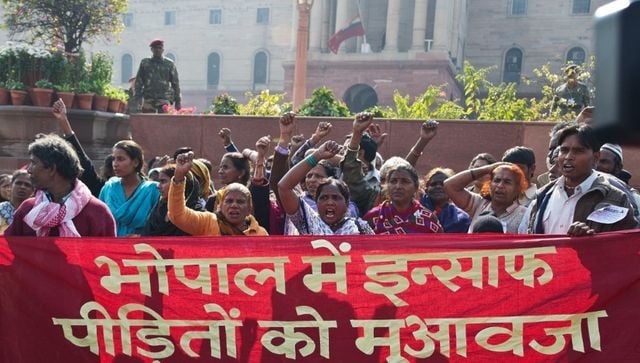 India
Rejecting the Indian government's curative petition that sought more funds for the victims of the 1984 Bhopal gas tragedy, the top court said it would open up Pandora's box. The American company, Union Carbide, responsible for the disaster had paid the survivors Rs 715 crore in damages in 1989
World
Pro-Khalistan supporters in the US threatened the Indian embassy and Indian Ambassador to the United States Taranjit Singh Sandhu during their protest on Saturday. They issued threats and made announcements that the 'hypocrisy' will come to an end
India
A bench of Chief Justice DY Chandrachud and justices PS Narasimha and JB Pardiwala assured Bano, represented through her lawyer Shobha Gupta, that the new bench will be formed