SC to hear Google's plea against CCI order on 19 January
Google has challenged the January 4 order of the NCLAT which refused to stay the CCI order reasoning that the CCI's order was passed in October 2022, while the appeal by Google was filed only in December 2022 and hence, no case for interim relief was made out
New Delhi: The Supreme Court on Wednesday posted for hearing on January 19 an appeal of Google India against a ruling of the National Company Law Appellate Tribunal (NCLAT), which refused to stay a Rs 1,337.76 crore penalty imposed on the technology giant by the Competition Commission of India (CCI) for alleged
anti-competitive practices.
A bench of Chief Justice DY Chandrachud and Justices PS Narasimha and JB Pardiwala said it will hear the case on Thursday at 11.30 am.
On Monday, the bench posted the hearing for today and asked Google whether it will put in place the same regime in India as it has in Europe with respect to the pre-installed apps in Android-based mobile phones.
The inquiry of the apex court had come after Additional Solicitor General of India N Venkataraman, appearing for CCI, told the apex court that Google was taking different standards in Europe and India and the search engine company had complied with a similar order passed by European Commission.
ASG asked how can they discriminate Indian consumers from European consumers.
Senior advocate Abhishek Manu Singhvi appearing for Google India refuted the claim of CCI and said the CCI had misrepresented the facts and that compliance in Europe was pertaining to MADA unbundling.
After facing a setback at NCLAT, which refused to stay a CCI order on abuse of dominant position in multiple markets in the Android mobile device ecosystem case, Google approached the Supreme Court.
Google has challenged the January 4 order of the NCLAT which refused to stay the CCI order reasoning that the CCI's order was passed in October 2022, while the appeal by Google was filed only in December 2022 and hence, no case for interim relief was made out.
Since no urgency was shown in filing the appeal, Google could not be allowed to insist on interim relief, the Tribunal has said.
NCLAT has also directed Google to deposit 10 per cent of the Rs 1337.76 crore fine amount within three weeks.
The CCI had, in October 2022, imposed the penalty on Google for abusing its dominant position in multiple markets in the Android mobile device ecosystem and also directed Google to cease and desist from participating in anti-competitive practices.
Google challenged the CCI order in the NCLAT, which is an appellate authority over the CCI against any direction issued by the regulator.
Read all the Latest News, Trending News, Cricket News, Bollywood News,
India News and Entertainment News here. Follow us on Facebook, Twitter and Instagram.
Explainers
Opposing the legal recognition of same-sex marriages, the Indian government has said that 'they will cause havoc'. The matter now lies before the Supreme Court. As the debate continues, we look at how nations have approved such unions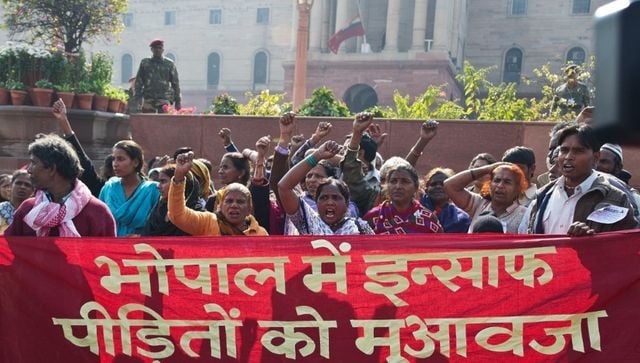 India
Rejecting the Indian government's curative petition that sought more funds for the victims of the 1984 Bhopal gas tragedy, the top court said it would open up Pandora's box. The American company, Union Carbide, responsible for the disaster had paid the survivors Rs 715 crore in damages in 1989
World
Pro-Khalistan supporters in the US threatened the Indian embassy and Indian Ambassador to the United States Taranjit Singh Sandhu during their protest on Saturday. They issued threats and made announcements that the 'hypocrisy' will come to an end