Sabzar Bhat encounter: Death of Burhan Wani's successor triggers protest in Kashmir, 1 civilian killed
Top Hizbul commander Sabzar Bhat killed. Death triggers widespread protests in the Valley once again, with one civilian death reported.
Srinagar: Top Hizbul commander Sabzar Ahmad Bhat alias Abu Zarar, a close aide of militant 'poster boy' Burhan Wani, was killed on Saturday after a gunfight in Tral in south Kashmir, triggering widespread protests in the Valley once again, with one civilian death reported.
Authorities were bracing up to prevent a recurrence of the 2016 unrest that saw nearly a 100 dead.
In another incident, six militants were killed by the army when an infiltration bid was foiled on Saturday in Rampur sector of the Line of Control in Baramulla district.
Sabzar, 28 , was killed in a four-hour-long gunfight in a village in Tral sub-division of Pulwama district. He was named as the successor of Wani after the latter was killed in a gunfight with security forces on 8 July last year.
The Tral gunfight ensued after a patrol of the army's counter-insurgency unit Rashtriya Rifles was fired upon near Tral town late on Friday evening and security forces quickly surrounded two houses in Saimoh village where the militants had taken shelter.
A fierce gunfight started in the village on Saturday morning and ended when the houses the militants had been using as fortified bunkers were destroyed, police said.
State police chief S.P. Vaid had earlier said that three militants were trapped in the security force cordon, but during search the bodies of only two were recovered from the debris of the demolished houses. One of them was identified as of Bhat who carried a reward of Rs 10 lakh on his head.
"The bodies of Sabzar Bhat and his accomplice, identified as Faizan Ahmad, have been retrieved and identified," police said.
As soon as news about the gunfight spread to neighbouring villages, dozens of protesters marched to the site and pelted stones at the security forces.
A civilian was killed and over two dozen protesters were injured during the clashes in Tral. Police sources said that the third militant, a foreigner, took advantage of the tumult to escape.
Valley police chief Muneer Khan said the civilian died in cross firing between the holed up militants and the security forces.
A spontaneous shutdown was observed in all districts and major towns of the Valley and protests started in Anantnag, Shopian, Kulgam, Pulwama, Badgam, Ganderbal, Srinagar and Kupwara.
Public transport went off the roads throughout the Valley as people rushed home in their private vehicles while others walked long distances. Schools and colleges were also shut.
Over 30 people were injured in clashes at different places in the Valley. Some persons reported at hospitals with pellet gunshots, according to attending doctors.
Curfew-like restrictions have been imposed in parts of Srinagar city till further orders, according to authorities.
Vaid said the clashes during the day were of "minor nature" and the situation was well under control
Authorities quickly suspended Internet services in the Valley and blocked all social networking sites, which had been restored only on Friday after over a month.
Heavy deployment of paramilitary and police have been made at all district headquarters and sensitive places in the Valley to ensure that the situation remains under control.
Chief Minister Mehbooba Mufti was holding a meeting of top security and intelligence officials to ensure that the situation does not flare up like it did in the aftermath of Burhan Wani's killing last year when 94 civilian protesters were killed in the nearly six-month long unrest that followed.
Find latest and upcoming tech gadgets online on Tech2 Gadgets. Get technology news, gadgets reviews & ratings. Popular gadgets including laptop, tablet and mobile specifications, features, prices, comparison.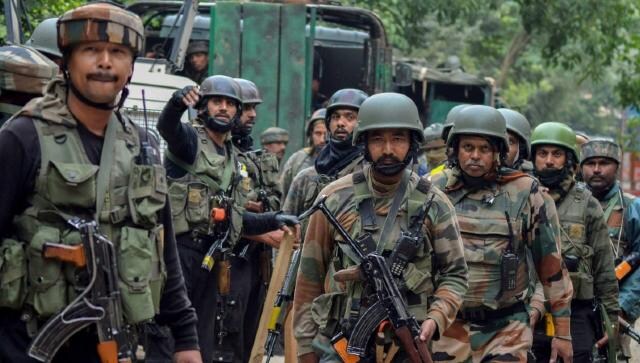 India
Army said "alert" troops noticed a few men transporting items in a tube tied to a rope across the Kishenganga river in Kashmir's Kupwara area
India
Bhat, who was posted in the Pulwama district, was returning home after offering prayers at a mosque in Anantnag when he was shot
Politics
Mehbooba was released on Tuesday night after the Union Territory administration revoked the Public Safety Act charges against her