RSS hasn't changed its tune on Muslims; critics lack an understanding of its principles and value systems
The surprise over Mohan Bhagwat's remarks on Muslims in a 'Hindu rashtra' indicates a lack of understanding of the RSS' concept of Hindutva.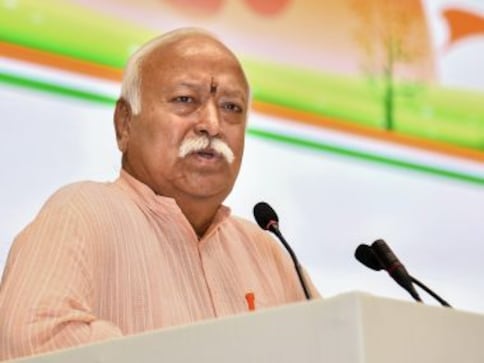 Expectedly, among the range of topics that Sarsanghchalak Mohan Bhagwat addressed on day two of the three-day conclave of the Rashtriya Swayamsevak Sangh (RSS) in New Delhi on Tuesday, the media chose to highlight the bit where he proclaims in unambiguous terms that a "Hindu rashtra" cannot be envisaged without Muslims.
"Hum kehte hain ki hamara Hindu rashtra hai. Hindu rashtra hai iska matlab isme Musalman nahi chaiye, aisa bilkul nahi hota. Jis din yeh kaha jaega ki yahan muslim nahi chaiye, uss din vo Hindutva nahi rahega (We envision a Hindu rashtra. But that absolutely doesn't mean that there will be no place for Muslims in it. If ever it is said that Muslims are unwanted, Hindutva will cease to exist," Bhagwat said at the event.
Hindu Rashtra doesn't mean there's no place for Muslims. The day it becomes so, it won't be Hindutva. Hindutva talks about one world family. #FutureBharat

— RSS (@RSSorg) September 18, 2018
There are two reasons why this became the instant talking point and elicited surprise in some quarters. The obvious reason is that Bhagwat's declaration demolishes the 'RSS-is-anti-Muslim' narrative that we have been relentlessly fed since Independence. This places the opinion-makers in a quandary. The RSS has been universally defined as a sectarian, secretive organisation that fantasises about majoritarian control over all institutions and seeks to banish dissenting voices and minorities from India's soil.
The RSS has been painted as a Brahmanical, dogmatic, autonomous body that holds regressive views on social issues, encourages violence and hatred towards minorities, seeks homogeneity in the Indian society and refuses to swear by the Constitution or the Tricolor.
The Sangh has inadvertently contributed towards this systemic maligning by refusing to engage in public debates. This is partly because it sees itself primarily as a faceless, activist organisation that focuses on silent institution-building and relies on the 'pracharak' model of community outreach than publicity campaigns, and partly because the distrust between the RSS and the disseminators of public opinion is mutual.
As author and screenwriter Advaita Kala writes in Open magazine, "…its (RSS') deep suspicion of being misrepresented over the years and being banned has made it retreat, choosing to work on the streets as opposed to having its version out in the broadsheets."
In the interview, she quotes Bhagwat as saying: "You may notice that we are finally speaking out loud in public about issues. It is because for the first time, we have the space to do so."
This reticence of the RSS to communicate aided myth-creation, and ideological rivals utilised this space to demonise the organisation. Bhagwat's attempts at dispelling fiction from fact through a discursive lecture is a much-needed course correction, but any such effort faces deep-seated resistance and distrust in public discourse because the long-standing and fundamental misrepresentation has led to bias against the RSS being mainstreamed. It is viewed with suspicion and hatred, and its very presence — not to speak of its expansion — is seen as dangerous for the 'idea of India'.
This mainstreamed bias has, in turn, led to an 'otherisation' of the organisation in political, intellectual and academic circles. Therefore, we witnessed two contrasting churns. While the RSS kept expanding across the length and breadth of India through its social welfare and 'vyakti-nirman' (character-building) programmes and gained commensurate cultural influence and strength, vilification of Sangh became a political construct in the media and public discourse.
Having erected this political construct, the Congress, other Opposition parties and the media — which is still largely tied to Leftist ideology — now finds it difficult to reconcile its anti-RSS bias with Bhagwat's progressive and inclusive views that have been on display at the conclave. This difficulty in reconciliation between bias and truth has resulted in some exquisite mental gymnastics, where some commentators have explained Bhagwat's views on Muslims being an integral part of the Hindu rashtra as "RSS changing its tune".
In truth, it is not the RSS that has shifted from its position. It has never wavered from its vision about a Hindu rashtra, where Hinduism is an inclusive, civilisational, ideational and cultural concept, not a religious term. It is the opinion-makers and political parties who have remained trapped within their stereotyped ideas of the Sangh who must either show a greater understanding of the subject that it likes to critique, or invite ridicule.
Its critics remain mostly ill-informed about the RSS. It is an unfortunate paradox. Debates cannot rise in height unless moored in knowledge and greater understanding of the subject of criticism. For instance, baiters frequently portray the RSS as a Brahmanical organisation that, among other issues, propagate caste system without bothering to know its views on it.
On day three of the discursive lecture, Bhagwat clarified that the RSS is not only against the caste system but is actively working towards removing this social ill. He lent support for inter-caste marriage and said that if there is a census on inter-caste marriages, the maximum cases will be those from the Sangh.
"The caste system won't go if one shouts at it. One has to light a lamp to dispel the darkness," Bhagwat said at Wednesday's question-and-answer session.
Caste system is a wrong Phraseology. It is not a vyavastha, it is completely Avyavastha.
Darkness will not go if you shout at it. It will go only when you light a lamp. That is what which Sangh is doing. #RSS4Bharat pic.twitter.com/1IFQ7tjRpv

— J Nandakumar (@kumarnandaj) September 19, 2018
The second reason why Bhagwat's remark on Muslims became a talking point is that our critiques and criticisms reflect the boundaries of our knowledge. That the Sangh's version of a Hindu rashtra is an inclusive concept that seeks to take everyone along has surprised many. It shouldn't have. The confusion rises, as Bhagwat said, because we treat Hindutva as a signifier of a religion — Hinduism.
Hindutva Vs Hinduism
Hindutva is an eternal search for truth.
It is a process not a product
it can never be an ism, ism is a closed book of thought.#RSS4Bharat

— J Nandakumar (@kumarnandaj) September 19, 2018
According to the RSS, said Bhagwat, Hindutva is not a religion replete with codes, dos and don'ts; it is a value system that teaches unity in diversity, sacrifice, coordination, self-restraint and love. It is a quest for the truth — the immersive unity of existence — that accepts diversities of the world, celebrates mélange and vividity and instructs us to stay united. The RSS calls this value system 'Hindutva', but it could just as well be explained by synonymous terms such as Indic thought, Bharatiyata, etc.
Since Hindutva does not denote a religion but a value system that teaches unity in diversity, it is imperative that an organisation that places such an inclusive value system above all religions will take everyone along. Bhagwat's words on Muslims, Christians or any other race or community that calls India its motherland, therefore, flows from this principle of dharma (distinct from religion), and it is but natural that the concept will be inclusive. It shouldn't have surprised anyone.
The fact that it has points to insufficient understanding of the concept of Hindutva that the RSS takes as normative. Since, in public discourse, Hindutva is considered a monolithic concept comparable to Abrahamic religions, it is imbued with attributes that it never stood for. Therefore, when the RSS talks about a Hindu rashtra and Hindutva, it is interpreted as a majoritarian impulse that has no place for minorities.
The RSS chief says that Hinduism, as understood today, is not the religion of Hindus. It is not in the shastras that speak of a dharma for the whole of humanity. It is not the property of one community, or attributable to one country. It is humanism. Placed in this spiritual strain, Hindutva takes on a wider meaning and becomes a completely different concept — one that has space for everyone.
Bhagwat's approach indicates a subtle shift in RSS ideology. The organisation has, perhaps, understood that its growing strength and cultural influence make it imperative for its heads to engage in outreach programmes to clear cobwebs, or risk opening itself up for more myth-making.
Explainers
The European Union has recently approved at least four insects for human consumption including mealworms and house crickets. Mealworms, which taste 'a lot like peanuts', offer the same amount of protein, vitamins, and minerals as fish or meat
Explainers
Dilip Mahalanabis gained national fame in 1971 while serving at a refugee camp in West Bengal's Bangaon where his oral rehydration solution saved umpteen lives. He never patented ORS, arguably the greatest medical discovery of the 20th Century
World
The surge in bird-raising interest underscores how America's first experience of rapid inflation and shortages since the 1980s is leaving marks on society that may last after cost increases have faded