Rebellion in Supreme Court resolved, says BCI: Lawyers' body says no need to drag Justice Loya case here
Two days after four Supreme Court judges held an unprecedented press conference citing lack of accountability and integrity in the apex court, the Bar Council of India told the media on Monday that 'it was an internal issue and has been resolved internally.'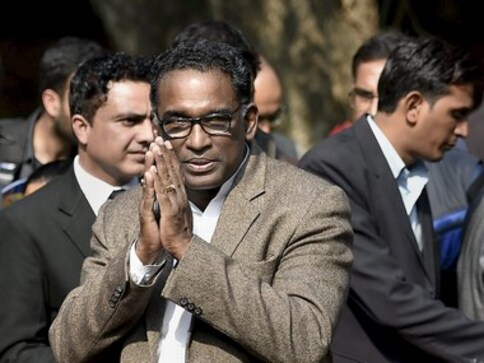 Two days after four Supreme Court judges complained of lack of accountability and integrity in the apex court, the Bar Council of India (BCI) told the media on Monday that "it was an internal issue and has been resolved internally".
When asked how such a major development was solved "internally", BCI chief Manan Kumar Mishra said that it was a matter "within a family" which was resolved after the judges met in the CJI's chambers at 10.30 am on Monday morning.
The council said its members had met 15 judges of the Supreme Court following the crisis. "Kahani khatam ho gaya (the story is now over)," Mishra said.
Mishra also requested politicians to not politicise the issue. "We did not want any political party to take advantage of the situation. Everyone is discharging their duty. Everything has been resolved as the attorney general said," he said. The BCI chief said that no disciplinary action will be taken against the four judges, adding that they are "honest" and "men of integrity".
Mishra also requested politicians and activists to not drag BH Loya's mysterious death into the ongoing matter. "As you can see, Judge Loya's family members have said they do not have any doubts on the matter," said Mishra.
The family of Loya on Sunday said the death of the special CBI judge, who was hearing the Sohrabuddin Sheikh "fake encounter" case, was being politicised and urged all parties to refrain from taking advantage of the situation.
Justice Loya's son Anuj said he did not have any doubts about the way his father died three years ago. "I had an emotional turmoil, hence I had suspicions about his death. But now we don't have any doubts about the way he died," he had told reporters at a press conference.
Earlier in the day, Attorney General KK Venugopal was also quoted by NDTV as saying "everything has been settled", and that the courts were functioning as usual.
According to NDTV, Supreme Court advocate RP Luthra raised the issue before the Chief Justice of India Dipak Misra. Luthra claimed there is a conspiracy to destroy the institution and urged Misra to take action against the rebelling judges. Misra "listened and smiled" without answering him, the report added.
Misra had met a seven-member delegation of the BCI on Sunday and assured it that the crisis would be sorted out soon. After a 50-minute meeting with the CJI, the BCI chairman, who headed the delegation, told reporters that the meeting took place in a congenial atmosphere and that Justice Misra assured them that everything would be sorted out soon.
Meanwhile on Monday, the four senior-most judges — Justices J Chelameswar, Ranjan Gogoi, Madan B Lokur and Kurian Joseph — who had raised issue of assignment of cases, attended court and took up routine work.
With inputs from PTI
India
These judgements are only a few of the hundreds that helped in consolidating India's position as a constitutional democracy
India
Rajya Sabha Member of Parliament and senior advocate, Kapil Sibal, in an event, has expressed his displeasure over some of the recent judgements passed by the Supreme Court saying he has "no hope left" in the institution
India
Rajya Sabha MP and senior advocate Kapil Sibal has expressed his displeasure over some of the recent judgements passed by the Supreme Court saying he has 'no hope left' in the institution