Ravindra Gaikwad's assault on Air India staffer: Netas across party lines react, demand action
Leaders across party lines have reacted sharply to the incident where a Shiv Sena MP thrashed an Air India staffer and demanded strict penal action against the legislator, terming the incident as 'sad and unfortunate'.
Leaders across party lines have reacted sharply to the incident where a Shiv Sena MP thrashed an Air India staffer and demanded strict penal action against the legislator, terming the incident as "sad and unfortunate".
Shiv Sena on Thursday sought an explanation from its Lok Sabha MP Ravindra Gaikwad, who allegedly hit an Air India staffer at IGI airport in Delhi with a slipper, and remained defiant over the incident. "The party has sought an explanation from Gaikwad over the incident. The Sena does not condone violence of any kind," Harshal Pradhan, media adviser to Sena president Uddhav Thackeray, told PTI.
"We have also sought a version of the incident from the Air India staffer. The Sena has a workers' union in Air India," he said.
Party supremo Uddhav Thackeray, had also sought an explanation on Gaikwad's action on Thursday.
Earlier, Shiv Sena spokesperson Manisha Kayande said that there should be a probe into the entire incident.
"Gaikwad is our MP and as far as we know him, he is not the kind of person who loses his temper so soon. He is a good MP. If you go to his constituency, you will find people talk good things about him. He has worked for the people. But what happened here, what was the mistake of the airline official and what was the instigation which led to him taking such an extreme step, it should be probed," she said.
Shiv Sena MLA and cabinet minister Eknath Shinde, apart from advising that being violent is not the right thing to do, said that the matter needs to be probed, mouthing his party's stance on the incident.
Shinde said, "We are not supporting his actions, but right now we are waiting for the details of the incident — like who started it etc. And then Uddhav Thackeray will take a call."
Turant violent hona theek nahi hai aur kisne pehal ki ye bhi dekhna padega: Eknath Shinde,Maharashtra Minister on Shiv Sena MP R Gaikwad pic.twitter.com/yFoBjzxidL

— ANI (@ANI_news) March 24, 2017
Civil Aviation Minister Ashok Gajapathi Raju said such regrettable incidents should never happen again. "We are also working on creating institutional mechanisms to check undesirable flight behaviour or unruly passengers," Raju said in a series of tweets.
Lok Sabha Speaker Sumitra Mahajan reacts to the incident
Lok Sabha Speaker Sumitra Mahajan on Friday said that "suo motu action" cannot be taken against Shiv Sena member Ravindra Gaikwad for assaulting an airline staffer, but stressed that "no MP is allowed to misbehave with anyone".
"No one is allowed to misbehave with anyone, even if he is an MP, a common man or any official. As a mother, I teach children not to misbehave with people," Mahajan said.
Asked if any suo moto action will be taken against Gaikwad and whether any complaint was received by her against him, Mahajan said: "(I) can't take suo moto action as the incident took place outside Parliament."
Incident happened outside Parliament, so will ascertain details & act on any complaint: LS Speaker Sumitra Mahajan on Shiv Sena MP R.Gaikwad pic.twitter.com/8SwXzYdlsu

— ANI (@ANI_news) March 24, 2017
"I did not see any complaint in the case till now. Let me see and study it first, then I can say anything about it," she added.
Air India blacklists Shiv Sena MP Ravindra Gaikwad
Air India on Friday blacklisted "unruly" Shiv Sena MP Ravindra Gaikwad who admitted to assaulting an airline staffer "25 times" with his shoes and attempted to throw him out of the aircraft on Thursday. A common practice among many international and some Indian private airlines for safety and security reasons, this is the first time that the national carrier has introduced such a 'blacklist' of rowdy passengers.
Ironically, the first law-breaker who figures on the Air India 'blacklist' happens to be a law-maker from Maharashtra, a former teacher with two terms as legislator and now a first-time MP from Osmanabad district.
Gaikwad's grouse stemmed from the fact that he was forced to travel economy class on a Pune-New Delhi flight AI-852 though he held an open business class ticket. He later refused to disembark from the flight at New Delhi airport for an hour, hurled abuses, indulged in violent and unruly behaviour and even tried to physically fling out the staffer from the aircraft.
Political parties demand action against the MP
Although Shiv Sena supported its legislator, saying he is not the kind of person who loses his temper, the Congress threatened to rake up the issue in Parliament demanding strict action against Gaikwad.
"This is unacceptable and some kind of action needs to be taken. It should be coming from his party as well as all the MPs when they speak in one voice in regards to privileges accorded to them. They should also be speaking in one voice to seek accountability when this privilege is misused. It is not only Shiv Sena's responsibility, it is also the responsibility of the government which is in power. Aviation minister should take action because it is a government employee who has been attacked by this MP," Congress spokesperson Priyanka Chaturvedi said.
Chaturvedi said elected representatives should not be allowed to get away with such behaviour.
"We will raise this issue in Parliament and not only this, lots of BJP MPs have been found guilty of misusing their power like this and using their position of authority to get away with this kind of behaviour. It needs to be condemned," she said.
BJP MP Kirit Somaiya maintained that Members of Parliament need to behave in a more mature manner.
"We the MPs are more responsible persons and we have to behave in more mature manner. Anybody, particularly MPs like me have to take the responsibility and not beat anybody whether Air India crew or common man. If my colleague MP has done some error, I feel I can apologise on behalf of MPs who are sitting here in Delhi," he said.
Congress leader Oscar Fernandes said that whether it is an MP or a citizen, nobody has the right to beat anybody.
"We have great responsibility as Members of Parliament to support the staff who work in difficult conditions. I appeal to all people to treat our workers or public servants with all kindness and humility," he said.
Shaina NC of BJP said that the incident should be condemned in totality in one voice.
"This is not about Shiv Sena, Congress, BJP or any party, it is about a conduct of an elected representative especially when you are in a position of power.
"Assuming there is somebody who is not polite to you, the least one expects from elected representative is to show restraint in a situation where you have not just public watching but the entire aircraft wondering if this is going to be the conduct of a politician," she said.
She wondered how will ever people have respect for the political class which chooses only VIP one-upmanship and one cannot justify this.
"When we talk about probity in public life or certain kind of restraint, it stems from your leadership, and if you are MP, MLA, corporator, even a Panchayat Samiti member, you should show some kind of restraint to your position and your electorate," she said.
Nitish Rane of the Congress condemned the incident and stated that Shiv Sena is a frustrated party and since they can't vent their anger on PM Narendra Modi or Maharashtra CM Devendra Fadnavis, they choose to take it out on the common public.
Shiv Sena is a frustrated party, they can't vent their anger on Modi ji or Fadnavis ji so they target common people: Nitesh Rane,Congress pic.twitter.com/6sYaB3LT9N

— ANI (@ANI_news) March 24, 2017
Manish Tewari of Congress announced that Lok Sabha should immediately sack Gaikwad from the House using its plenipotentiary powers as had been done for cash for questions scam.
Lok Sabha should use it's plenipotentiary powers and expel Ravinder GAIKWAD MP from house as it had done for Cash for questions scam ASAP

— Manish Tewari (@ManishTewari) March 24, 2017
NCP leader Majeed Memon termed the incident as "sad and distressing" where one finds people holding important positions and those are supposed to be leaders involved in such incidents.
"If such people's misdemeanour is to the extent of turning violent for smallest provocation and reacting with physical assault, it is a matter of great disgrace. Their bosses should take serious action against erring legislators and law must take its own course. What was the provocation for raising a hand on a government employee? These things are happening often in our country and need to be seriously examined and we must have some kind of provision, ethically, legally or politically, whereby, if such incidents occur, political bosses will swing into action and punish the person appropriately," he said.
Another NCP leader Rahul Narwekar termed the incident as that of "extreme highhandedness and unfortunate".
"The MP has forgotten that he is here to serve the people and not to rule them. Strict action should be initiated against such erring public representatives. We demand that necessary penal action should be taken. He has not only done a disservice to the people, but he has brought complete disrepute to the office of an MP, if this continues, people will lose faith in public representatives," he said.
Former Mumbai Congress president Sanjay Nirupam demanded action against the Shiv Sena leader and termed as "absolutely wrong" the act of Gaikwad.
"Shiv Sena is a party in the government in Delhi and Mumbai. Its leader must behave properly and like a responsible politician or worker. It is up to the government now that they take action against the person who has done such a criminal act against a government official," he said.
Stressing that nobody can take the law in his or her hand, Nirupam said action has to be taken against any person who goes against the legal framework of the country and resort to violence.
With inputs from agencies
India
Under JRD Tata, Air India redefined style, comfort and high-class on-board service. Its airhostesses in their exotic silk saris were a global phenomenon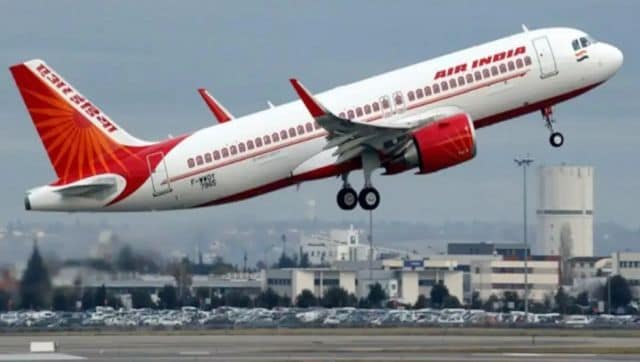 India
As the Tatas start to revive the airline post acquisition, Air India faces the dual challenge of intense competition in the domestic market, which also includes possibly two new airlines
India
In 1967, the airline commissioned the world famous surrealist artist to design an ashtray for them which was to be given to a select group of first-class passengers