Ramjas today, SPPU yesterday: ABVP fostering a culture of intolerance, violence across college campuses
Post 2014, these incidents are taking place all over the country. The ABVP is trying to establish itself through violence and is trying to create a space for themselves ahead of the university elections
Violent clashes that rocked Delhi University last week didn't take time to reach Pune. The Savitribai Phule Pune University (SPPU) campus also witnessed clashes between student members of the ABVP and SFI. The dispute over these protests led to a fight between rival groups. Cross complaints were filed and nine people — five SFI members and four from ABVP — were arrested and charged with rioting. They were later released on bail.
The ABVP had organised a protest at SPPU, and effigies of JNU student Umar Khalid were reportedly burnt at this protest. It was alleged that this protest led to clashes between ABVP and SFI. "ABVP secretary Pradeep Gawade said, "SFI activists were abusing ABVP. We then started questioning them."
SFI activists have a different version. "We were sticking posters protesting against statements made by Maharashtra education minister and MLC Prashant Paricharak. We were questioning these statements, when they (ABVP activists) started tearing off these posters and started fighting with us. They specifically targeted Nasir Shaikh, vice-president of SFI Pune, over his religion,"  said Somnath Bhangire, SFI vice-president.
Looking around the SPPU campus, the anti-ABVP posters as alleged by the Right-wing group were nowhere to be seen.
However, this is far from the first incident of rioting seen by Pune University. On 25 March, 2016, ABVP president Alok Singh was visiting Ferguson College in the city to deliver a lecture titled 'Truth of JNU' following last year's protests. JNU students leader Kanhaiya Kumar was not being allowed to visit Pune, but Alok Singh was given permission. A few Dalit students who tried to attend the lecture were also not allowed to enter. These students questioned the ABVP and asked them if they had the required permission. This resulted in heated arguments, and the police had to intervene.
The face-off took a violent turn when youth members of BJP and NCP clashed with each other. NCP leader and MLA Jitendra Awhad was manhandled and was injured in the ensuing stone-pelting. Police had to ultimately resort to lathi-charge.
A similar incident had taken place a few years earlier, on 21 August, 2013, when an altercation between ABVP members and the Kabir Kala Manch resulted in four people getting injured. It took place after the FTII students' wing had organised a Kabir Kala Manch programme at their national film archives campus. After the programme had ended, the Kabir Kala Manch members were waiting to speak with the students, when ABVP activists arrived at the campus, and abused them and called them Naxalites. When FTII students intervened, it led to an argument and members of both parties were injured.
But are these sporadic incidents connected to each other?
Sujaat Ambedkar, great-grandson of Dr Babasaheb Ambedkar, and one of the students present at Fergusson College during last year's violence, says there is a connection. "ABVP has always been aggressive, but they weren't violent earlier. However, since 2014, following Narendra Modi's win and BJP's euphoria, they have become violent," he said.
He feels Delhi University student Gurmehar Kaur is also a victim. "It's really sad to see a 20-year-old girl receive rape threats for offering a differing political view. Though roles were reverse in our case — it was us protesting against ABVP's programme — we never beat anybody up. We raised questions. It's the ABVP's philosophy of silencing the opposition and refusal to debate that has remained the same," he added.
Ram Satpute, state head of ABVP, said the problems started after university elections in Maharashtra were announced. Varsities across the state will have elections after a gap of 20 years, after they were banned due to repeated violence. The state legislature passed the Maharashtra Public Universities Act, 2016, permitting polling to take place again.
Satpute said clashes at the universities have taken place because the different unions wanted to make their presence felt. He blamed things on Left-wing student unions, but said the scenario is changing now. "ABVP has always been active on different issues. But after the announcement of the elections, Congress and NCP have become opportunistic and are supporting the Left-wing groups. We aren't into student politics; we are into student activism. But they (Congress and NCP) want universities to become the centre of politics," he said.
However, Maharashtra education minister Vinod Tawade denied these incidents are are taking place because of the upcoming university elections.
Shriranjan Awate, a politics professor from Fergusson College, also blames the BJP government. "Post 2014, these incidents are taking place all over the country. The ABVP is trying to establish itself through violence and is trying to create a space for themselves ahead of the university elections. They are being supported indirectly, since no action is ever initiated against them. This has now gone to such an extent that a war martyr's daughter is getting rape threats just for putting forth her views. This indirect support of violence is something we need to worry about," Awate said.
Gawade denied these allegations. "We condemn the abusive language used on social media. But what about the hashtag #ISupportABVP that was trending throughout the day?" he asked.
SPPU professor and political scientist Suhas Palshikar said varsities need to take a clear stand and stick to it. "People will always have differing opinions. It will be evident in university campuses, which are known for being welcoming of different ideologies. But it appears the ABVP wants to oppose liberal thoughts, and freedom of opinion. They want to stop people from anti-establishment thought. This is an attempt for regimentation of universities. And it's not just a question of law and order. The varsities' administration and faculty need to take a stand as well. It's necessary that professors teach students to think freely, no matter what their ideologies," he said, adding that it's not something specific to India.
"It's happening even in the US after Donald Trump became President. However, the universities' administration and professors have taken a clear stand on the issue. Indian universities too need to do the same," he added.
also read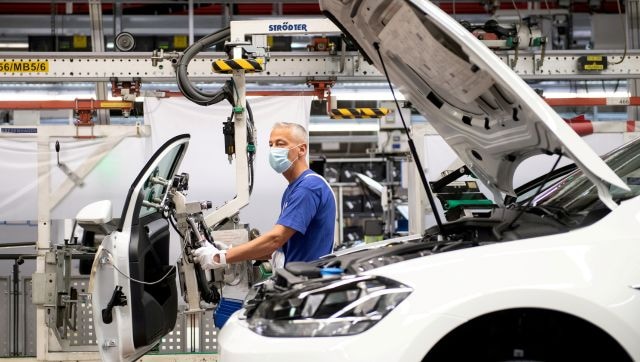 Explainers
Germany's GDP fell .3 per cent in the first quarter of 2023 following a .5 per cent decline in the last quarter of 2022. Though Chancellor Olaf Scholz described the outlook for the economy as 'very good' experts say this is a rude awakening for the country and the entire continent
Explainers
Elon Musk's brain-computer interface company Neuralink has received approval from the FDA to conduct its first in-human clinical study. The firm wants to put coin-sized implants into human beings, which will allow people with paralysis regain motor function, restore vision, and treat brain diseases
Explainers
Tipu Sultan, the 18th Century Mysore ruler, slept in a hammock suspended from the ceiling of his locked bedchamber with this sword by his side. Found in his private apartments after his defeat at the battle of Seringapatam in May 1799, it was previously owned by Vijay Mallya