Ramjas clash: Just like JNU row, malicious intent was behind Delhi campus violence, not patriotism
Several analyses of the recent violence at Delhi University's Ramjas College have focused on the methods of the ABVP, the students' wing of the ruling party (the BJP).
Several analyses of the recent violence at Delhi University's Ramjas College have focused on the methods of the ABVP, the students' wing of the ruling party (the BJP). These analysts hold that those who protest against the right of certain high-profile students of Jawaharlal Nehru University (JNU) to speak should argue their points with reason, not violently engage those they don't like.
Such analyses presume that the ABVP students oppose those JNU students out of conviction about the sanctity of mother India and a horror of slogans such as 'Bharat ke tukde …' (we'll make 'pieces of India') — slogans that were shouted on the JNU campus last year, owing to which those student leaders got such a high profile.
This misses the wood for the trees. If those ABVP activists and the various others who project themselves as nationalists — such as the government that backs them — really felt strongly about the slogans that were raised in JNU on 9 February last year, they would have demanded that those who raised those slogans be brought to justice. They have not. Nor has Delhi Police, which dances to their tunes, taken any action — even more than a year after those slogans were raised.
Villification campaign
Let us be clear, from the time the issue was heatedly raised by certain television anchors a year ago, it has been a villificaiton campaign against the Left, and the intellectual autonomy of universities. No less, but also no more. Those anchors, the ABVP, their patrons including the home minister, their cheerleaders, and the Delhi Police single-mindedly targeted the Left.
They arrested and assaulted student leaders of JNU, especially targeting the president of the JNU Students Union, while ignoring those who actually shouted the slogans. A myriad social media trolls, drummed on by those high-pitched anchors, harangued and villified those student activists of Left organisations, their University, and its ethics. At root, the object of attack was the validity — indeed the legality — of Left ideas and concerns.
This not a story of passionately felt patriotism harshly expressed. It is a coldly calculated political campaign of slander, lies and villification. Its objectives are clear - to render Leftist idealism invalid, pave the way for rightwing thinkers (or non-thinkers, if that's what it takes) to commandeer India's universities, and get students to know - and know nothing but - the RSS' view of history and the world.
For the birds
Forcing universities to fly the national flag from 207-foot flagpoles was for the birds. The purpose of the entire campaign had nothing to do with patriotism or the sanctity of national integrity. If it had, Delhi Police would not have studiously ignored those who shouted those slogans, while going with single-minded zeal after a student leader who clearly had not shouted those slogans.
If they could not figure out anything else over the course of a year, surely the police force and the range of investigative agencies with which the government has armed itself could at least have figured out whether those who shouted those slogans were even from JNU?
Surely they could also have shown some zeal to investigate whether, how, and by whom, tapes were doctored? - the ones they (those channels and the police) used for their misdirected prosecution and persecution. They could, and they would - if it had suited them! Thing is, neither line of investigation suits their devious plan and objective.
If the ABVP activists who wreaked havoc at Ramjas College really cared for the sanctity of the nation's integrity, they would have been agitating against Delhi Police, and the home minister, for not having figured out whodunit after more than a year. They would have demanded the resignation of those in charge of the investigation, and the home minister.
They have not, because they are not bothered about whether those who shouted those slogans are punished.
Shadowy forces?
Indeed, now that the issue has resurfaced with the same sort of targets a year on, one is forced to wonder what shadowy forces might actually have been behind the shouting of those slogans at JNU. Was it a set-up from the start, a trap into which the JNU students union scurried unthinkingly — and led their University too?
If that line of thinking holds any water, one must wonder whether well-meaning Indians at large have been taken for a ride in pursuit of a malicious and devious plan? It would mean that the sentiments of those who backed stern action over those slogans out of a genuine spirit of patriotism were cynically exploited.
One thing is becoming clear: what happened at JNU last year, and at Ramjas College this year, is not about patriotic zeal being expressed with a bit of extra vigour in the heat of nationalistic fervour.
This is not about forms of argumentation. It is not a difference of opinion. It's neither about Aristotle, nor Camus, not Tagore or Patel, Bankim or Vivekanand. It's a cold-blooded campaign with malicious intent.
It is an insult to true patriots.
India
Delhi BJP MP Manoj Tiwari, who started a "Chhath Rath Yatra" against the ban, tweeted stubbornness has yielded to faith following the letter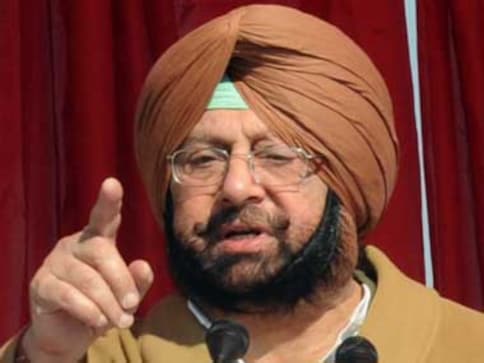 Politics
Amarinder, who was one of the Congress' powerful regional satraps, also said he had never experienced "this sort of interference ever as a chief minister"
India
Communal tensions have long simmered in Bangladesh, whose constitution designates Islam as the state religion but also upholds the principle of secularism.