Rajnath Singh to chair security meeting in Delhi, discuss constant attacks on military establishments in Jammu and Kashmir
A high-level security meeting over the security situation in Jammu and Kashmir will be held in Delhi's North Block at 4 pm. It will be chaired by Rajnath Singh.
Following the relentless attacks on military establishments across Jammu and Kashmir, the home ministry has called a high-level meeting over the security situation in the state.
The meeting scheduled to take place in Delhi's North Block at 4 pm on Monday will be chaired by Home Minister Rajnath Singh.
Union Home Minister Rajnath Singh to brief over security situation in #JammuAndKashmir at 4 pm in Delhi's North Block

— ANI (@ANI) February 12, 2018
Jammu and Kashmir has been witnessing series of attacks on security establishments both along the Line of Control and the International Border as well as in the interior regions.
On Monday a gunfight ensued between security forces and militants, who took shelter in a building in Karan Nagar area of Srinagar after their attempt to strike a CRPF camp was foiled earlier. A CRPF jawan was injured in the exchange of fire.
"The sentry at the camp noticed two suspicious persons at around 4.30 am, carrying backpacks and weapons. He challenged them and opened fire," a spokesman of the CRPF said.
The militants fled from the spot and took shelter in an under-construction house nearby, the officials said. The building has been cordoned off by the CRPF.
According to senior CRPF officials, there were two militants. Intermittent exchange of fire was reported and the CRPF moved in more troops to ensure that the militants do not escape.
The gunfight on Monday came two days after Jaish-e-Mohammad (JeM) militants attacked an army camp in Sunjuwan, Jammu, killing six people including five soldiers.
In that attack, a group of heavily-armed JeM militants dressed in army fatigues stormed the military camp in a pre-dawn attack, hurling grenades and spraying automatic gunfire as they entered the family quarters when everyone was asleep, officials had said.
Defence sources said that soldiers at the Sunjuwan Military Station close to Jammu city noticed suspicious movement near the camp around 4.45 am. Suspecting they could be militants, the soldiers challenged them. But the gunmen hurled grenades and opened fire from automatic weapons, the sources said.
As Firstpost had earlier pointed out that the Sunjwan Militar Station and the CRPF camp in Srinagar are not the only establishments that have been attacked in recent times.
Over the last few years, militants have attacked army bases in Mohra and Tangdhar in north Kashmir. They were followed up with attacks in Kathua and Samba of Jammu division. The most devastating attack took place at the Pathankot airbase which put brakes on the fragile India-Pakistan bonhomie.
Recently, militants had attacked a paramilitary base in the highly fortified Humhama area outside Srinagar city.
What's different this time though is that unlike previous attacks which saw militants targetting security establishments along LoC and the International Border, with Sunjuwan they have come close to Jammu city.
With inputs from agencies
India
An unidentified militant was killed in an encounter with security forces in Kulgam district of Jammu and Kashmir on Sunday, police said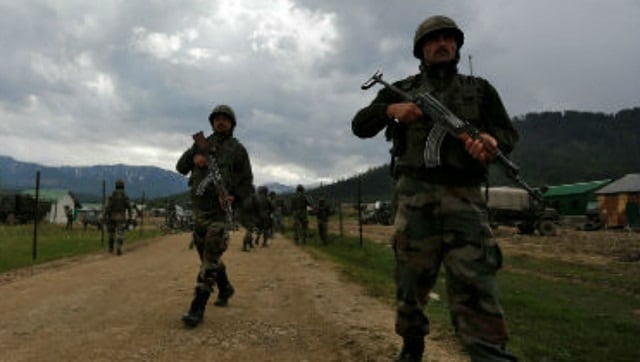 India
Security forces on Saturday killed two Jiash-e-Mohammed militants, including a top Pakistani ultra belonging to the family of the group's chief Masood Azhar and involved in the planning of the 2019 Pulwama attack
India
Seven persons were dead and 17 others injured after Honzar village in Dacchan tehsil was hit by flash floods triggered by the cloudburst in the early hours of 28 July, that damaged 21 houses, 21 cowsheds, a ration depot, a bridge and a mosque.