Rajnath Singh says Pakistan trying to revive Punjab militancy; India must revisit history to prevent second wave of terror
Punjab Chief Minister Captain Amarinder Singh flayed Pakistan Army Chief General Qamar Javed Bajwa for terror activities in Punjab and killings of Indian soldiers at the border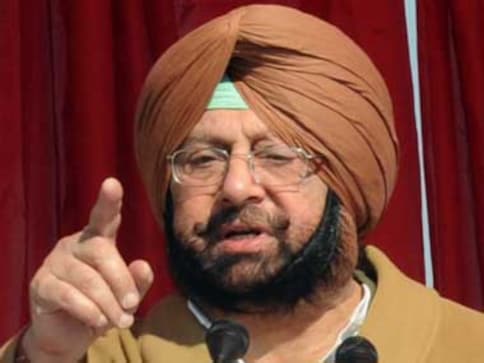 Union Home Minister Rajnath Singh's statement that Pakistan is attempting to revive the militancy in Punjab should set off alarm bells within the security establishment.
In Punjab, recent terror incidents and related interdictions indicate concerted efforts on part of Pak-establishment and Sikh extremist elements based in Pakistan to revive terrorism in Punjab with active support of radical entities based abroad, especially Europe & America.

— Rajnath Singh (@rajnathsingh) December 20, 2018
After all, no one wants to see a return to the bad old days of the 1980s, when Punjab saw a spate of violence and Hindu migration to 'safer' areas reached its peak.
A bloody history
But it all kicked off on 13 April, 1978, when 17 people were killed, mostly Sikhs, when a procession by two Sikh organisations were attacked by members of the Nirankari sect.
The tension reached its apex with Operation Blue Star in June 1984 — ordered by former prime minister Indira Gandhi — which was meant to flush out Sikh militants who were hiding and accumulating weapons in the Golden Temple. More than 400 people were killed in the operation, but few could have imagined what came next.
Four months later, Indira was assassinated by two Sikh bodyguards. General AS Vaidya, the army chief who supervised Operation Blue Star, was shot dead by militants in Pune: just months after his retirement in 1986.
In November 1986, 30 people in Punjab were killed by terrorists in two weeks, which caused fresh panic. Militants renewed the call for Khalistan from the Akal Takht. But the movement gradually declined in the 1990s and people returned to their lives. Journalist Kanwar Sandhu, in an India Today article, said how "the killing fields are back to being the granaries of the country. The migrants are returning, claiming their farms and factories."
Then, in June 2015, a copy of the Guru Granth Sahib was stolen from a gurdwara in Faridkot. Villagers pointed the finger at the police, alleging a 'lackadaisical attitude' in recovering the holy book. There were huge protests in the area following the incident and police had to open fire to disperse the crowd.
Renewed concerns
Rajnath's statement at the inaugural day of the 53rd National Annual Conference of Directors General and Inspectors General of Police in Gujarat's Kevadia came just days after Chief Minister Captain Amarinder Singh slammed General Qamar Javed Bajwa during the foundation stone laying ceremony for the politically-sensitive Kartarpur Sahib corridor in Gurdaspur last month, where he dubbed the whole affair a "bigger conspiracy" hatched by the Pakistani Army.
Amarinder  was referring to the 18 November grenade attack  in Amritsar which left three dead and several injured. The blast occurred at a religious gathering on the outskirts of Amritsar and where members of the Nirankari sect  reportedly gathered at Nirankari Satsang Bhawan in Rajasansi village, near the Amritsar international airport.
A day later, India Today revealed pictures of JuD chief Hafiz Saeed meeting Gopal Singh Chawla, a pro-Khalistan leader, months prior to the incident, and claimed this meet could have links to the attack. Senior Congress leader and former Ludhiana MP Manish Tewari also agreed with Amarinder and described the blast as ISI's attempt to reactivate the Khalistan file, The Tribune reported.
Tewari also drew a link between the attack and the first Akali-Nirankari clashes of 13 April, 1978, in Amritsar. "It all started on 13 April, 1978, like this. The ISI has activated its Khalistan file again... The recent terror attacks in Gurdaspur, Pathankot and now Amritsar are the ISI's gameplan," said Tewari.
Days before the attack on Nirankari Bhawan, Indian Army Chief General Bipin Rawat warned of "external linkages" fuelling attempts to revive insurgency in Punjab. He also warned that "it would be too late" if appropriate action was not taken, reported The Times of India.
Soon after the Nirankari grenade attack, C Pal Singh, retired inspector general of police with Punjab's rapid action force, also said in an interview to Rediff.com that the state police busted 16 terror modules in six months. He spoke of how terrorist organisations were trying to indoctrinate Punjab youth through social media. "A young boy who has not seen the worst days of terrorism in Punjab is still vulnerable. And this vulnerability of the young boys is either through social media or for money," he had said.
One of the two persons arrested recently for the grenade attack in Amritsar is the son of an army man who deserted the force after Operation Blue Star, reported The Indian Express.
There is also the contentious issue of Sikh separatist groups based in Canada. Chief Minister Amarinder met Canadian prime minister Justin Trudeau in February, during which the former called for cooperation on issues of terrorism, crime and drugs, while seeking greater sharing of relevant information, in the interest of national and international security.
Opinion
Anti-Indianism is the most important aspect that has been binding the Bangladesh-Pakistan relationship
World
This statement came after the Shri Shiva Vishnu Temple in Australia's Carrum Downs was vandalised with anti-Hindu graffiti on Monday
World
The provincial assemblies in the two provinces were dissolved prematurely this month by the Pakistan Tehreek-e-Insaf (PTI) party to force the government to call for early general elections.