Rahul Gandhi in Kerala; updates: Congress chief begins two-day visit, meets flood victims at Chengannur camp
LIVE NEWS and UPDATES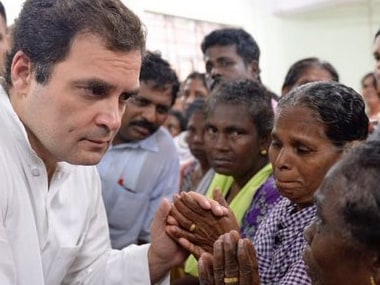 11:53 (IST)

Rahul Gandhi interacts with people hit by floods in Kerala's Chengannur

Image Courtesy: Twitter @INCIndia

11:49 (IST)

Rahul Gandhi visits relief camp in Chengannur

Congress chief Rahul Gandhi on Tuesday visited the relief camp in Christian College in Chengannur district of Kerala. Rahul will visit flood-hit regions in the state including districts such as Angamaly on Tuesday. Whereas on Wednesday, he will visit flood-affected areas in the Wayanad district.

Congress President Rahul Gandhi visits a relief camp in Chengannur. He is on a 2-day visit to the flood-hit Kerala. #KeralaFloods pic.twitter.com/6G6pCqgBo5

— ANI (@ANI) August 28, 2018

11:31 (IST)

Rahul to visit most inundated parts of Kerala in two days: Shashi Tharoor

​

Congress MP from Thiruvananthapuram, Shashi Tharoor welcomed the Congress president at the Trivandrum airport and tweeted on his arrival in the flood-hit state.

President of @INCIndia @RahulGandhi left Thiruvananthapuram this morning for flood-affected areas in central Kerala. His two-day visit will cover districts with the heaviest inundation over the last two weeks. pic.twitter.com/spyLmZcAS5

— Shashi Tharoor (@ShashiTharoor) August 28, 2018

11:26 (IST)

Congress president visits relief camp at Christian College

Congress chief Rahul Gandhi on Tuesday visited the relief camp in Christian College in Chengannur district of Kerala.

Congress President @RahulGandhi visits the relief camp at Christian College in Kerala. #RebuildingKerala pic.twitter.com/N0GGI7fAOD

— Congress (@INCIndia) August 28, 2018

11:11 (IST)

Rahul had rallied for Kerala floods to be called 'national disaster', called Centre's aid insufficient

The Congress president had asked Narendra Modi to release more funds for the flood-hit state.

Dear PM,

Increasing funds allocated for Kerala relief to Rs.500 Cr is a good step but nowhere near enough. It is critical you declare the floods as a National Disaster. Please do not vacillate as the people of Kerala are suffering. #KeralaFloodRelief https://t.co/AxabEOHftR

— Rahul Gandhi (@RahulGandhi) August 18, 2018

11:09 (IST)

Rahul had been raising Kerala's cause on social media

Rahul had earlier expressed solidarity with the people of Kerala in a series of tweets. He requested prime minister Narendra Modi to declare Kerala floods a national disaster and said that his Rs 500 crore immediate relief aid for the state was not enough.

10:58 (IST)

Rahul Gandhi visits relief camps in Chengannur

​

The Congress chief visited relief camps set up for displaced citizens hit by Kerala floods.

Congress President Rahul Gandhi visits a relief camp in Chengannur. He is on a 2-day visit to the flood-hit Kerala. #KeralaFloods pic.twitter.com/6G6pCqgBo5

— ANI (@ANI) August 28, 2018

10:44 (IST)

Congress chief to visit Angamaly later today, flood-affected areas in Wayanad tomorrow

Rahul will visit flood-hit regions in the state including districts such as Angamaly on Tuesday. Whereas on Wednesday, he will visit flood-affected areas in the Wayanad district, ANI reported.

10:42 (IST)

In Pics: Rahul Gandhi arrives at Trivandrum airport

Rahul arrived in Thiruvananthapuram on Tuesday morning for his two-day state visit.

Congress President Rahul Gandhi arrives at Trivandrum airport. He will be visiting flood-hit regions in the state including Chengannur, Alappuzha and Angamaly later today. He will also visit flood-affected areas in Wayanad district tomorrow. #KeralaFloods pic.twitter.com/WlhKWbcuzF

— ANI (@ANI) August 28, 2018

10:35 (IST)

Rahul to facilitate exchange of cheques for building of 1,000 houses in Kerala

Following on the promise of the Congress party to build 1,000 houses in the flood-hit state, Rahul Gandhi will facilitate exchange of cheques for providing financial aid for the same, India Today reported.

10:28 (IST)

Rahul to also meet rescue operation volunteers

The Congress president will also meet the volunteers who were a part of the rescue efforts during Kerala floods.

10:04 (IST)

Shashi Tharoor receives Rahul at airport, welcomes him as he prepares to meet Kerala flood survivors

"Rahul will meet the heroic survivors and felicitate fishermen who sacrificed so much to rescue trapped people," Tharoor tweeted.

Received @RahulGandhi on his arrival in Thiruvananthapuram from Europe on his way to visit areas affected by the #KeralaFloods. He will meet the heroic survivors & félicitate fishermen who sacrificed so much to rescue trapped people

— Shashi Tharoor (@ShashiTharoor) August 28, 2018

09:58 (IST)

Congress chief to take stock of relief work in Thrissur and Ernakulam​

Rahul will also visit relief camps in the Thrissur and Ernakulam districts during the course of his two-day visit to the flood-ravaged state.

09:56 (IST)

Rahul will visit relief camps in Alappuzha, meet fishermen

Rahul Gandhi will go to various relief camps in the Alappuzha town of Chengannur district and will also meet the fishermen community there, News18 reported.

09:52 (IST)

Rahul to arrive in Thiruvananthapuram, travel to Chengannur​

The Congress chief will arrive in the capital city of Thirvanthanpuram in the morning, following which he will take a helicopter ride to one-of the worst flood-affected districts, Chengannur, reported CNN News18.

09:47 (IST)

Rahul Gandhi on a two-day visit to Kerala to oversee relief work

The Congress chief will visit relief camps and meet fishermen as well as Kerala Congress workers during his visit to the flood-hit state.

I will be in Kerala tomorrow & the day after, visiting flood hit areas & relief camps in the state. I will also meet with fishermen, volunteers & others who have been working tirelessly & selflessly to help those in need. #KeralaFloods

— Rahul Gandhi (@RahulGandhi) August 27, 2018
Rahul Gandhi in Kerala latest updates: Congress chief Rahul Gandhi on Tuesday visited the relief camp in Christian College in Chengannur district of Kerala. Rahul will visit flood-hit regions in the state including districts such as Angamaly on Tuesday. Whereas on Wednesday, he will visit flood-affected areas in the Wayanad district, ANI reported.
Shashi Tharoor received Rahul Gandhi at Trivandrum airport, welcomed him as he prepares to meet Kerala flood survivors. "Rahul will meet the heroic survivors and felicitate fishermen who sacrificed so much to rescue trapped people," Tharoor tweeted.
Following on the promise of the Congress party to build 1,000 houses in the flood-hit state, Rahul Gandhi will facilitate exchange of cheques for providing financial aid for the same, India Today reported.
Congress president Rahul Gandhi is on a two-day visit to flood-ravaged Kerala from Tuesday. He said that he would visit some relief camps and also meet fishermen and party volunteers involved in relief work.
"I will be in Kerala on Tuesday and Wednesday, visiting flood-hit areas and relief camps in the state. I will also meet with fishermen, volunteers and others who have been working tirelessly  and selflessly to help those in need," he tweeted.
The Congress chief will arrive in the capital city of Thirvanthanpuram in the morning, following which he will take a helicopter ride to one-of the worst flood-affected districts, Chengannur, reported CNN News18. 
Rahul Gandhi will also go to various relief camps in the Alappuzha town of Chengannur district and will also meet the fishermen community there, News18 reported. Rahul will then visit relief camps in the Thrissur and Ernakulam districts during the course of his two-day visit to the flood-ravaged state.
Rahul had earlier expressed solidarity with the people of Kerala in a series of tweets. He requested prime minister Narendra Modi to declare Kerala floods a national disaster and said that his Rs 500 crore immediate relief aid for the state was not enough.
Kerala witnessed its worst floods in a century. According to the Home Ministry's National Emergency Response Centre (NERC), 443 people have died in Kerala and 54.11 lakh people in 14 districts have been severely affected.
The Great Diwali Discount!
Unlock 75% more savings this festive season. Get Moneycontrol Pro for a year for Rs 289 only.
Coupon code: DIWALI. Offer valid till 10th November, 2019 .
Updated Date: Aug 28, 2018 12:22:48 IST